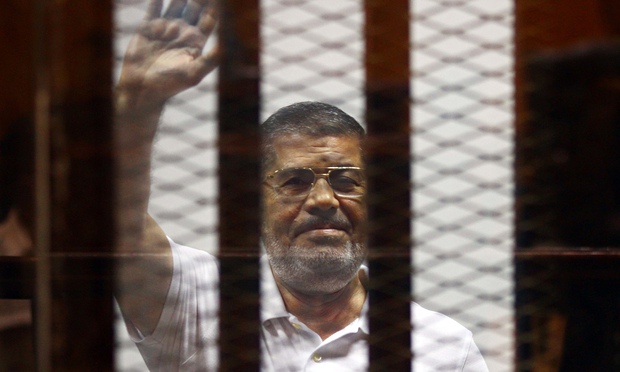 Ex-President of Egypt Mohamed Morsi during the court session
(Image: The Guardian)
Cairo Criminal Court has postponed the verdict of Egypt's ex-President Mohamed Morsi in the espionage case trial during the 23 April session. The verdict was postponed to 7 May.
Egypt's ousted Islamist backed President Mohamed Morsi is facing trial for several cases including the Qatar espionage case. Mr. Morsi, who is currently being held in the prison in the coastal city of Alexandria, was accused by the Prosecution General of using his presidential position to leak the secret and classified documents and sensitive information to Qataris with the assistance of his secretaries and some influential Muslim Brotherhood figures.
Mohamed Morsi and Head of his former presidential office Ahmed Abdel-Ati are charged by the Criminal Court with the passing the secret and classified information regarding Egyptian Armed Forces, intelligence, military positions and other sensitive state information to Qatar. According to the General Prosecution and the materials of the trial, Mohamed Morsi and Ahmed Abdel-Ati were passing the documents through Morsi's secretary Amin El-Serafy, who later passed the papers to his daughter Karima, while the lady leaked the documents to Qataris.
There are also other ten co-defendants in the espionage case being tried along with Mohamed Morsi. Those co-defendants include Muslim Brotherhood figures, journalists and media figures mostly connected to the Muslim Brotherhood organization which was designated as a terrorist organization and banned in Egypt after ouster of Mohamed Morsi in 2013. Three of ten co-defendants were tried in absentia.
Espionage case and leaking the secret documents to Qatar is among the four major criminal cases Mohamed Morsi is currently standing trial for. He received previously 20 years in prison for "Ittihedeya case" (inciting violence and killing of the protesters in front of the Presidential palace in 2013), a death sentence in the Wadi Natroum prison break case (during January 25 Revolution in 2011) and a life in prison (25 years behind the bars according to the Egyptian Penal Code) over the leaks to various foreign groups including Hamas and Hezbollah. Other sentences of Mohamed Morsi have been appealed.