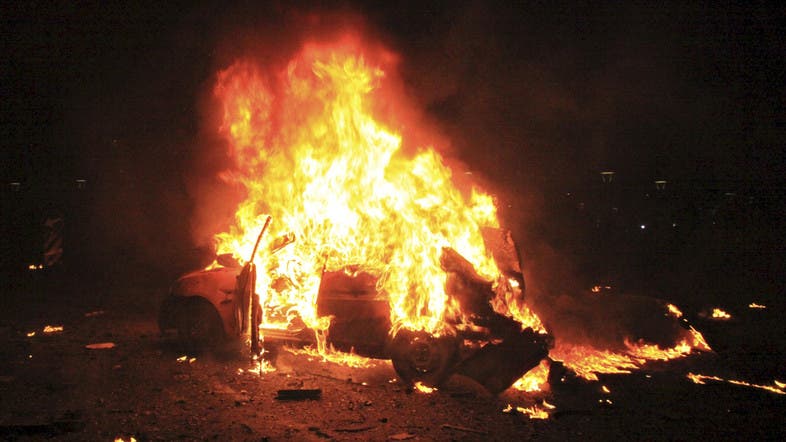 A burning vehicle after the deadly bombing in Ankara
(Image: Al-Arabeya)
Turkish authorities revealed on Monday, 14 March, that according to the initial investigation carried of the deadly Sunday car bombing in the downtown of Ankara, the bombing was carried out by two suicide bombers, one of them was believed to be a young woman of Kurdish origin.
The Sunday car bombing, that occurred in one of the busiest areas of downtown Ankara and the city's transportation and economic key area, left 37 people dead and 125 people wounded.
According to the evidence obtained by the investigative group the young woman has joined the PKK militants' movement in 2013. She was born on 1992 in the city of Kars, in eastern Turkey.
The officials also stated that the investigation will be able to identify the organization behind the deadly attack in the nearest future, but the investigation believe the PKK (Kurdistan's Workers Party) militants could be possibly behind the attack, as this group claimed responsibility for the Friday bombing of the military convoy in Ankara that left 27 people dead, mostly military servicemen.
Later on Tuesday, 15 March, Turkish authorities reported that 12 people were arrested in connection to the latest bombing, including the relatives of the bombers.
Meanwhile, Turkish Armed Forces have already launched airstrikes against the bases and facilities of the PKK forces in Northern Iraq and in the area of the Qandil mountains, where the leadership of the PKK is based.
The state-run Anadolu news agency reported that nine F-16 and four F-4 jets have raided 18 positions of the Kurdistan's Workers' Party militants in response to the Sunday Ankara bombing, while Turkish police has detained dozens of suspected Kurdish militants in southern Turkey on Monday.
President of Turkey Recep Tayyip Erdogan vowed in his official speech to "bring the terrorists on their knees" and stated that the country will do anything possible in order to eliminate the terrorist threat in the country, presented currently by ISIS and Kurdish militants.
Turkish Prime Minister Ahmet Davatoglu in his turn has postponed his official visit to Jordan following the deadly bombing on the capital city.