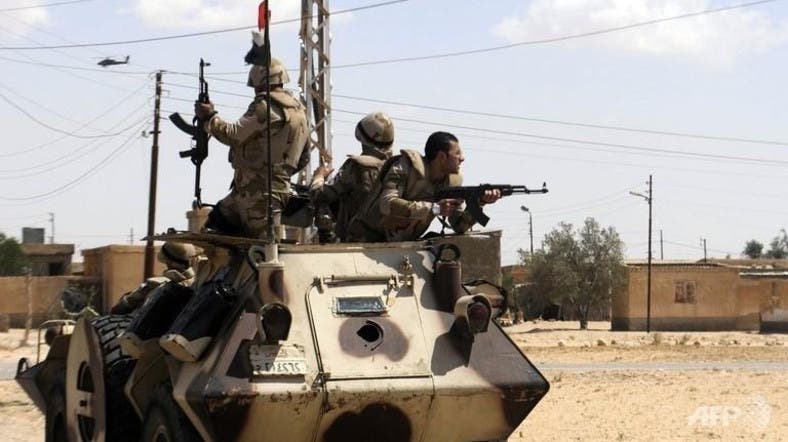 Egyptian soldiers during the military operation in Northern
Sinai
(Image: Al-Arabiya)
Egyptian Armed Forces have carried out anti-terrorist operation on Thursday and Friday, 24 and 25 March, in the restive Sinai Peninsula aimed to eliminate terrorist activities in the region and restore security and stability in Northern Sinai.
The raids were carried out in the Northern Sinai cities of Rafah and Sheikh-Zuweid. As a result of the military raids nearly 60 militants were reported to be killed and 40 others were injured, according to the official statement of Brigadier General Mohamed Samir, spokesperson of Egyptian Armed Forces.
In addition to that 32 hideouts and ammunition and weapons warehouses have been also stormed and destroyed by the military during the counter-terrorism operation. These facilities and hideouts were used by the local militants and jihadists for their numerous attacks against Egyptian Armed and security forces.
Northern Sinai faces violence and terrorist attacks on a regular basis, especially since the ouster of the Islamist backed President Mohamed Morsi in June 2013. Militants usually attack security forces, police and military, and these attacks and bombings left hundreds of Egyptian soldiers and policemen killed.
The latest deadly attack that targeted Egyptian servicemen occurred on Saturday, 19 March, when the militants attacked a checkpoint in the Northern Sinai city of El-Arish. The attack left 15 policemen killed. The group Ansar Beyt Al-Maqdis that recently pledged allegiance to ISIS has claimed responsibility for the attack.
The current counter-terrorism operation was launched by Egyptian Armed Forces in response to the latest jihadists' attacks. Egyptian military and security forces have been battling insurgency in Northern Sinai since 2013, as the numerous military operations carried out in the region left hundreds of militants dead. Yet the situation in Northern Sinai remains tense.