Massive explosion occurred on Wednesday in Ankara
(Image: CNBC)
At least 28 people were killed and more than 60 people injured as a result of a powerful explosion that rocked the capital of Turkey Ankara on Wednesday, 17 February. An explosion occurred at about 4 p.m. local time in the area close to the Turkish Parliament building and the headquarters of the Turkish Armed Forces and has reportedly targeted a military service vehicle transporting military personnel, according to Turkey's Deputy Prime Minister Numan Kurtulmus.
Mr. Kurtumlus strongly condemned the attack in his official statement and declared that an investigation will be carried out and those who are responsible for this "act of terror" will be held accountable.
There is no group or organization to claim the responsibility for the Ankara attack yet, and there are also no clear indications of who could carry it out. The Wednesday's attack came following the series of ISIS terrorist attacks that shocked the country and the attacks of Kurdish militants against the Turkish military and security force, mostly happening in the southeast of the state.
The bomb targeted the convoy of the service vehicles carrying army personnel, stated Ankara Governor Mehmet Kiliclar. The explosives were allegedly placed inside of the car. The huge blast was heard all over the city, while the eyewitnesses videos show terrible scenes of chaos, fire and plumes of smoke on the scene.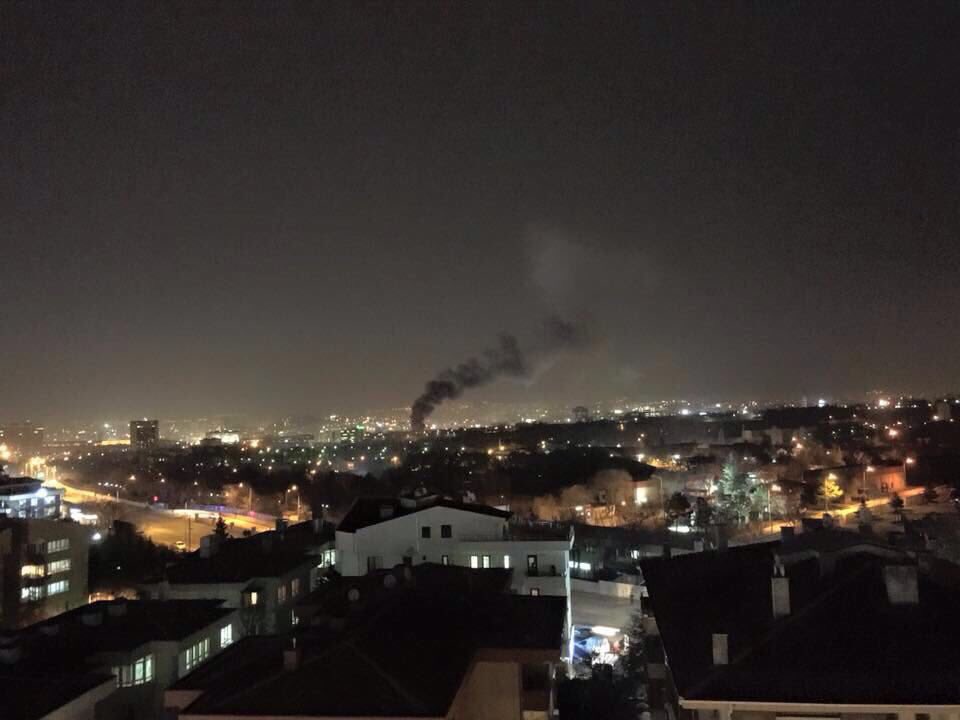 Smoke after an explosion in Ankara
(Image: ITV News)
Fire engines and ambulances were sent to the scene immediately, as Turkish security forces have cordoned off the area near the buildings of the Turkish Parliament and Armed Forces headquarters. Several local TV channels also reported that the explosion happened close to the residential block of the Turkish high ranking military officials.
Turkish Prime Minister Ahmet Davatoglu strongly condemned an attack and cancelled his planned visit to Brussels shortly after he was briefed about the explosion in Ankara.
An official spokesperson of the ruling AKP Party (Justice and Development Party) Omer Celik called an attack an "act of terror" and stated that the determination of Turkish government and security forces to fight terrorist became even stronger.
This explosion was the second deadliest attack carried out in Ankara, after the suicide bombers blew themselves up at the massive peaceful demonstrations next to the Ankara railway station on 10 October 2015 and left more than 100 people dead. Another massive attack happened in the popular touristic area of Istanbul on 16 January, leaving 11 people, mostly foreign tourists, dead.