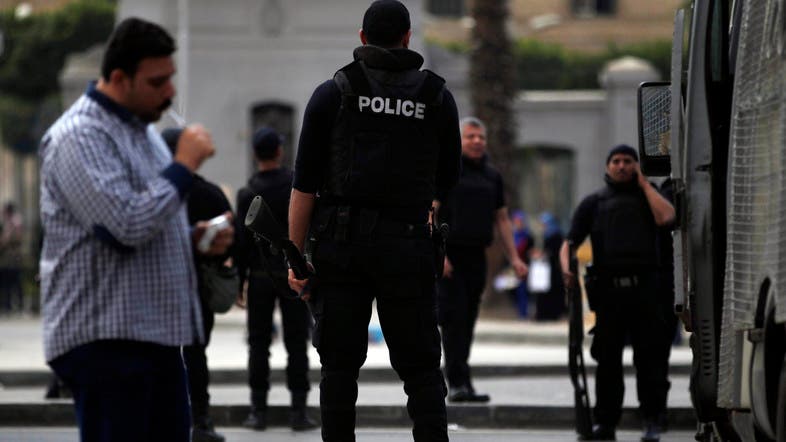 Egyptian security forces
(Image: Al-Arabiya)
Egypt's Interior Ministry spokesperson reported that two militants were killed on Wednesday, 3 February, in the southern Cairo suburb of Maadi. The militants were reportedly preparing an attack against Egyptian police and Armed forces in retaliation for the earlier killing of the leader of the Agnad Masr militant group.
Egypt's Interior Ministry stated that the militants were planning to attack police and Armed Forces personnel and objects and that they were also planning to attack several public figures and officials, including politicians, high ranking police and military figures.
The official report of the security forces indicated that the two militants were engaged in the terrorist activities on the territory of Egypt. The two men were allegedly planning an attack against the state security forces in response to the killing of Ahmed Galal Ahmed Mohamed Ismail, the leader of the Agnad Masr group, whose death circumstances remain unclear. According to the family members of Ismail he was arrested in the area of Maadi on 19 January and then forcefully disappeared, while his corpse was found later with the gunshot wound in his head.
The two militants who were hiding in the apartment in the Maadi district of Cairo have reportedly committed several attacks against Egypt's security forces before, including the murder of the Egyptian conscript on the Autostrad Road in Cairo and killing of two officers in the southern suburb of Helwan.
The attacks also included the bombing of a police car in Helwan and several attacks against the police and Armed Forces in Northern Sinai.
The two militants were killed by Egypt's security forces during the raid on a hideout in the Hadayek El-Maadi district on Wednesday, 3 February. The militants opened fire against the security forces, so the policemen shot in return. The fight lasted for about six hours and left the militants dead. Two policemen were wounded in the gunfight.
Authorities also reported that the militants killed in an attack were in possession of several weapons including RPGs, guns, bombs and suicide belts.
Egyptian authorities carry out from time to time the raids against the militants and members of the extremist groups involved in the numerous attacks against security forces and the terrorist activity. Thus, the authorities reported earlier this week about liquidation of several militants during the raids in and outside of Cairo.