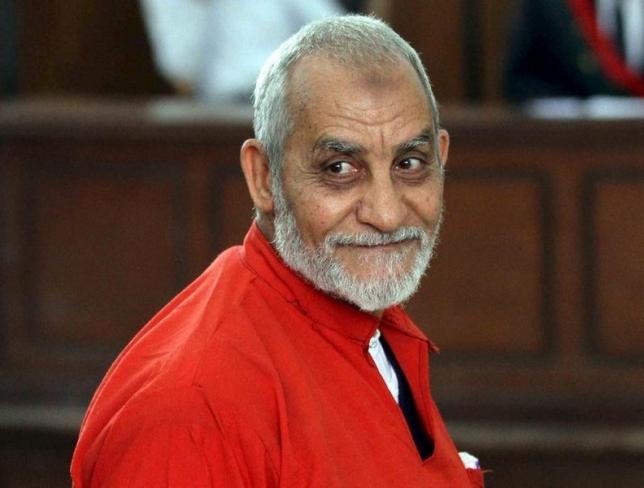 Mohamed Badie, Muslim Brotherhood Supreme Guide, in court
(Image: Egyptian Streets)
Egyptian Court has sentenced Muslim Brotherhood Supreme Guide Mohamed Badie to 10 years in prison for inciting violence during the deadly clashes following the ouster of the Islamist backed President Mohamed Morsi in summer 2013. The verdict was announced during the Court session on Tuesday, 22 Dacember.
Ninety other defendants were tried along with Mohamed Badie and were sentenced to life in prison, which is equal 25 years according to the Egyptian Penal Code. Many of the defendants were tried in absentia.
Other influential Muslim Brotherhood figures including Muslim Brotherhood leader Mohamed El-Beltagy and another prominent Islamist figure Safwat Hegazy have also received 10 years in jail in the same case.
Mohamed Badie and his co-defendants were tried in the case of inciting violence that led to the deadly clashes erupted in the city of Suez in August 2013 following the ouster of Mohamed Morsi and the brutal dispersal of the two pro-Morsi camps in Cairo.
On 14 August 2013 Egyptian police and security forces have violently and brutally dispersed two major sit-ins of Muslim Brotherhood and Mohamed Morsi supporters on Cairo's Rabba Al-Adaweya and Al-Nahda Squares. Hundreds of people were killed in the violent clashes and many more were injured. A massive wave of arrests of the Muslim Brotherhood members and supporters and designation of the group as a terrorist organization in Egypt with the following ban for all the activities followed the brutal dispersal.
Clashes erupted in many other Egyptian cities after the Cairo dispersals, including the deadly clashes in Suez that left 31 people dead. Mohamed Badie and his co-defendants are standing trial for the charges of inciting violence during the Suez clashes. In addition to that the charges also included vandalism, inciting violence, murder, assaulting military and police personnel, attacking military and police facilities and setting fire on several Coptic churches.
The defendants are being tried in the military court, as, according to the Egyptian law, the person assaulted military personnel or attacked any military facilities could be referred to the military trial, even if this person is civilian.
The Tuesday court's verdict can be appealed.
It's worth mentioning also that Mohamed Badie is facing several other separate trials. He has been also sentenced to death in the case of plotting the jailbreak in January 2011 (along with Mohamed Morsi) and he has also received five life sentences in other cases as well.