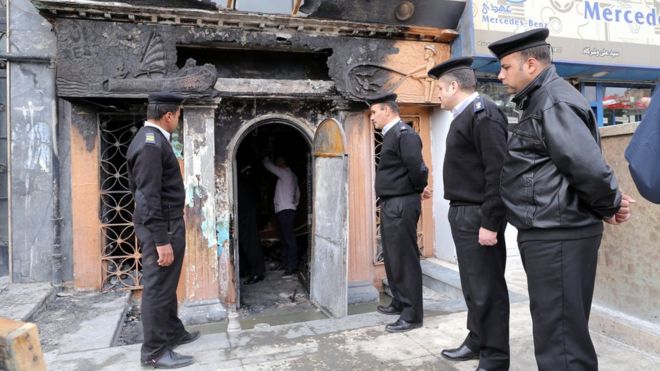 Egyptian policemen standing at the entrance of the attacked
restaurant in Cairo
(Image: BBC)
At least sixteen people were killed and three people were injured in an attack on Cairo restaurant on Friday, 4 December.
An explosion inside of the restaurant building was caused by the firebombs, Egyptian officials stated. The Molotov cocktails were thrown inside of the building from outside. As the restaurant, located in Cairo central Agouza district, was in the basement and had only one exit, the fire and smoke spread fast, while the people inside the restaurant appeared to be trapped.
11 people who died in the attack were the restaurant's employees, according to the report of Egyptian authorities.
Police and forensic investigation team were working at the scene. The victims of an attack died either of burns or smoke inhalation.
An investigation is currently ongoing. The main version of an attack is currently the revenge, as the eyewitnesses reported that a group of men was denied entry to the restaurant, which was also working as a nightclub, so they came back with the Molotov cocktails and threw them inside of the restaurant in order to take a revenge.
The initial reports indicated the fire and explosion could be a terrorist attack, as Cairo was hit by the wave of terrorist attacks and blasts recently, including increased level of attacks against the security forces.
Egypt Ministry of Interior spokesperson declared that an investigation is ongoing in order to clarify the reasons of the tragic incident and to bring those responsible for it to justice.