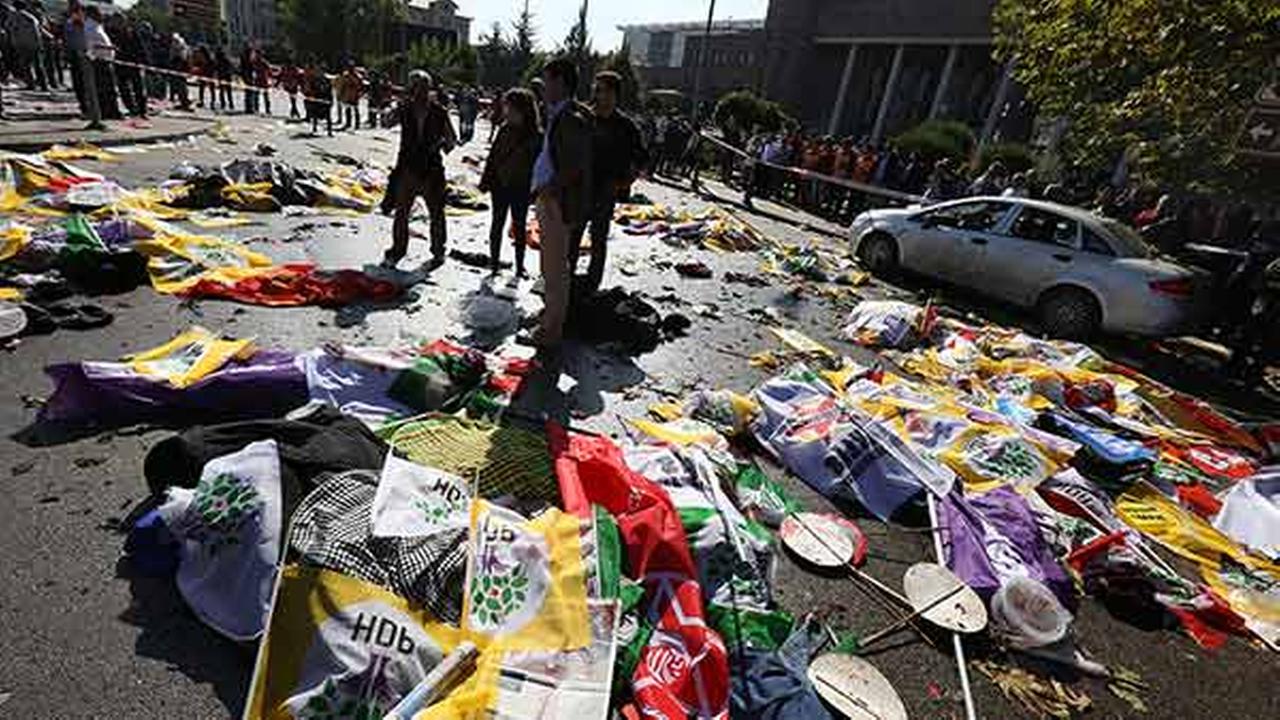 Aftermath of a deadly explosion in Ankara
(Image: ABC 7)
Two explosions hit a capital of Turkey Ankara on Saturday, 10 October. The blasts were reportedly carried out by two suicide bombers and occurred at a peace rally that was about to start when the blasts hit it.
An explosion left at least 95 people killed and at least 245 people injured, many of them critically. TV footage of a blast showed scenes of chaos and panic, as the survived people, mostly youth, were running from the scene of an explosion and trying to help their wounded friends.
The blast went off at about 10 a.m. local time, when the crowds started to gather for a previously planned peaceful rally organized by the Turkish leftist groups. The rally was demanding an end to the violence between the Kurdish separatist PKK groups and militants and Turkish governmental forces. The pro-Kurdish HDP party was also among the forces attending the rally and condemned Turkish government for attacking Kurdish activists. The starting point of a protests was near the central railway station, where the blast occurred.
Police was deployed to the scene shortly after an explosion, cordoning the area and using the tear gas in order to disperse the crowds, according to the reports from the scene. It prevented the ambulance cars from reaching freely the scene in order to transport the wounded people, so the survivors were carrying the injured themselves.
This attack was the deadliest of its kind on the Turkish soil.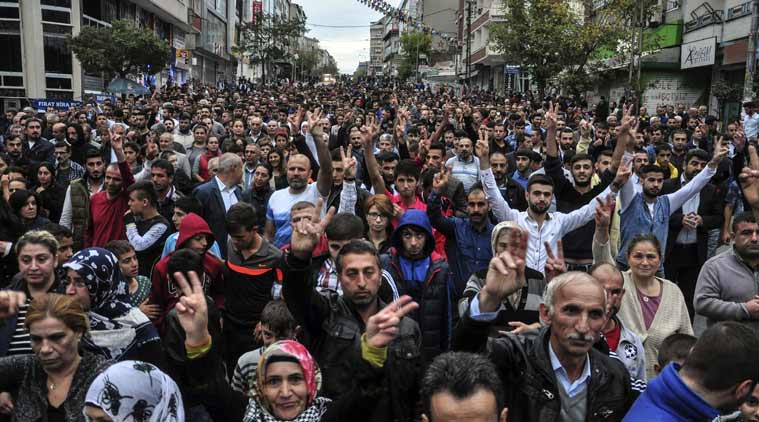 Massive rallies against Erdogan's rule have been held in Turkey
on Sunday
(Image: Indian Express)
Turkish Prime Minister Ahmet Davatoglu strongly condemned this attack and announced three days of mourning in the country during his official speech. He also declared that an investigation to be conducted in order to find those who planned this attack. It was reportedly carried out by two suicide bombers, with the two explosions happened almost simultaneously.
President of Turkey Recep Tayyip Erdogan called an attack which comes weeks before re-run of the parliamentary election in the country an act of terrorism and even cancelled his official visits for the upcoming days.
Massive rallies in memory of the victims of a Saturday attack have been organized throughout Turkey, including the largest city of Turkey Istanbul. Protesters condemned the attacks and demanded the state to investigate the cases and to ensure security. People are wondering: if an attack like this could happened in the capital of the country, what could happen next and could the upcoming election be safe?
Massive protests against the rule of the current President Recep Tayyip Rrdogan have been held in Turkey on Sunday, 11 October, following a deadly double attack in Ankara. Nearly 10 000 protesters have gathered in Istanbul, blaming Erdogan's policies for an Ankara terrorist attack. Mass demonstrations were held also in other Turkish cities including Ankara and Izmir.