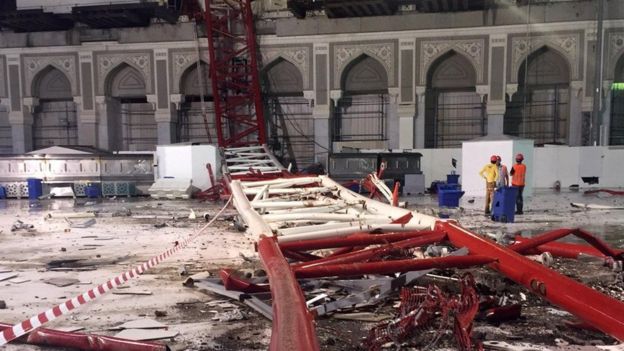 Crane collapsed in the Grand Mosque in Mecca
(Image: BBC)
At least 107 people were killed when a construction crane crashed in Grand Mosque of Mecca, according to Saudi Health Ministry and Civil Defense Authority.
More than 230 were reported to be injured, some of them are in extremely serious condition, so the death toll could possibly rise.
The incident happened when one of the huge construction cranes collapsed inside the Mosque building, falling down and destroying the roof. The crane collapsed due to the strong winds and sand storms raging in the Western parts of Saudi Arabia in the last few days.
The Saudi Civil Defense declared that 15 rescue and search teams were at the scene at the moment of tragedy.
The images and videos circulated in social media showed dozens of pilgrims and worshippers in bloodied clothes, in total shock, among the debris of the crane and the pieces of the collapsed Mosque's ceiling.
Emir of Mecca, Prince Khaled Al-Faisal, commissioned a special committee to investigate the tragic incident and its causes.
The tragedy happened just weeks before Islamic month of pilgrimage Hajj, when millions of Muslims from all over the world arrive in Mecca every year.
Saudi authorities took additional measures in order to prepare for the massive pilgrimage, including exceptional security measures. In 2014 Saudi officials reduced the numbers of pilgrims allowed to visit Mecca for Hajj due to security reasons and in order to perform construction works to enlarge the Grand Mosque of Mecca.