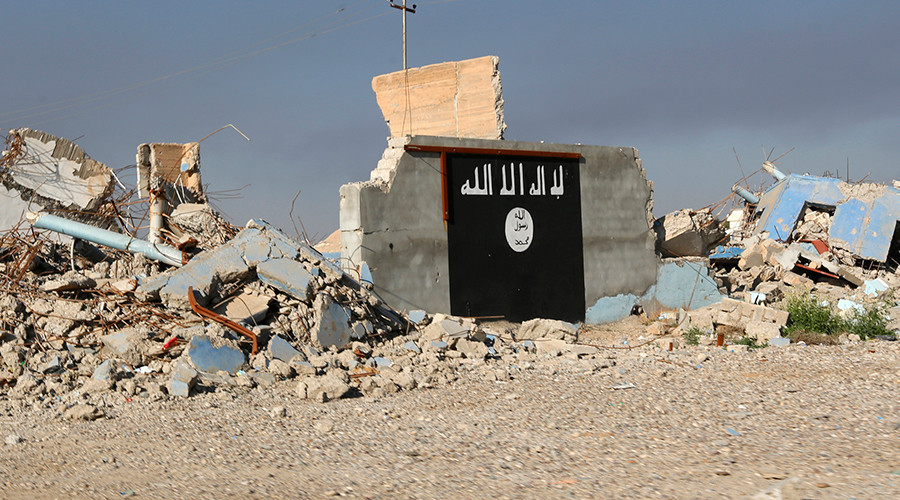 ISIS second in Command killed by US strike
(Image: RT)
Islamic State Second in Command and Deputy of ISIS leader Abu Bakr Al-Baghdadi Fadhil Ahmad Al-Hayali, also known as Haji Mutazz, was reportedly killed on Tuesday, 18 August, by a US airstrike. Haji Mutazz was killed while he was travelling in his vehicle in the city of Mosul in Iraq, accompanied by an ISIS media operative Abu Abdallah, according to the spokesperson of US National Security Council Ned Price.
"Fadhil Ahmad al-Hayali, also known as Haji Mutazz... was killed in a US military air strike on August 18 while traveling in a vehicle near Mosul, Iraq, along with an ISIL [Islamic State] media operative known as Abu Abdullah," Ned Price said in his written statement published on Friday, 21 August. "Al-Hayali's death will adversely impact ISIL's operations given that his influence spanned ISIL's finance, media, operations, and logistics. The United States and its coalition partners are determined to degrade and destroy this terrorist group which has wrought so much harm and suffering on the people of the region and beyond," he continued.
Thus Haji Mutazz was in charge of ISIS military operations in Iraq and Syria and a key military planner, who believed to be among the planners of a last year attack of Mosul that resulted in a seizure of the city by ISIS fighters.
Haji Mutazz was also responsible for financial operations of ISIS and recruitment of fighters. He was also a primary coordinator of traffic of explosives, weapons and vehicles into ISIS territories.
Location where Haji Mutazz was reportedly killed by US airstrike
(Image: WN.com)
Haji Mutazz is a former senior intelligence officer in Saddam Hussein's military, but later he pledged allegiance to some Islamist sect that gained control over vast territories of Syria and Iraq. He was also a member of Al-Qaeda of Iraq and was appointed Emir of Baghdad in ISIS, according to US officials.
Another high ranking ISIS member who traveled together with Haji Mutazz and was also killed in a US airstrike was Abu Abdallah, who was responsible for ISIS information and media sector.
Haji Mutazz was previously reported to be killed in a US airstrike in December 2014, but US officials claimed that USA had a wrong identification that time. Some US official reported that the current strike against Haji Mutazz was based on "actionable intelligence", what means that Pentagon targeted Haji Mutazz specifically as his location was known. US knew that he would be in particular area in particular time. This type of information gives the US and allied forces to strike specific ISIS targets, weakening the group that still controls huge territories of Iraq and Syria, as a massive military operation of the Western and Arab allied Armed Forces against the jihadist organization is ongoing.