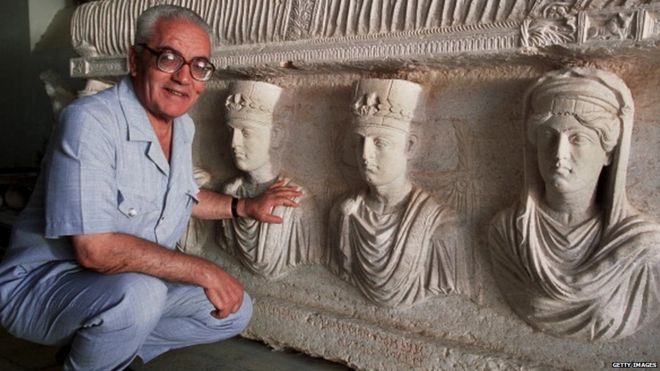 Khaled Asaad, Head of Antiquities of the city of Palmyra and
prominent archeology and history scholar
(Image: Getty Images)
Islamic State militants have executed prominent Syrian antiquities scholar and archeologist Khaled Asaad, according to the Syrian authorities and account of Mr. Khaled's relatives. His body was displayed by the jihadists in the middle of Palmyra, at the gates to the ancient historic site.
Khaled Asaad, 82, was one of the most prominent archeologists of Syria and Middles East and worked as a head of antiquities of Palmyra Museum for over 50 years. Shortly before the city of Palmyra was seized by ISIS militants in May this year, Khaled Asaad participated in an operation of evacuation of numerous archeological artifacts and museums' treasures, and it meant he'd certainly face arrest, as he stayed in the city.
Khaled Asaad was captured by ISIS and held in detention for over one month. According to the Syrian and Palmyra based human rights activists, he was terribly tortured and interrogated by IISI, but he refused to cooperate and to reveal where the valuable artifacts were hidden and saved. He was murdered by the ISIS fighters for that, and his mutilated body was hung from one of the ancient columns of Palmyra old city. A board placed in front of his body said that he was killed because of his loyalty to Syrian President Bashar Al-Assad and for managing Palmyra's "collection of idols".
According to the UK-based Syrian Observatory for Human Rights and Syrian news agency Sana Khaled Asaad was executed in front of dozens of Palmyra residents on Tuesday, in front of the square outside of Palmyra Museum.
The brutal killing of Khaled Asaad is the latest shocking atrocity committed recently by ISIS which controls a third of Syria and vast territories of the neighboring Iraq.
Antique complex in the city of Palmyra
(Image: International Business Times)
Maamoun Abdulkarim, Syrian Minister of Antiquities, confirmed that Asaad's family informed him about that a prominent scholar was killed in Palmyra on Tuesday, 18 August. Syrian Minister of Antiquities strongly condemned this terrible act of violence committed by ISIS. Khaled Asaad's brutal execution shocked the entire scientific and archeological world, as terrible death of Khaled Asaad is a terrible loss for the scientific world and he was "irreplaceable".
Ultra-radical Islamic State fighters seized the city of Palmyra in May 2015 and executed dozens of local residents in the first days, according to the reports and accounts of human rights' groups and organizations. Several historical buildings of an ancient city of Palmyra and several shrines were reportedly destroyed by ISIS, although the most famous antique complex was reportedly safe.
ISIS is known for their lootings and destruction of numerous historical buildings, shrines, museums and archeological artifacts, many of them are considered by the jihadist group being the "idols" and signs of "paganism". Terrible tortures and brutal executions, often filmed and then demonstrated widely through internet, are also significant signs of ISIS as they capture more and more territories.
Arab and Western, US-led coalition launched a massive military operation against the forces of ISIS in Syria and Iraq, including massive bombings and aerial strikes against ISIS targets. Though, despite the military operation ISIS still holds vast territories in Syria and Iraq, committing terrible atrocities in the cities, controlled by the jihadist group.