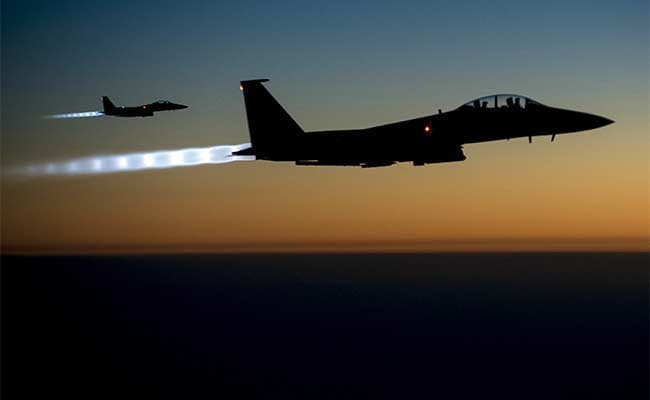 Turkish warplanes carry out attacks against Kurds in Northern
Iraq
(Image: NDTV)
Fierce battles between ISIS militants, Kurdish fighters, US-led coalition and Turkey continues for almost a week in a war-torn Syria and Iraq, after Turkey officially declared its participation in the military operation against ISIS and offered US its air force bases in order to carry out aerial strikes against the ISIS targets in Syria and Iraq, where Daesh (Arabic name of ISIS) still controls large areas.
International coalition led by US has carried out 22 air strikes against ISIS in Iraq on Wednesday, 39 July, targeting ISIS military bases and weapons storages in Iraq. The attacks were concentrated in the area of Haditha, where US strikes hit ISIS tactical units and destroyed several armored vehicles and weapon depots. The coalition also targeted militants' bases near the cities of Kirkuk, Mosul, Ramadi, Makhmur, Sinjar and Tal Afar, according to the official statement of US Armed Forces. In addition to that the coalition carried out aerial attacks of ISIS facilities in Syria near El-Hasakah, killing dozens of militants and destroying their weapons and vehicles.
Meanwhile, Turkey that joined a war against Islamic State in Syria and Iraq continued its series of aerial strikes against the ISIS forces as well. Though the attacks against ISIS started nearly one week ago turned into a "double-war" led not only against ISIS but rather against the Kurdish fighters of PKK Party (Kurdistan Workers' Party), located on the borders with Turkey. Turkey says it leads a "war on terror" against ISIS in Syria and against Kurdish militants in Northern Iraq.
Thirty Turkish warplanes carried out a new wave of aerial attacks against Kurds in Northern Iraq on Thursday, 30 July, following the previous day of strikes and the US led military operation against ISIS. The F-16 jets hit several locations in Northern Iraq, hitting shelters, storages, caves and depots of the PKK fighters in retaliation for the previous deadly attack that killed three Turkish soldiers earlier this day and was blamed on Kurdish fighters.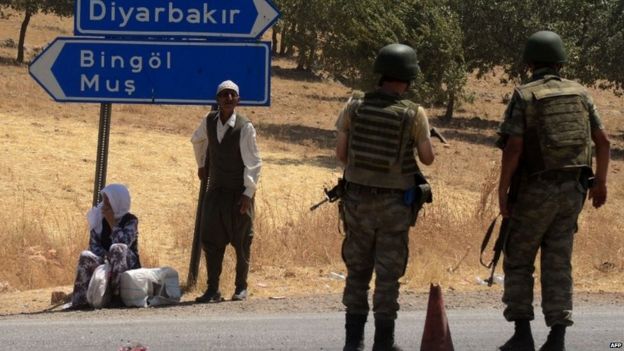 Turkish soldiers patrolling Kurds dominated regions in Turkish,
near Diyarbakir military base
(Image: BBC)
Turkey started its fierce fight against the Kurdish fighters after the deadly terrorist attack in the border city of Suruc that left at least 32 people dead. The attack was blamed on ISIS and hit mostly Kurds, as this city is a Kurdish region. Kurds accused Turkish government of ineffective fight against ISIS and even on supporting the jihadists. Later that day two Turkish soldiers were killed in a Kurdish attack on the Turkish border. A wave of violent protests followed by the police raids and arrests of the suspected militants has shaken the country.
Ankara launched its military operation against the Kurdish militants as well, carrying out numerous aerial strikes and hitting military facilities of the PKK fighters, their storage points and headquarters located in Northern Iraq. The operation is ongoing for almost a week, with the fierce fight of the Kurdish militants in retaliation of the Turkish strikes. Thus, at least five Turkish soldiers and security personnel were killed on Thursday, 30 July, in a Kurdish border attack.
Thus, after initial attacks against ISIS, Turkish Armed Forces focused increasingly on the PKK as Turkish air forces bomb dozens of targets of the group. Anew wave of attacks against Turkish security forces came as a response, so the funerals of the soldiers and policemen turned into a daily ritual during the latest week in Turkey, as the conflict intensifies and deepens.
Turkish warplanes carrying out attacks against Kurds and ISIS
as well in Iraq and Syria
(Image: Times of Israel)
The Hurriyet Daily, Turkish official media source that at least 190 PKK fighters were killed as a result of the ongoing aerial strikes of Turkey against the Kurds and nearly 300 fighters were wounded. The government has not yet confirmed this toll.
The strikes targeted mostly military facilities and weapons storages of the group located in the remote mountains in Northern Iraq, including the headquarters on Kandil Mountain.
Kurdish militates in their turn accuse Ankara in collaborating with the ISIS fighters and assisting the group. It's worth mentioning that Kurdish troops made a significant impact of the fights against ISIS in Iraq and near the borders with Turkey, and they continue fighting the Islamist group since the beginning of the conflict in 2014.
The situation remains tense, as the long peace process and negotiations between Turkish government and Kurds aiming to end the 30-year old Kurdish uprising and grant them official statues in under threat now, as Turkish attacks against Kurds intensifies and Kurds strike in response.