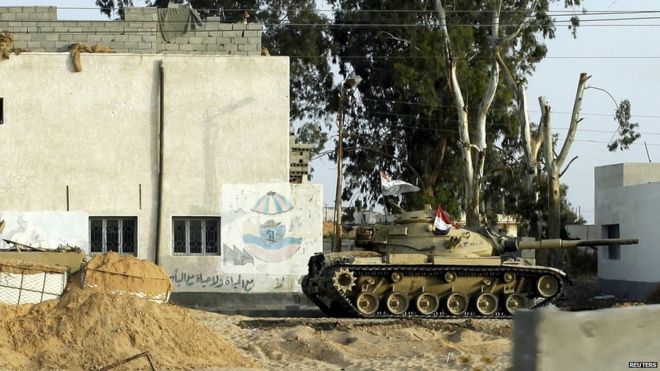 Egyptian Armed Forces in Northern Sinai
(Image: BBC)
Egypt's North Sinai was shaken on Wednesday, 1 July, by the major terrorist attack which was the biggest and the most coordinated since the beginning of this year.
Fifteen military checkpoints and security forces stations were attacked simultaneously in Northern Sinai cities of El-Arish, Sheikh-Zuweid and Rafah, along the border with Gaza. The attacks started at about midday.
It was the second largest attack that targeted Egyptian security and military forces since January 2015, when a massive attack of militants left 44 soldiers dead in Northern Sinai. Insurgency in the restive Sinai Peninsula intensified since ouster of the Islamist backed President Mohamed Morsi, as hundreds of soldiers and security forces personnel were killed and injured in the numerous attacks against Egypt's security and military facilities. Civilians were also strongly affected by these attacks.
Wednesday's major attack was carried out by Ansar Beit Al-Maqdis, jihadist group based in Northern Sinai that organized most of the previous attacks of security forces. This group is affiliated to ISIS and is currently named Sinai Province after it pledged allegiance to ISIS.
The group claimed responsibility for 15 simultaneous attacks against security and military checkpoints in North Sinai, including several "martyrdom operations" in El-Arish officers' club and at two checkpoints in Sheikh-Zuweid, according to the group's statement on Twitter.
Military operation in Northern Sinai El-Arish and Sheikh-Zuweid
cities
(Image: Telegraph)
Several dozens of militants with heavy weapons have reportedly attacked military checkpoints and police stations in the cities of El-Arish and Sheikh-Zuweid, using mortar rounds and car bombs in the separate attacks. At least eleven checkpoints were attacked with the missiles.
Militants have also attacked the besieged police station in Sheikh-Zuweid and planted the bombs around the building in order to prevent the soldiers and policemen inside from going out. At least three soldiers were reported to be killed in the fight near the Sheikh-Zuweid police station, though its siege was reported to end.
Egyptian soldiers opened fire in response killing at least 38 militants and injuring dozens of them, according to security forces source who preferred to stay anonymous until the official statement will be released. Later aerial strikes carried out by Egyptian Armed forces have killed nearly 50 militants, bringing the number of fatalities among the militants to at least 100, according to the official statement of Egypt's Armed Forces after an emergency meeting if the country's Defense Council.

Armed Forces official spokesperson, Brigadier General Mohamed Samir, has stated that 17 Egyptian soldiers and policemen were killed in a major Sinai attack and 13 were injured. Though unofficial reports regarding the casualties are conflicting, as at least 70 people including soldiers, policemen and civiluans were reported to be killed in an attack and the following military operation and dozens were wounded.
Additional troops of Egypt's Armed Forces including the reinforcements from the Second Army Zone stationed in Ismailia were also deployed to Sheikh-Zuweid and El-Arish for the massive military operation launched against the militants by Egypt's Armed Forces.
Heavy weapons, tanks and armored vehicles were also used in a massive military operation, while the apache helicopters are flying over the cities patrolling the area. Military jets were also used during the operation.
Fierce fighting between Egyptian Armed Forces and ISIS militants is ongoing for hours on the streets of Sheikh-Zuweid and El-Arish, as militants forced to flee were reported to seize the roofs of the houses in the city.
Mohamed Samir, Egypt's Armed Forces spokesperson
(Image: The Cairo Post)
Hospitals of Suez, Port Said and Ismailia receive the wounded for treatment.
Egyptian military destroyed several armored vehicles of the militants, while the attackers in their turn have destroyed two tanks and seized several military vehicles as well.
Army jets were targeting the militants in the streets of the attacked cities, and at least three militants' bases were destroyed with the aerial bombing, stated Mohamed Samir.
Military has also planted IEDs on the highways, and the situation starts to stabilize in the area.
There were reports about at least two local civilians killed and several of the locals injured. People are staying in their homes due to the ongoing fight in the streets. There is a power cut in Sheikh-Zuweid.
Egypt's Armed Forces deployed to North Sinai
(Image: Chron)
Later on Wednesday two explosions were reported in the city of Rafah, along the border with the Gaza Strip. The cause of the explosions was unknown at the moment.
Israel has closed its border crossings with Egypt in Kerem Shalom and Nitzana.
Egypt's President Abdel-Fattah El-Sisi, Egypt's government and Defense Council hold an emergency meeting over the latest developments in Northern Sinai and an ongoing military operation.
Numerous political parties and organizations in Egypt including Salafist Al-Nour Party, Tagammu Party and Freedom Party strongly condemned this attack. Al-Azhar, Egypt's highest Islamic institution has also condemned the attack. Leaders of foreign states including EU countries and US expressed their support of Egypt.
This major and deadly terrorist attack in North Sinai came following Monday's bombing in Cairo that killed Egypt's Prosecutor General Hisham Barakat and Tuesday's bombing in Cairo's 6th October city, that left three people dead, and shooting in Helwan south of Cairo that left police officer killed.
Situation in North Sinai remains tense as the military operation is ongoing, though the atmosphere has reportedly cooled down, as army regained control over Sheikh-Zuweid.