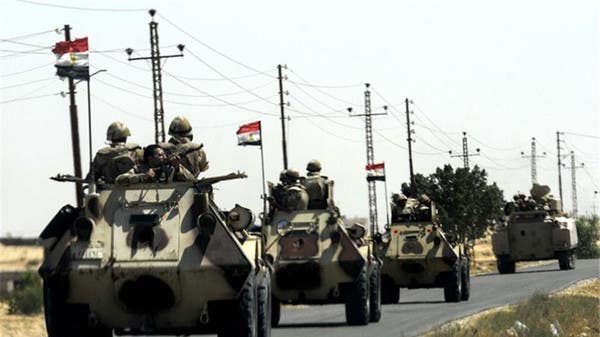 Egyptian military in North Sinai
(Image: Al-Arabia)
Egyptian official Armed Forces spokesperson Mohamed Samir issued a statement on Sunday, 19 July, stating that the death toll of the Saturday attacks and the following fighting in North Sinai has risen. Seven Armed Forces personnel were reported killed in separate attacks and 14 soldiers were injured.
The first attack occurred on Saturday, 18 July, in North Sinai, south of Sheikh Zuweid, when several armed militants attacks military checkpoint, firing mortars and using live ammunition. Soldiers engaged in the battle with the militants killing several dozens of them and destroy in two vehicles belonging to the jihadists.
The second attack took place close to Al-Gora airport, also close to the Northern Sinai city of Sheikh Zuweid that is close to Israeli and Gaza borders.
Three soldiers were killed and four were injured with the "random shell, landed in the vicinity of the checkpoint" near Sheikh Zuweid, according to the statement of Egyptian Armed Forces.
Egyptian Armed forces launched an operation against the Sinai based militants following the Saturday clashes. Aerial raids were involved, targeting the militants' facilities, meeting points and headquarters in North Sinai and in the vicinity of Sheikh Zuwaid. The number of militants killed in army's raids is 59, stated Mohamed Samir.
Sinai based A near Beyt Al-Maqdis jihafist group responsible for the recent waves of insurgency in North Sinai and throughout Egypt has claimed responsibility for the Saturday's attacks via their account on Twitter. The group pledged allegiance to ISIS earlier this year and names itself Vilayat Sinai (Sinai Province) of ISIS.
Egyptian Armed Forces continue launching anti-terrorist opetaions in the restive Sinai Peninsula in order to eliminate terrorist activities there and restore security and stability in the region. In addition to that Egyptian President stated recently that fight against terrorist and ISIS threat is extremely important for Egypt, Middle Eastern region anfpd the entire world and called international powers and other states to join this fight and support Egypt and other Arab states in their battle against ISIS terrorism.