Tunisian boy at the place where the tourists were killed
(Image: WSJ)
At least 30 British citizens could be among those killed in a deadly terrorist attack that occurred on Friday, 26 June, on the beach of the popular resort in Tunisian city of Sousse, according to the reports on the scene. It was stated earlier that the number of the Britons killed in an attack was 15, thus, if confirmed, it would double the initial number of British citizens who lost their lives in a terrible attack.
British authorities have confirmed the identities of 15 victims of the terrorist attack who are British citizens. But it was stated in an official statement that their number could rise.
A terrible terrorist attack occurred on Friday, 26 June, on the beach of two hotels in a popular Tunisian resort, leaving dozens of people dead.
An attack happened around midday, according to the eyewitnesses, as a man dressed like a tourist who was going to swim entered the beach carrying a beach umbrella with him. It appeared later that a gun was hidden in an umbrella as assailants suddenly opened a random fire at the tourists lounging on the beach. He later walked towards the hotel, as the terrified people were trying to escape the scene, and the shooting continued. There were reports that the attacker also threw a grenade to the hotel gates. Then he reportedly came back to the beach. Pictures of a young attacker, walking along the beach and carrying his Kalashnikov rifle with which he attacked the tourists, were shown later on Saturday by many media outlets.
An attack was carried out in a popular resort place called Port El-Kantaoui, which is located on the outskirts of Sousse, popular tourists' destination, and is about 140 km from the city of Tunis.
At least 39 people were killed as a result of an attack, according to the spokesperson of Tunisian Ministry of Health, Saeed Al-Abadi. UK Foreign Secretary Philip Hammond declared on Friday that at least fifteen British citizens were among those killed in an attack, and the death toll of UK citizens could rise, as this resort was very popular among the British people. Though, according to the latest information, British citizens made the majority of the terrorist attack victims as number of Britons killed was at least 30 people. There were also Belgian, German and Irish citizens among the killed tourists.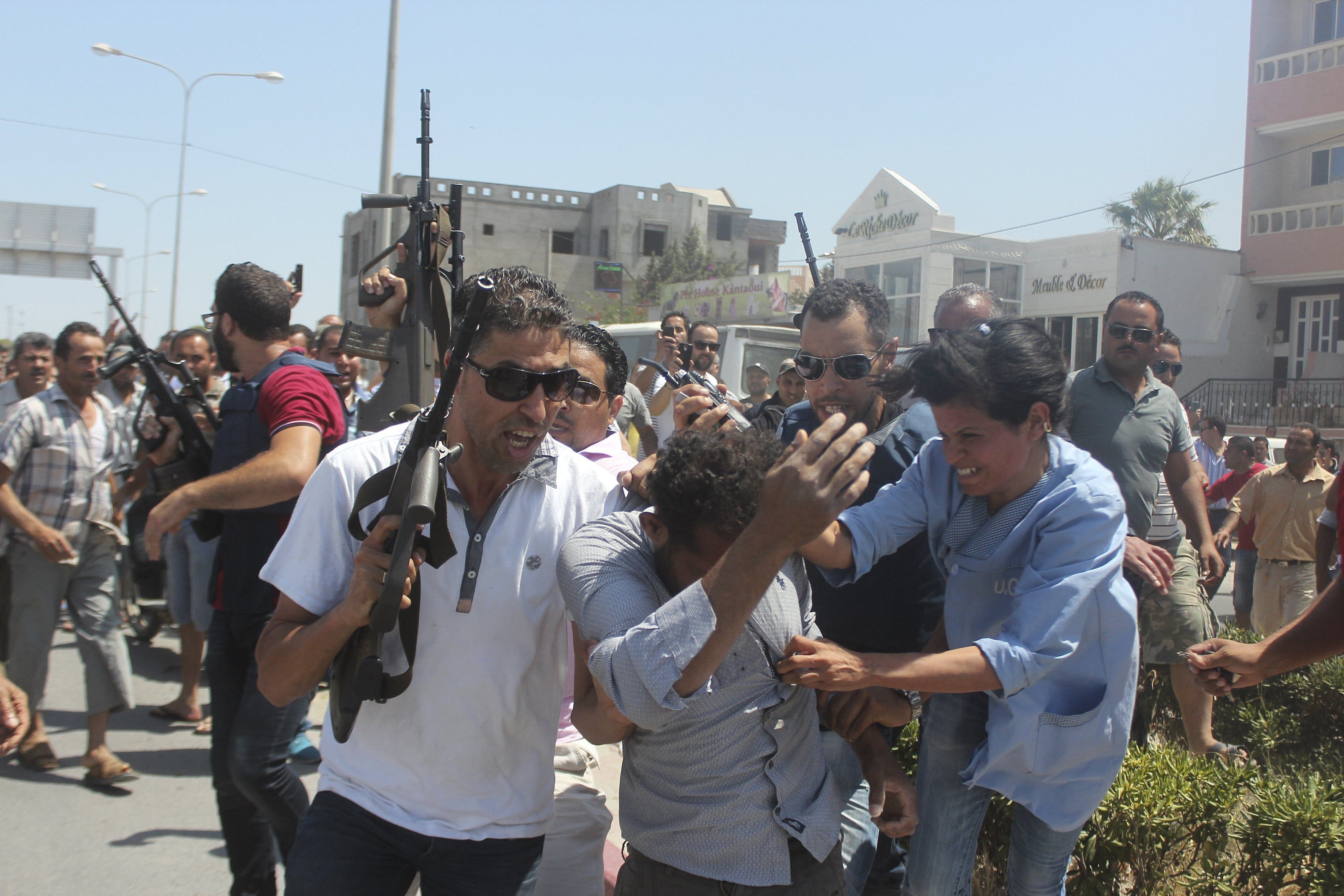 Police arresting one of the suspects after the deadly attack in
Tunisia
(Image: Al-Arabeya)
Communication Chief of Tunisian Health Ministry Chokri Nafti stated also that 36 people were wounded, some of the in a critical condition.
This terrible attack happened on the same day with a deadly bombing of a Shia mosque in Kuwaiti capital, that left at least 27 people killed, and a terrorist attack at the chemical factory in France, that left one person dead and two wounded.
Shooting was carried out by a gunman who attacked two hotels with the connected beach, stated Interior Ministry spokesperson Mohamed Ali Aroui. An assailant was killed, according to the police, while a special anti-terrorist operation is ongoing in the area. Search operation is also ongoing as police suspects there was another attacker involved in a shooting.
The tourists' area was sealed by the police and security forces after an attack, while additional military troops were deployed on the scene. Tunisian security forces were put in state of alert, as the special search and anti-terrorist operation is ongoing.
The assailant was killed by the security forces snipers during the special operation, while Tunisian police has reportedly arrested two other suspects. There are serious doubts that this attack was carried out by one person only, so the police suspects the young militant had accomplices. Investigation of an incident is ongoing.
Islamic State of Iraq and Syria (ISIS) has claimed responsibility for the Friday resort attack. It was declared in the group's online statement on the social networks that this hotel was attacked with intention, and the foreign tourists were the actual targets of an attack. ISIS also revealed identity of an attacker, who appeared to be a 24 year old Tunisian student called Seddine Yacoubi Rezgui. He had no criminal record and was not on the watch list of Tunisian security forces and intelligence, so he is believed to be recruited by ISIS recently.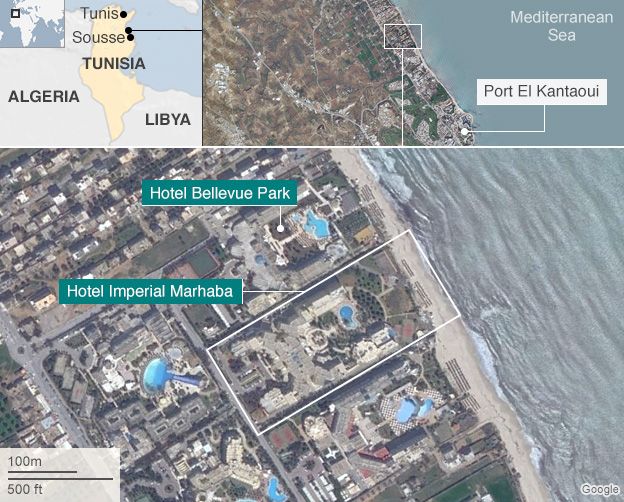 The map showing location of an attack
(Image: BBC)
French President Francois Holland has expressed his support of Tunisian government in its fight against the jihadist activities and terrorist threats. Tunisian President Beji Caid Essebsi in his turn stated that Tunis cannot confront a jihadist threat alone and asked for an international support and working on a unified global strategy in order to fight terrorism in the region.
EU countries, USA, Egypt, Kuwait, Qatar, Jordan, Iraq, Russia and number of other countries have strongly condemned the recent attack in Tunisia and expressed their support of Tunisian government.
This Friday attack was the deadliest in a Tunisian history and followed a March attack of the Bardo National Museum in Tunis that left 22 people killed, among them 21 foreigners and one local policeman, and dozens of wounded. ISIS claimed responsibility for that attack.
Tunisia faced numerous jihadist stacks since the Arab Spring, but these attacks targeted primarily police, army and security forces. The recent deadly attacks in Tunis and Sousse, that targeted civilians, particularly foreigners, opened a new grim page in Tunisian history.