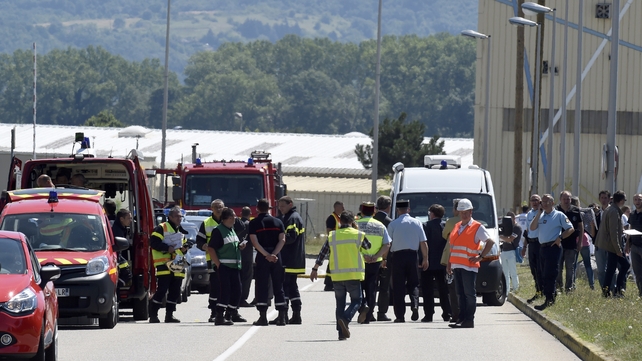 French police and security forces at the scene of an attack
(Image: RTE News)
A daily-light terrorist attack of a chemical plant, located 40 km from the city of Lyon, France, was carried out on Friday, 26 June, at about 10 a.m. local time.
A vehicle on a high speed has crashed the gates of the chemical depot in the morning, causing an explosion. In addition to that an assailant has reportedly planted some small explosive devices inside of the factory as well.
A severed head was also found thrown in front of the gates of the factory. Two flags, white and black, bearing Arabic inscriptions, were reportedly found next to the head. It is currently unclear whether the beheading occurred at the territory of the factory or the body and head were brought there by an assailant, stated the police.
The Friday attack thus left one person dead and two people wounded, as they suffered from an explosion caused by the vehicle crashing the gas canisters at the factory.
A full-scale investigation of an attack is ongoing, as the territory is sealed and blocked. Massive search operation of the police and security forces is carried out as well.
The factory was owned by the US group Air Product.
The sources close to the investigation claim it is unclear whether the assailant acted alone or had an accomplice, though the latest statements of the French prosecution declared he was most probably acting alone.
Radical terrorist group ISIS is suspected in carrying out this attack. French security forces indentified also an attacker. It was a 35 year old Yassine Salhi, who was already known for the security forces and was previously on the intelligence watch in 2006-2008 over his radicalization and links to the radical Salafist groups, but he had no criminal records, according to Bernard Cazeneuve, French Interior Minister, who spoke to the reporters at the scene.
Suspect was reportedly apprehended by a fireman who had responded to the incident. In addition to that several other people were arrested at the scene as a precaution, stated the police representative. The full-scale investigation of an attack is currently ingoing, as French security force were set on alert over the recent terrorist attack.
French President Francois Hollande, who arrived in France from EU Summit in Brussels and held an emergency meeting called the Friday attack the act of terrorism. French Prime Minister Manuel Valls in his turn has ordered special security measures to be taken.
Friday's attack at the chemical factory became the second deadly attack in France since the attack of the Charlie Hebdo magazine office in Paris, that occurred in January 2015 and left 17 people killed.
European countries are on a high alert over the terrorist threats, especially the recent claims made by Islamic State militants who threatened Europe with the series of terrorist attacks to be carried out in the nearest future.