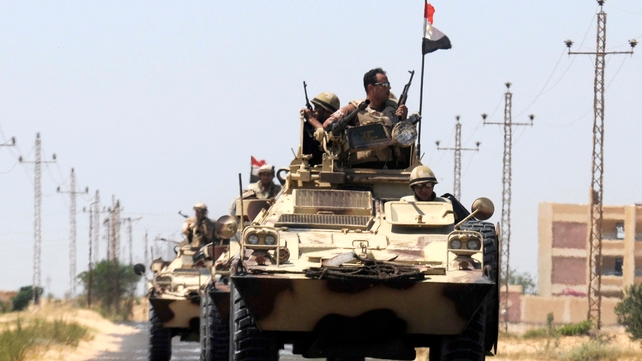 Egypt's Armed Forces in Sinai
(Image: RTE)
Egypt's Armed Forces spokesperson Brigadier General Mohamed Samir has announced on Wednesday, 17 June, that the Armed Forces have foiled a terrorist attack in Egypt's restive Sinai Peninsula and carried out special security operation against the militants planning the major terrorist attack.
Security operation of Egypt's military was carried out in the neighborhood of the Northern Sinai city of Al-Arish and has reportedly left seven militants dead. It was also reported that the terrorists were attempting to transfer the weapons to the village near the city of Sheikh Zuweid in order to carry out an attack against Egypt's security forces.
Armed Forces have also destroyed two weapons storages and depots of the militants in Northern Sinai and the militant's vehicle.
Egypt's Armed Forces, police and security forces face numerous terrorist attacks of the Sinai based radical jihadists and terrorists since the ouster of the Islamist backed President Mohamed Morsi. Those attacks left hundreds of security and Armed Forces personnel dead and injured and affected civilians and their properties as well. Egypt's Armed Forces have launched several major anti-terrorist operations in the region in order to fight terrorist and restore security, order and stability in Sinai.
Meanwhile, two terrorist attacks occurred in the Northern Sinai city of Al-Arish early in the morning on Wednesday, 17 June. Two road bombs went off in two separate terrorist attacks targeting Egyptian security forces.
One of the bombs went off as it was remotely detonated by the militants while the military vehicle was driving by, carrying policemen and soldiers. Police officer was killed in this attack, while two conscripts were wounded in an attack.
Another bomb exploded in the same city and close to the first explosion and left one police officer injured. The explosion also caused some damages of the houses of local residents.
Thus, Egypt's Northern Sinai witnesses a spark of the terrorist activity in the recent months, including the militant groups that pledged allegiance to ISIS and target Egyptian security and Armed Forces. Fighting terrorist activities and restoring security and safety in Egypt and particularly in the restive Sinai Peninsula is one of the priority tasks of the current Egyptian government.