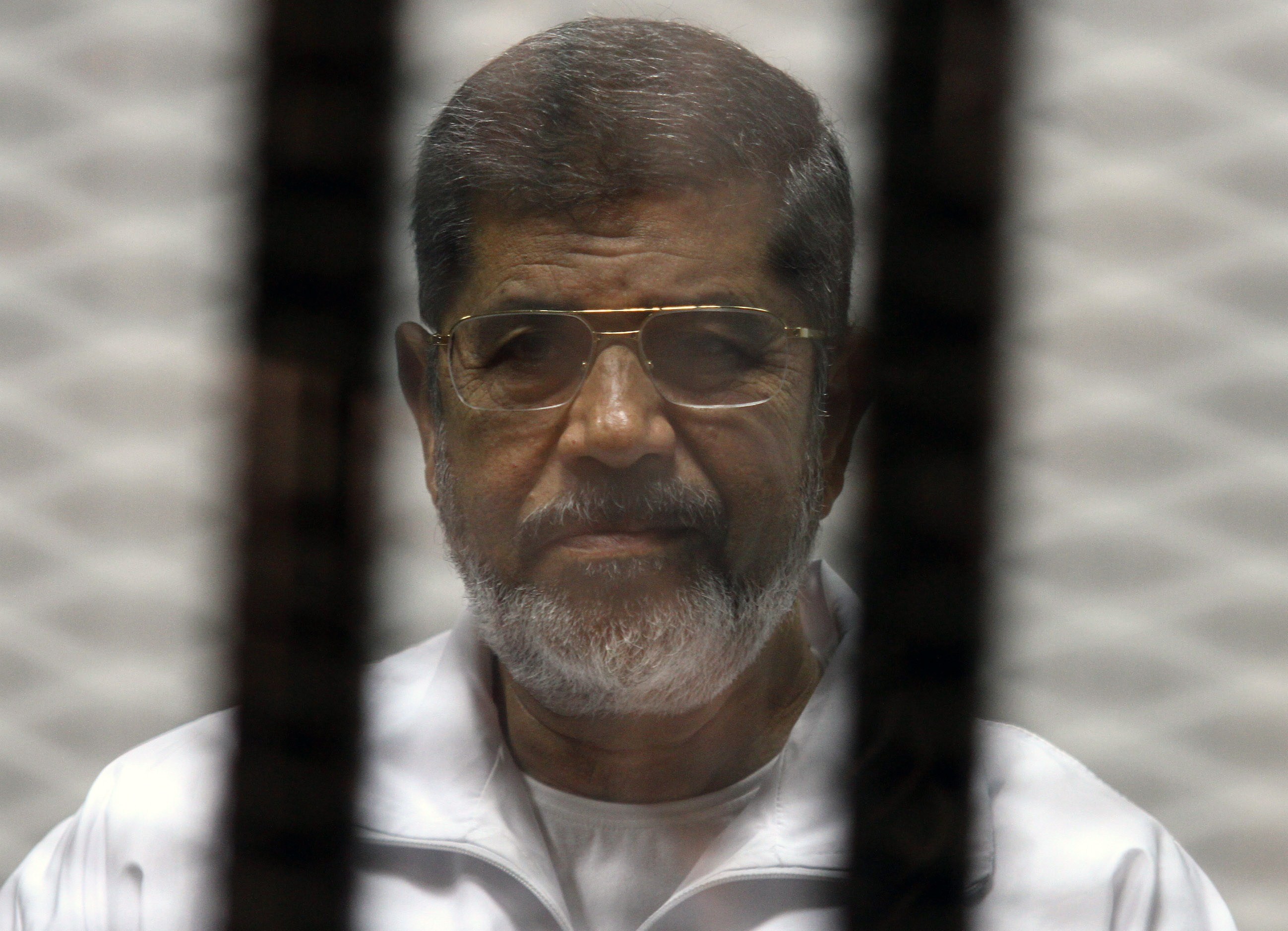 Egypt's ex-President Mohamed Morsi during his trial
(Image: Global Watch)
An Egyptian Criminal Court has sentenced Egypt's former Islamist backed President Mohamed Morsi to 20 years in jail during the Court's session on Wednesday, 21 April. Mohamed Morsi and 14 other co-defendants were accused of ordering arrest and imprisonment and the following of tortures of protesters and journalists during his rule.
Mohamed Morsi was overthrown by the decree of Egypt's Armed Forces in 2013 after massive nationwide protests against his rule. Mohamed Morsi was arrested and put in the prison in the coastal city of Alexandria and he faced trial on several charges including ties and cooperation with foreign militants to plan and carry out prison break and organizing of escape of jailed jihadists and Islamists from the prison during the protests of January 22 revolution in 2011.
In addition to that Mohamed Morsi is accused of espionage and cooperation with foreign countries and jihadists organizations, among them Gaza based Hamas, Iranian Revolutionary Guards and Lebanese Hezbollah, and organizing of terrorist attacks in Egypt. Another charge includes endangering national security by leaking state secret and sensitive information and documents to Qatar.
Mohamed Morsi and his aides were also accused of inciting violence during the Presidential Palace clashes in 2012, what led to death and serious injuries of many Muslim Brotherhood and oppositional protesters. These charges could carry a death sentence.
Though, the Wednesday's court session declared the 20 years jail term for Mohamed Morsi and other 14 co-defendants for arresting and torturing numerous protesters and journalists during Morsi's time in power. Most of the defendants were also given the 20 years jail term. Hearing the court verdict, Mohamed Morsi and his aides were showing the four-fingers sign, the so called "Rabaa-sign", in memory of a violent dispersal of Islamist sit-in in Cairo Rabaa Al-Adaweya Square in 2013.
Morsi's lawyer has stated that the verdict will be appealed.
Egyptian government has arrested hundreds of Muslim Brotherhood's members and supporters since Mohamed Morsi was ousted. Many of them faced court trials and received life in prison and even death sentences. Thus, Muslim Brotherhood leading figures, such as Muslim Brotherhood Supreme Guide Mohamed Badie, received recently the death sentence. Muslim Brotherhood is currently banned in Egypt as a terrorist and extremist organization.