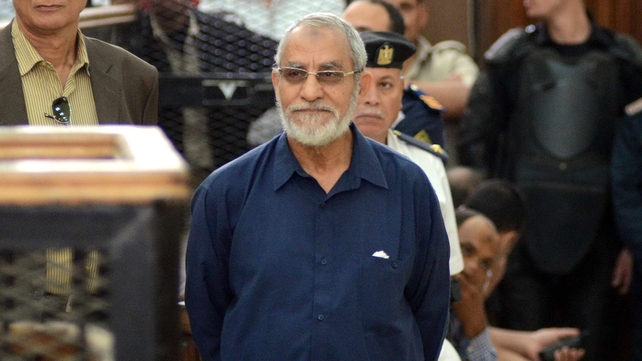 Muslim Brotherhood Supreme Guide Mohamed Badie in court
(Image: RTE)
Fourteen members of currently banned Muslim Brotherhood including leading figures of the group were sentenced to death during the session of Cairo Criminal Court, held on Saturday, 11 April. These members of Muslim Brotherhood were accused of "setting up an operating room" at the protest camp in Rabaa Al-Adaweya in Cairo in summer 2013.
After Islamist backed President Mohamed Morsi was deposed by the military decree in July 2013, Muslim Brotherhood members and supporters of Morsi have held massive protests and sit-ins in Cairo. After police and security forces violently dispersed the protests, hundreds were left dead.
Thus, Muslim Brotherhood leaders, including Muslim Brotherhood Supreme Guide Mohamed Badie, were accused of inciting violence and murder and provoking chaos in the country, following dispersal of the Islamist sit-in.
51 figures including high leading members of Muslim Brotherhood were among the defendants. Mohamed Badie and thirteen other defendants, including former Kafr El-Sheikh governor Saad Al-Hosseini, preacher Salah Sultan, Muslim Brotherhood spokesperson Mahmoud Ghozlan and others. They were sentenced to death on 16 March 2015, with the death sentences sent for approval to Egypt's Grand Mufti, what is the part of Egyptian judicial procedure.
Mohamed Badie was also sentenced to death in two other cases, though one of the sentences was overturned by the court appeals and the second one not approved by the Grand Mufti. In addition to that Mohamed Badie faces also a sentence of life in prison, what is 25 years in Egyptian law.
During the Saturday's session of the Criminal Court fourteen other Muslim Brotherhood members including Omar Malek, son of a businessman and a leading Muslim Brotherhood figure, Saad Al-Hosseini, former Kafr El-Sheikh governor, Muslim Brotherhood spokesperson Mahmoud Ghozlan and another leading figure Saad Emara, both of them sentenced in absentia.
Meanwhile, 37 other defendants were sentenced to life in prison, including Saad el-Shater, son of leading Muslim Brotehrhood figure Khairat El-Shater, and Mohamed Soltan, Egyptian-American citizen who continues his hunger strike protesting his imprisonment and sentence.
The defendants can issue appeals against the verdict. Meanwhile, all the death sentences are expected to be sent to the Grand Mufti for approval.