French security forces during an anti-terrorist operation
(Image: Getty Images)
After a terrible attack launched by three gunmen against an editorial office of French satirical magazine "Charlie Hebdo" in Paris that left 12 people dead and several people wounded, some of them critically, events turned really dramatically in France, as the Wednesday's 7 January Charlie Hebdo attack was followed by the series of other terrorist acts in some French cities and a hostage crisis happened on Friday, 9 January.
Thus, three gunmen shouting Islamic slogans and shouting that they "avenged the Prophet" broke in the editorial office of a satirical magazine "Charlie Hebdo", known for its sharp and controversial cartoons, often attacking and insulting religions, particularly Islam. They opened random fire on the journalists working at the office and left the scene fast, killing two policemen. Wednesday's attack left 10 journalists of "Charlie Hebdo", including its editor in chief, dead. 12 people together with two murdered policemen were killed as a result of an attack.
French President Francois Hollande called this act as a "barbaric attack" and declared France's fight against the threats of terrorism in the country. Many international leaders, prominent Islamic figures and scholars all over the world and also French Muslim community strongly condemned the act of terrorism launched by the three gunmen.
Wednesday's attack was followed by the massive demonstrations held nationwide in France and also in many other cities all over the world in support of the killed journalists and against an attack against the freedom of speech and expression. "Je suis Charlie" appeared to be the slogan of these days, as people tried to show their solidarity with the murdered journalists.
French police and security forces have launched an anti-terrorist operation aimed at neutralizing the three suspects. Two of them were identified as Said and Cherif Kouachi, French citizens of Algerian descent, while the third one was identified as Mourad of 19 years old, who later surrendered to the police forces, while two other suspects escaped to the North of the country.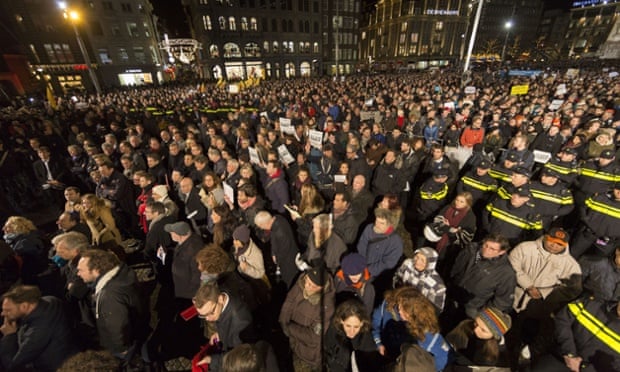 Massive demonstrations in Paris and other cities all over the world
in support of Charlie hebdo journalists
(Image: The Guardian)
It's worth mentioning that both Kouachi brothers have been on a US "watch list" for years, stated a US official on Thursday, and one of them is believed to have trained with Al-Qaeda in Yemen in 2011, also according to US official.
Thursday, 8 January, was marked by several attacks and bombings occurred in several French cities and targeting mosques and some Muslim owned cafes. A policewoman was killed during one of the attacks occurred in one of the districts of Paris also on Thursday. Massive anti-terrorist operation of the French forces followed the events.
Later, on Friday 9 January, French police and security forces have started a manhunt chasing the two brothers, suspected in killing Charlie Hebdo journalists. Two hostage takings were carried out by the terrorists on Friday, after police followed the gunmen escaping with the car. The Kouachi brothers have taken one person hostage in a small city of Dammartin-en-Goele, north of Paris. The countryside was cornered by security forces, the city was sealed, and the helicopters have been overseeing the area from above. Police then reportedly exchanged fire with the terrorists and started its operation to neutralize the gunmen. Schools located in the area were evacuated, while locals have been reportedly hiding in their houses.
Another hostage taking was carried out later that day by a terrorist who killed a policewoman during the Thursday's attack in Paris. This time a Jewish supermarket was targeted, with dozens hostages taken.
Nearly 5 p.m. local time French security forces have launched an assault on a house where the brothers held their hostage, and I a few minutes another assault was launched on a Jewish supermarket. Explosions were reported to be heard.
Five people were left dead as a result of a Friday hostage crisis. The hostage of Kouachi brother remained alive, as the brothers were killed during an attack, while the Jewish supermarket hostage crisis left five people dead including a terrorist and four people critically wounded.
Thus, three days of terrorist attacks occurred in France have left 17 people dead and dozens of injured.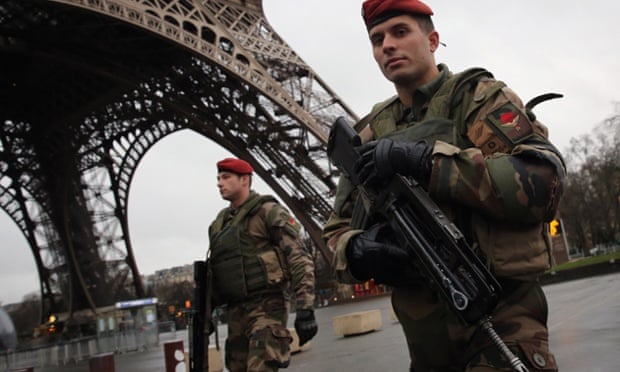 French security forces patrolling the streets of Paris after
Charlie Hebdo attack
(Image: The Guardian)
French President Francois Hollande stated in his televised speech delivered on Friday, shortly after the anti-terrorist operation was finished, that he praise French security forces and soldiers, but he also stated that despite the fact that the current crisis was resolved the threats aren't finished yet. "I call for vigilance, unity and a mobilization" in a fight against terrorism threats in France, stated Mr. Hollande.
French Prime Minister Manuel Valls declared in his Friday statement that France will continue its fight to counter terrorism in the country and emphasized that "we are in war against terrorism. We are not in war against a religion, against a civilization".
Thus, recent terrorist attacks occurred in France have set new challenges to the European security and appeared to be a test for the further policies. Hopefully these events won't radicalize some ultra-right and ultra-conservative forces and won't drive its anger against the whole Muslim minority of France.