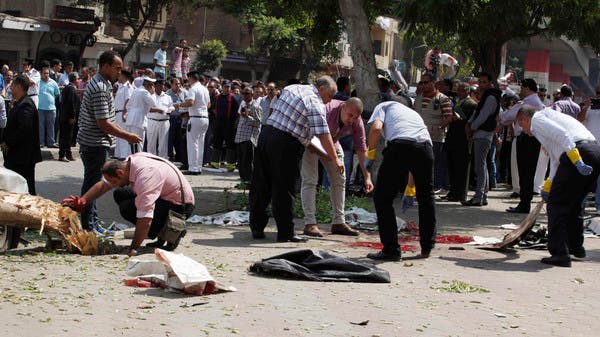 Explosion occured near the building of Ministry of Foreign
Affairs in Cairo
(Image: Al-Arabiya)
A blast occurred on Sunday, 21 September, in Downtown Cairo, next to the building of the Ministry of Foreign Affairs. The incident happened in the busy district of Boulaq Abu El-Ela, which is located between Cairo's central Tahrir and Ramses Squares, close to the Maspero State TV building.
Egyptian Ministry of Health has reported that two people were killed and several others were injured as a result of a blast. Both people killed were police officers. There are also at least five police officers and personnel and one civilian among the injured. All the wounded people were reportedly transported to the Police Hospital.
Police and investigative team work currently on the sight, trying to investigate the stage and to make sure there are no other explosives in the area. There were two versions of the event according to the earlier reports. Some reports indicate that the bomb was thrown by the group of the assailants driving by on the motorbike, while the other reports state that the home made explosive device was placed near the tree next to the Ministry of Foreign Affairs building.
Sunday 21 September is a beginning of study in many schools of Egypt, and the neighborhood hit by an explosion hosts many public and private schools, so the students and personnel of those schools were evacuated due to the incident.
Egypt was hit by the terrorist attacks and blasts many times since Egypt's previous Islamist backed President Mohamed Morsy was ousted from power. Northern Sinai experienced the terrorist attacks on a regular basis, though the attacks target mostly Egyptian army and police. But the recent instable situation in the country brought the reality of the attacks and blasts to Egyptian cities as well, including the Cairo, which has experienced several explosions recently.
Meanwhile, Sinai based Jihadist group has already claimed their responsibility for the Ministry of Foreign Affairs blast. This happened in the light of the extremely tense and dangerous situation with the IS threatening Egypt along with some other countries participating in the fight against IS with the new terrorist attacks.