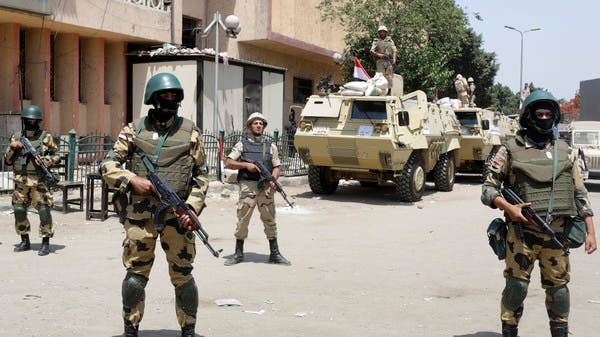 Egyptian military close to the Libyan border
(Image: Al-Arabiya)
21 Egyptian soldiers were killed on Saturday in an attack close to the Libyan border in Egyptian Wadi Al-Gedeed governorate, which borders also with Sudan.
MENA reported, citing its source in military, that the attackers were allegedly some smugglers infiltrating Egyptian territory through the underground tunnels. The assailants opened fire on Egyptian soldiers from the guns and RPGs at about six p.m., right before the Iftar time, when Muslims break their feast for the first time in a day during the Holy month of Ramadan. This attack reminds of a 2012 deadly attack occurred in the Egyptian-Israeli border, when 16 Egyptian soldiers including the conscripts were killed in an attack of the Islamist militants operating in Sinai.
Army spokesperson Mohamed Samir announced that the soldiers were killed in a fire exchange with the militants. Four soldiers were also injured. The sources also said that there were the vehicles carrying ammunition and weapons, which were confiscated on the scene.
This attack was one of the deadliest attacks against the military and policemen in Egypt since the last year's Sinai attacks, close to the Rafah border crossing.