Ukraine: roundtable in the frameworks of the national reconciliation
talks
(Image: TSN)
Amid the ongoing separatist activities in Eastern Ukraine Ukrainian officials continues its initiative of series of
roundtables in the framework of the national reconciliation dialogue. These talks are being held by Ukrainian transitional government with the mediation of Western diplomats, including members of OSCE, and are attended by Ukrainian authorities, politicians, diplomats, representatives of problematic regions, businessmen, cultural and public figures, intellectuals, clergy etc. The meetings are being held by the two former Ukrainian Presidents – Leonid Kravchuk and Leonid Kuchma. Though there are no representatives of the self-proclaimed Donetsk and Lyhansk People's Republics, as their officials representatives declared that they don't recognize either Ukrainian government or the upcoming elections and refused to participate in the talks. In addition to that, Ukrainian officials also stated that they will have dialogue only with those who are ready to talks and who will give up the arms, and that there will be no talks with the terrorists, that's why anti-terrorist operation, launched by Ukrainian security and Armed Forces, is ongoing.
Thus, meeting in the framework of the national unity talks have been already held in Kyiv and Kharkiv, and the participants have been discussing the ways and possibilities of peaceful and democratic resolving the crisis and stabilization of situation in Ukraine, as it is extremely important on the current stage, on the eve of the early presidential elections, planned to be held on 25 May 2014. These elections should bring Ukraine the legitimate, elected by people President and will give the chance to make the further steps in order to stabilize political, economic, social and security situation in Ukraine and continues its path towards EU integration and deeper cooperation.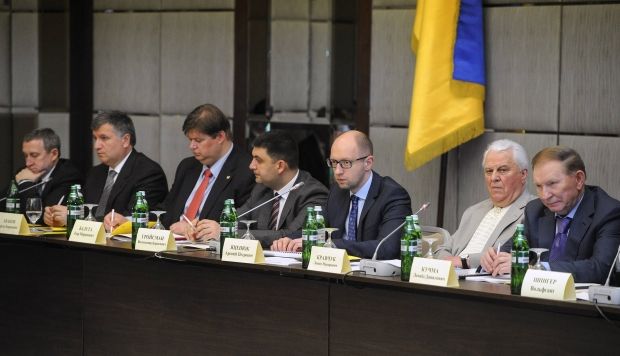 Ukrainain national reconciliation talks
(Image: Dilovy region)
The next round of the talks was planned to be held in Donetsk, the main city of the restive region, but this meeting was reportedly postponed till Thursday, as the Wednesday meeting will be held in Southern Ukrainian city of Mykolayiv. In addition to that, Ukrainian transitional government is also planning to hold its planned meeting in Mykolayiv as well.
Meanwhile, Ukraine receives support of international community, including Western partners. NATO in its turn declared their readiness to start deeper cooperation with Ukraine in the field of defense and Armed Forces. Thus, NATO officials stated recently, during its meeting on Tuesday, attended by Ukrainian Head of National Security and Defense Council Andriy Parubiy, that NATO is ready to help Ukraine to increase its military and defense potential, especially due to the situation on the Eastern border and Russian military aggression. Thus, NATO stated that the Alliance will send military advisers to Ukraine in the nearest future.
Ukrainian soldiers participating in anti-terrorist operation
(Image: Business insider)
The situation in the Eastern region though remains tense, but the massive anti-terrorist operation, being held in the region during more than a month, brings more and more successes, as the number of the liquidated and arrested pro-Russian and Russian terrorist is increasing, and their support in the region drops with every day. Thus, the leaders of the self-proclaimed Donetsk and Luhansk People's Republics have called recently on people to join their army as they have not enough fighters and most of them are foreign mercenaries. In addition to that, local residents, previously relatively passive, becomes more active in resisting the separatists and bandits, like it happened, for example, in Mariupol, where the miners have been defending their city from the terrorists several days ago, and on Tuesday the group of ordinary unarmed women have chased the terrorists away. The strikes of the local factories and companies with the demands to stop violence and to eliminate terrorism become more and more often.
It's worth mentioning also, that Eastern Ukrainian oligarch Riinat Akhmetov, who has a great influence in this region and was accused previously of alleged cooperation with the separatists and terrorists, as he was seen several times with the controversial Russian politicians and members of the People's Republic and also didn't do anything in order to help the anti-terrorist operation, has made recently an official statement. In this statement Mr. Akhmetov supported united Ukraine and expressed his position against federalization. He demanded the violence and separatism to stop in the region and called on the workers of his companies to start the strikes to protest the separatist activities in the region. The first series of strikes started on Monday and continued on Tuesday.
Ukrainian soldiers participating in anti-terrorist operation
(Image: BBC)
Thus, the situation in the East changed dramatically, but it still remains tense, especially considering the fact, that Russian military troops and technique still remain en masse along the Ukrainian border. In addition to that official Kremlin had stated earlier, that Russian military forces are planning to hold military training on 21-27 May on the borders with Ukraine, with their active phase to be held on 24-25 May, the day of Ukrainian Presidential elections. There are still serious threats that Russia may try to disrupt Ukrainian elections. Ukrainian Ministry of Foreign Affairs has demanded Russian side to officially explain the reasons and purpose of these training and the numbers of the troops to participate. This request was made officially through OSCE, using the organization's special procedure. According to this procedure, Russia must give an explanation during the next 48 hours.
Meanwhile, Russian President Vladimir Putin claimed that he has issued a decree to withdraw the troops from Ukrainian border and to bring them back to the places of their usual dislocation. But neither Ukrainian side, nor NATO, nor USA, obtaining the satellite pictures of the border region, couldn't confirm it. Russian military troops still remain stationed along the border with Ukraine and they haven't been withdrawn. NATO and US Administration both have called on Russia to withdraw the troops, to stop destabilizing situation in Ukraine and to respect Ukrainian territorial integrity and borders.
Rinat Akhmetov, Ukrainain oligarch with an influence in Eastern
Ukraine
(Image: Forbes)
In addition to that Western countries along with Ukrainian officials have called on Russia to remember its international obligations according to the international accords, signed by Russia as well and guaranteeing Ukraine its territorial integrity and borders. But Russian side refused to guarantee it, according to the statements of Russian Prime Minister Dmitry Medvedev, who stated in his recent interview to Bloomberg, that Russia never had any obligations towards Ukraine and cannot guarantee its territorial integrity, He also made it clear that in case Donetsk and Luhansk regions will be annexed by Russia, Russia will have no obligations towards Ukraine. In addition to that he called on Western countries to stop "interfering in Ukrainian internal affairs" and declared that Russia demands Ukrainian federalization and refusal of joining NATO etc. It sounded really contradictory, as Russia continues its rude interference in Ukrainian internal affairs, not mentioning its military troops and agents operating on the territory of Ukraine. Medvedev also added that Russia maybe won't recognize the results of Ukrainian upcoming presidential elections.
Thus, situation is still tense, but Ukrainian authorities continue to do everything possible in this situation to resolve the crisis and to ensure holding the elections. Ukrainian High Electoral Committee in its turn has declared recently that elections will be held and they will be considered being legal and legitimate, even if the situation in Donetsk and Luhansk regions will not stabilize. Tensions and separatist and terrorist activities are happening actually only in several cities of the region and are not total, and polling stations in the region prepare for the elections.