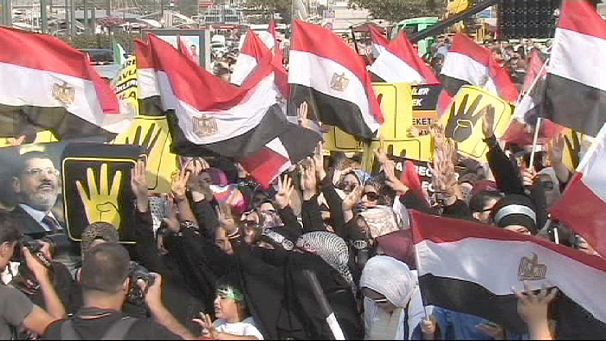 Muslim Brotherhood's protests in Egypt
(Image: Euronews)
Security situation remains a concerning issue in Egypt since the ouster of the Islamist backed President Mohamed Morsy in July 2013. Egypt has witnessed a wave of systematic and massive pro-Muslim Brotherhood and pro-Morsy protests, mass arrests of the Muslim Brotherhood members and supporters, trials, numerous attacks against police and Armed Forces and several bombings in Egyptian cities as well.
Latest Friday, 18 April, was marked by the rallies of Mohamed Morsy and Muslim Brotherhood supporters, held in several cities of Egypt nationwide. Hundreds of pro-Morsy demonstrators have been protesting in Cairo, Giza, Alexandria, Tanta, Kafr El-Sheikh, Fayoum, Menoufiya and others, according to the local media.
The protests were backed by the Alliance for Support of Legitimacy, which refuses to recognize Egypt's transitional government and rejects the political roadmap introduced by the Armed Forces. The Alliance denounces the recent Egyptian events as a consequence of the military backed coup in July and claim that Mohamed Morsy is still a legitimate President of Egypt.
It's worth mentioning though that the numbers of Morsy and Muslim Brotherhood supporters protesting every Friday in several Egyptian cities have significantly decreased since July, as the group itself was declared as a terrorist organization and banned in Egypt, while its leaders and numerous members are behind the bars, facing trial on several charges including murder and terrorism. But despite this the protests of the Islamists' supporters continue in Egypt.
Last Friday's protests were not numerous, but the clashes erupted during several rallies, thus the police have been firing tear gas in order to disperse the crowds. Several protesters have been arrested in Giza and Alexandria as well.
Security situation though remains tense and concerning due to the series of the bombings occurred recently in Egyptian cities. Another bomb exploded this Friday in Giza, on Lebanon Square, killing one road police officer and injured one policeman. According to the witnesses, the bomb was allegedly thrown off a bridge that passes through the square and targeted a road police officer who was on his duty in the traffic box. Investigations are ongoing, while the police cordoned the area.
Several explosions hit Cairo two days earlier, as a bomb exploded in Dokki (Cairo), injuring two policemen and one civilian. Later on the same day three civilians were wounded in another bombing occurred in Giza, on Faysal Street, which is usually very busy. The bomb, allegedly hand grenade, was placed under the private car.
Egypt was plagued by the wave of attacks against police and security personnel in Northern Sinai and a series of bombings in Egyptian cities, including the horrible blast in Mansoura happened in December. The issue of security and safety remains the key issue for Egyptian policies and the current government as well, as Egypt is heading toward the presidential elections to be held at the end of May.