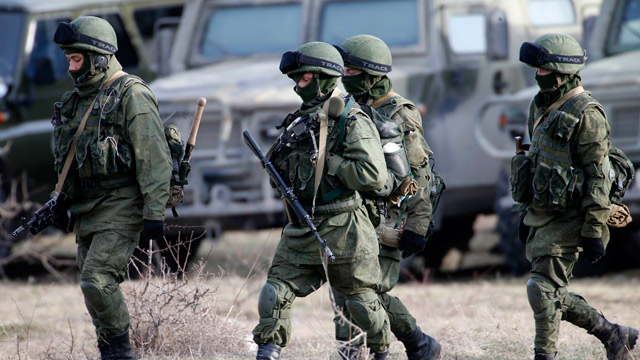 Russian military in Ukrainian Crimea
(Image: The Guardian)
Despite an increasing pressure of the Western countries and demands of Ukrainian government to withdraw the troops from Crimea, Russia continues to increase its military presence in Ukrainian Crimea, deploying additional troops and continuing seizing of Ukrainian military bases and objects and blocking Ukrainian soldiers, who don't respond with fire on Russian provocations.
Ukrainian government continues to urge Russian authorities to hold the talks and to immediately withdraw its troops from Ukrainian soil. Prime Minister Arseniy Yatsenyuk, who is expected to meet with US President Barak Obama over Ukrainian crisis on 12 March, has accused Russian leaders of the escalation of Crimean crisis and called on Putin to hold the talks with Ukraine with the participation of the international contact group and mediators and observers. He also stated that Ukrainian government, Parliament and people are able to decide the future of Crimea and to grant it wider autonomy and additional powers and rights in the framework of a national dialogue. But it could be possible only after Russia will withdraw its troops from Crimea and cancel illegitimate referendum, which won't be recognized by any country. Mr. Yatsenyuk also stated that there are no Crimean authorities, as the recently self-proclaimed leaders are separatists and Moscow puppets.
Arseniy Yatsenyuk, Ukrainian interim Prime Minister
(Image: Thelegraph)
Meanwhile, the situation in Crimea remains tense and escalates with every day, as Russia tries to control the Peninsula stronger ahead of the referendum set by Crimean separatist pro-Russian powers on 16 March. The ballots are ready and brought to Crimea. The situation with Ukrainian military remains complicated, as the soldiers are blocked by Russian military and pro-Russian militia. The cases of beatings, attacks and kidnappings of Ukrainian military personnel and officers, journalists and activists increased during the recent days.
Ukrainian Armed Forces are currently in state of alert, with the military troops being deployed to the Eastern and Southern regions of Ukraine and heading to Crimea. Border service of Ukraine increases security measures on the borders with Russia, Belarus, Moldova, due to the activities on the borders and arrival of provocateurs on the territory of Ukraine.
Western countries continue to support Ukraine and pressure Russia threatening it with the new sanctions in case the crisis won't be resolved peacefully. Thus, USA has already imposed sanctions against Russian officials and threatens Russia with total political and economic isolation. US are ready for the new wider and harsher sanctions against Russia. US Armed Forces and NATO are also ready to support Ukraine, as Russian aggression in Crimea threatens not only Ukraine, but also Europe. Military operation is among the possible options.
NATO has started joint military trainings with Romania and Bulgaria close to the borders of Ukraine and its Black Sea waters, while NATO military airplanes started to patrol Ukrainian borders due to an increasing military activity of Russia in Crimea.
Ukrainian acting President Oleksandr Turchinov
(Image: Express UK)
EU is also ready to impose harsh sanctions against Russia, if its leadership will refuse to hold negotiations or if these talks won't bring result, stated UK Prime Minister David Cameron and added, that European Commission is working on the package of serious sanctions including freezing of financial assets against Russia.
German Chancellor Angela Merkel urges Russia to start the talks with the participation of the international contact group and to resolve the conflict peacefully, or Europe will be forced to impose sanctions in order to stop Russia aggression. UN Secretary General Ban Ki-Moon has expressed similar statement adding that the solution of the crisis should appear through negotiations and without dividing Ukraine.
Ukrainian acting President Oleksandr Turchinov has declared on Monday, that Ukrainian government and European Commission are working in cooperation on the package of measures in order to resolve the crisis in Crimea and to stop Russia aggression. These measures include sanctions as well. In addition to that Ukraine has issued a request to the Venice Commission, and Ukrainian representative will present the numerous facts of Russian aggression, violations and propaganda being used in Crimea.