Russian military invasion in Ukraine
(Image: Bloomberg)
Situation in Ukrainian Crimea, occupied by Russian troops since 28 February, remains tense, as Russia refuses to de-escalate the situation despite the calls of Ukrainian government and increasing international pressure, accusing Russian administration of brutal violation of Ukrainian and international law.
Russian troops have lifted blockade of Crimean cities ahead of the planned visit of the OSCE mission in Crimea, but after the members of the mission have left the Peninsula, the troops have returned and continued blocking Ukrainian military units, threatening the soldiers, who have an order not to shot, as any wrong move from Ukrainian side could become a reason for Russian full-scale military aggression, as it happened in Georgia in 2008. Thus, the situation remains tense, especially after Ukrainian Ministry of Foreign Affairs has received an information about the preparation of provocations of Russian, made by Russian soldiers dressed in Ukrainian military uniform.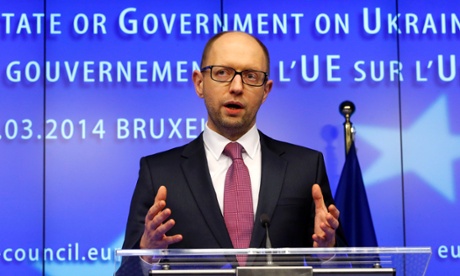 Arseniy Yatsenyuk, Ukrainian interim Prime Minister
(Image: The Guardian)
OSCE has sent to Crimea its special mission consisting of military experts in order to examine situation on the ground and to help to find the peaceful solution. OSCE mission included representatives of Hungary, Germany, Denmark, Ireland, Canada, Latvia, Lithuania, Norway, Poland, Slovakia, UK, USA, Turkey, Finland, France, Czech Republic, Sweden and Estonia. OSCE has increased the number of its members to 40 persons. Mission was expected to work in Ukraine since 5 till 12 March and visit not only Crimea, but also Southern and Eastern governorates of Ukraine. Though the OSCE mission was unable to work in Crimea, as immediately after arrival it was surrounded and attacked by Russian military and pro-Russian separatist protesters. It's worth mentioning, that UN Special envoy Robert Serry, who arrived in Crimea on Wednesday, has left the region immediately, after he was attacked and threatened by the same pro-Russian activists. He finalized his mission in Crimea and headed to Kyiv. OSCE mission in its turn has also left Crimea and finished its mission there due to security reasons. Many experts and analysts state that Russia is interested in destabilizing the situation in Crimea and in preventing international observers from arriving and examining the issue, that's why it will support and back provocations aimed to demonstrate that there is chaos in Crimea.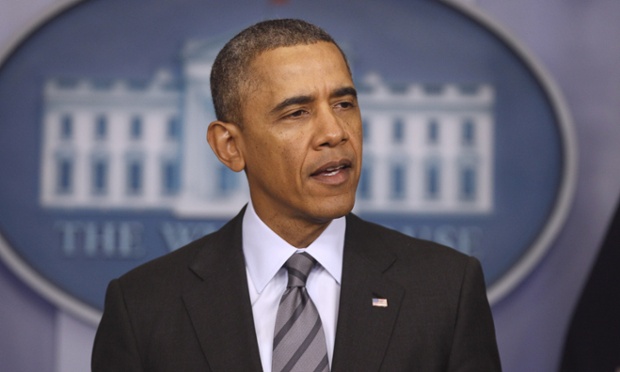 US President Barak Obama delivering his speech about the
situation in Ukraine
(Image: The Guardian)
Meanwhile, Crimean Parliament has voted on Thursday for separation of Crimea from Ukraine and its accession to Russia. Parliament has issued a decree about joining Russian Federation as a federal subject, declared Vice Prime Minister of Crimean government Rustem Temirgaliev. He also added that Crimean authorities have already sent a request to Russian Parliament and President Vladimir Putin asking to immediately start the formal procedures of accession of Crimea. In addition to that they've declared Ukrainian soldiers in Crimea beyond the law and labeled them as "occupants", and Ukrainian soldiers received an ultimatum: either they take an oath to Russia, or they will be declared traitors.
Mr. Temirgaliev also added, that Crimean Parliament decided to set another date for the referendum to vote for the status of Crimea. The referendum is expected to be held on 16 March. Crimeans will be asked two questions:
Are you in favor of reuniting Crimea with Russia as a subject of Russian Federation?

Are you in favor of retaining the status of Crimea as a part of Ukraine?
Refat Chubarov, Head of Crimean Mejlis
(Image: Lenta UA)
Ukrainian government and High Constitutional Court have declared that this decision of Crimean Parliament is totally illegitimate and violates not only Ukrainian Constitution and laws, but also international law as well. Ukrainian Constitution doesn't allow holding a regional referendum and, in addition to that, any voting or referendum under the occupation and during a military invasion is forbidden and its results cannot be recognized.
Crimean Tatars, native inhabitants of Crimea, have strongly condemned the decision of Crimean Parliament and called on all the people of Crimea and Ukraine to make everything possible to preserve territorial integrity of Ukraine and its unity.
Refat Chubarov, Head of Crimean Mejlis, has declared the upcoming referendum illegitimate and called on people to boycott it. He also asked international community and international organizations to support Ukraine and guarantee its sovereignty and integrity, according to the international treaties. Due the rapid changing of situation and Russian threats international community should take fast decisions, stated Mr. Chubarov.
In addition to that Refat Chubarov has called also on UN to send to Crimea UN peace-keeping troops in order to guarantee safety to Ukrainians and to stop Russian aggression.
Crimean Tatars have also addressed the heads of Turkey, Azerbaijan and Kazakhstan asking to support Tatars in Crimean and to not allow separation of Crimea. Ex-Head of Crimean Mejlis Mustafa Jemilev has signed this statement.
Mustafa Jemilev, ex-Head of Crimean Mejlis
(Image: Crimean News Agency)
Ukrainian Prime Minister Arseniy Yatsenyuk has declared during his visit to Brussels, that Crimea will remain in Ukraine, and Ukrainian government will do everything possible to preserve integrity of Ukraine. He also added that the new government will consider granting Crimea wider autonomy. He also denied that Ukraine is seeking US military support in resolving of the current crisis and called on the international community to support Ukraine to peacefully and legally resolve the crisis. Mr. Yatsenyuk has also addressed to Russian government urging them to start negotiations.
EU Ambassador to Ukraine Jan Tombinski has stated that the decision of Crimean Parliament regarding the referendum and accession of Crimea to Russia is totally illegitimate, and such a decision could be taken only on the national referendum, not the regional one, which is not possible according to the Constitution of Ukraine.
Meanwhile Ukrainian SBU and General Prosecution have already opened criminal cases and started investigations on the case of separatism and national treason of Crimean officials.
Ukrainian Arseniy Yatsenyuk with Herman Van Rompuy
during the EU Summit on Ukraine
(Image: Ahram Online)
As for the international reactions, US have imposed sanctions and visa restrictions on Russian and Crimean officials involved in the crisis. EU has held its extraordinary Summit over Ukraine on Thursday and took the decision regarding some sanctions to be imposed against Russia. Thu, EU stops all the negotiations on the issue of liberalization of visa-regime for Russian and cooperation as well.
In addition to that EU has decided to sign the political part of the Association Agreement with Ukraine before the presidential elections. The "trade part" of the agreement could be signed later, as soon as possible. Polish President Donald Tusk has praised this result and stated: "We've achieved more than we've expected". Ukrainian government in its turn will start preparations for the signing of the Association Agreement with EU in the nearest future and remains with the pro-European political course, as nearly 70% of Ukrainians support it, according to the recent polls.