Russian military troops in Ukrainian Crimea
(Image: Voice of America)
Crisis in Ukrainian Crimea continues, as Russia refuses to withdraw its troops and de-escalate the conflict. Actually, Russian President and high officials continue to deny presence of Russian military in Crimea claiming that this is Crimean self-defense units, while the soldiers themselves say they are Russian military. Ukrainian military bases are still blocked by Russian troops, and soldiers demonstrate self-restraint and patience amid continuous provocations of Russian soldiers and pro-Russian activists in the region.
Situation is also alarming on the borders with Ukraine, amid an increasing military activity of Russia and deployment of additional troops and technique along the border, close to the Eastern and Northern cities of Ukraine, thus, the danger of an attack there is still high, stated Andriy Parubiy, head of National Security and Defense Council.
Meanwhile, Russian troops started to lift their blockade of Ukrainian cities in Crimea and military bases late in the evening of Wednesday, report the journalists on the ground. Head of Center of Military and Political Research Mr. Tymchuk state that they could be possible relocated for rotation or changing their location.
Anders Fogh Rasmussen, Secretary General
of NATO
(Image: NATO official website)
Ukraine in its turn continues to demand Russians to withdraw their troops from Crimea, to respect international law and international treaties and Ukrainian sovereignty and territorial integrity. Ukrainian government is ready for negotiations with the Russian side, and there are currently some talks on the level of Ministers, but these talks didn't give any results till now, according to Pavlo Sheremeta, Ukrainian Minister of Finances and Trade.
Ukrainian Parliament is considering review of Ukrainian status regarding NATO and is ready to work for the joining the Alliance as soon as possible. New draft law about integration with NATO in the framework of the law about the national defense and security was registered on Wednesday in Parliament by the MPs Borys Tarasyuk (former Minister of Foreign Affairs) and Valentyn Korolyuk. This necessity occurred due to the threat of military invasion of Russia and Russian military presence in Crimea.
NATO in its turn expressed its full support of Ukraine and stated about deepening cooperation with Ukrainian new government. USA Minister of Defense Chuck Hagel also declared, that NATO started its joint military trainings on the Western borders of Ukraine and is patrolling also air space above the Baltic countries.
Meanwhile, Turkics media reported also that Turkish government allowed US military ship to pass Bosporus, and the ship entered Black Sea on Wednesday, reports Turkish Hurriyet Daily News. This step was made due to the threat of full-scale military operation of Russia in Crimea.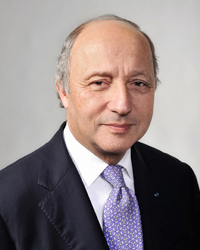 Laurent Fabius, Minister of Foreign Affairs
of France
(Image: French governmental website)
NATO General Secretary Anders Fogh Rasmussen has declared on Wednesday after an emergency meeting of NATO regarding the crisis in Ukraine, that NATO stops its military cooperation with Russia and will review and suspend all the joint projects and programs, including the joint program of transporting the chemical weapons from Syria. Political dialogue thou remains possible, and NATO along with other international organizations and worlds' leaders welcome the possibility of negotiations between Russia and Ukraine in order to resolve the crisis peacefully.
Special meeting of European Minister of Foreign Affairs has been held on Wednesday, 5 March, in Paris and was initiated by the French President Francois Holland. The meeting was attended by US State Secretary John Kerry, Great Britain Minister of Foreign Affairs William Hague, German Minister of Foreign Affairs Frank-Walter Steinmeier, French Minister of Foreign Affairs Laurent Fabius and Russian Minister of Foreign Affairs Sergey Lavrov. The meeting was held to discuss the situation in Ukraine and Russian military aggression and was aimed to find the solution of it and to help to mediate in the talks. French Minister Laurent Fabius in his turn reminded Russia, that it has 24 hours to de-escalate situation in Crimea, before the extraordinary Summit of EU will be open on Thursday, 6 March. This date is a deadline for Russia, because EU is ready to impose sanctions against Russia, including visa restrictions, stop of cooperation and relations in economic issues, freezing of financial assets of Russian oligarchs and economic sanctions.
German Chancellor Angela Merkel has also called on Russian President to withdraw the troops and de-escalate the situation, or Germen government will insist on sanctions.
Sergey Lavrov, Russian Minister of Foreign
Affairs
(Image: Wikipedia)
Great Britain, USA and Ukraine have been also holding talks on Wednesday and agreed that direct talks between Russia and Ukraine with the international mediation are needed to resolve the crisis. The meeting of Ukrainian Minister of Foreign Affairs Amdriy Deshchytsya and his Russian colleague Sergey Lavrov was expected to be held on Wednesday in Paris, but it failed, as Russian Lavrov refused to negotiate with Ukrainian minister, stated Polish Radoslaw Sikorski.
Massive rallies for Ukrainian integrity and against military operation of Russia have been held on Wednesday all over Ukraine, including the Eastern and Southern Ukrainian cities. Donetsk has witnessed a 10 thousand people march in support of united Ukraine. There were though also some pro-Russian marches as well, and the clashes erupted, when pro-Russian activists started provocations and attacks against the peaceful pro-Ukrainian protesters. There was an attempt to seize the building of regional office, but police dispersed the attackers.
Special mission of UN and EU military observers and experts has arrived in Ukraine on Wednesday. Though UN special envoy and representative of OSCE mission in Crimea Robert Serry was surrounded by aggressive pro-Russian protesters as he arrived in Crimea. He was attacked by them, so he was forced to finish his mission in Crimea and to leave Peninsula. Robert Serry is heading to Kyiv to report about the situation in Crimea. Ukrainian prominent political scientist Vitaly Kulyk stated regarding this incident, that Russia isn't interested in presence of international observers in Crimea, that's why it will try to destabilize the situation there in order to create dangerous condition for the international missions.
Thus, the situation is still tense, as Russia refuses to withdraw its troops, but there are currently some re-deployment and movement of Russian militaries in Crimea, though the reasons are unknown.