Ukrainian Crimean Peninsula
Situation in Ukrainian Crimea, occupied by Russian military troops and waiting for the Crimean referendum to be held on 16 March, remains tense and complicated, as Russian troops still seize Ukrainian military bases and units blocking Ukrainian soldiers and making provocations. In addition to that Russian Armed Forces have started unprecedented military training of its paratroopers units close to Ukrainian borders. Ukrainian Armed Forces representatives reported about nearly 220 thousands of Russian troops and military technique deployed along the Russian-Ukrainian border. Ukrainian military is in state of alert, as mobilization was announced, and Maidan self-defense started to form National Guard in case of Russian military aggression in Crimea and other Ukrainian territories.
Meanwhile, Crimean separatist Parliament headed by the illegally appointed pro-Russian puppet Speaker Mr. Konstantinov has voted on Tuesday for Crimean independence. 78 of 81 MPs presented on the session have allegedly supported this decision, thus, Crimean Parliament has declared Crimean independence from Ukraine just several days ahead of the referendum planned to be held on 16 March. Referendum though is totally illegitimate according to Ukrainian and international law, and international community stated already that none of the countries will recognize the results of this referendum. This move was also strange as new self-proclaimed Crimean authorities stated that after the referendum they will decide on the future of Crimea, and if people will support its joining Russia, Crimea will demand independent status in Russian Federation, what is more than strange.
Ukrainian central power has condemned this decision and called it totally illegitimate, as the attempts to hold regional referendum during the military occupation as well.
Russian Parliament in its turn is expected to discuss and vote for the new draft law allowing annexation of foreign territories according to the simplified procedure.
Meanwhile Ukrainian Parliament in Kyiv has issued Resolution during its Tuesday's session and has officially appealed to USA, Great Britain, EU and NATO to support Ukrainian territorial integrity and sovereignty and to use all the possible political, diplomatic, economic and military measures in order to help to resolve the crisis and to stop Russian aggression. Ukraine also addressed to Russia, which is one of the guarantors of Ukrainian integrity and security according to the Budapest Treaty of 1994 and demanded to immediately withdraw its troops and stops interfering in Ukrainian internal affairs.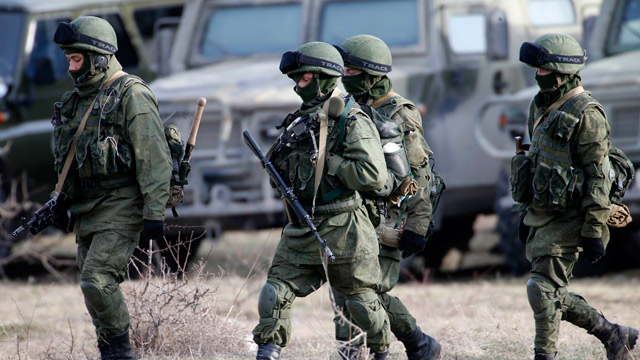 Russian military in Crimea, Ukraine
(Image: The Guardian)
263 MPs have supported this decision, it means that NATO has an official request form Ukrainian side to support Ukrainian with the military operation and deploy its troops in Ukraine, if Russia will not de-escalate the situation.
In addition to that Parliament will also discuss the possibility of launching special anti-terrorist operation in Crimea. Representatives of Parliament stated, that as Russia denies its military presence in Crimea, it means that there are armed bandit and criminal gangs, thus anti-terrorist operation should be launched.
As for the illegitimate decisions of Crimean self-appointed pro-Moscow puppet Parliament and government, Ukrainian Parliament has also taken a decision to dismiss this illegitimate Parliament. SBU (Ukrainian intelligence) in its turn has issued recently arrest warrants for Crimean separatist head of Parliament Mr. Konstantinov and Prime Minister Mr.Aksyonov. In addition to that SBU head Velentyn Nalyvajchenko has declared on Tuesday, that Russian special services were involved in the provocations in Ukraine according to the investigations. Several Russian spies and agents have been detained by SBU.
Ukrainian interim Prime Minister Arseniy Yatsenyuk jas declared during the Parliament's session, that the upcoming referendum in Crimea is totally illegitimate and couldn't be recognized by any country, and there is no legal authority in Crimea at the moment, just some criminals and separatists supported by Russian military. Mr. Yatsenyuk also reminded Crimean people about Abkhazia, Southern Ossetia and Transnistria and their conditions, if Crimeans want to join Russian.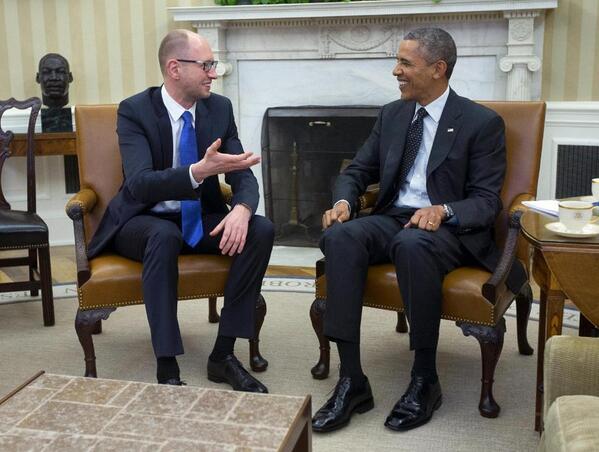 Ukrainian PM Arseniy Yatsenyuk and US President
Barak Obama during their meeting
(Image: Euromaidan Community)
Thus, Ukrainian government calls to refuse to hold Crimean referendum, as Crimean Tatars' Mejlis urged Tatars and all the people of Crimea to boycott this referendum. Putin in his turn has invited ex-Head of Crimean Tatars Mejlis Mustafa Jemilev for the talks in Moscow. Mustafa Jemilev headed to Moscow and declared that if there will be talks to resolve the crisis in Crimea, he will participate in them, but if there will be any attempts to "buy Tatars" with some guarantees in exchange of supporting the idea of annexation of Crimea, these talks are impossible. Mustafa Jemilev arrived on Wednesday in Moscow and met with Putin and expressed the position of Mejlis and Crimean Tatars, as Putin tried to claim that Ukraine has gained its independence in a "not so legitimate way". Thus, Mr. Jemilev has left Moscow, and the talks didn't have results. According to Mr. Jemilev, it looks like Putin will take the final decision regarding Crimea on his own and after 16 March referendum. It could be any decision, thinks the head of Crimean Tatars, it could be decision to access Crimea after the referendum or maybe a statement, that Russia respects the borders of Ukraine, but with demands of broader autonomy and more rights and powers for the Autonomous Republic Crimea.
Meanwhile, President of the neighboring Belarus Oleksandr Lukashenko has declared on Wednesday that his government cooperates and works with the new Ukrainian government and supports it in its willingness to work for Ukrainian people and its better future and to resolve the problems of Ukrainians. Belarusian government is planning to support new Ukrainian powers economically and will increase cooperation. It's worth mentioning that Belarus is one of the closest partners of Russia, though its leadership didn't support Putin's recent policies towards Ukraine and military invasion.
Mustafa Jemilev, ex-Head of Crimean Tatar
Mejlis
(Image: International Commitee of Crimea)
Another event of Tuesday was Victor Yanukovich's press conference held in Russian Rostov. This press conference lasted only a little bit longer than 8 minutes, as Ukrainian overthrown President repeated again that he is the only one legitimate President and he didn't escape the country, that Ukrainian current authorities are illegitimate and consist of neo-fascists and ultra-nationalists and that he will come back in Kyiv. He also called on USA and EU not to support current Ukrainian authorities. During these 8 minutes of Yanukovich's press conference Russian stock exchange has fallen.
Russia meanwhile continues to increase its military presence in Crimean and along the border with Ukraine, despite the demands of Ukraine and international community. Russian officials seem to refuse to hold negotiations with Ukrainian side. USA and EU have stated that as the talks seem to fail, there will be broad and harsh sanctions imposed on Russian officials till the end of the current week. The next step could be military operation, as USA Armed Forces and NATO have declared their support of Ukrainian cause and its territories and have already started joint military trainings on the borders with Ukraine and in the Black Sea waters.
USA continues pressure on Russian government and Putin over Crimean crisis demanding immediate withdrawal of the troops and participation in the talks with Ukrainian authorities. Ukrainian interim Prime Minister Arseniy Yatsenyuk has arrived on Wednesday in Washington for the officials meeting with US President Barak Obama and US officials in order to discuss current situation in Ukraine and Crimean crisis. US threaten Russian with the new harsher and wider sanctions if it will not de-escalate the situation in Crimea. Russia could appear in the total economic and political isolation, and military operation is also on the table.
German Chancellor Angela Merkel
(Image: Hallmark News)
German Chancellor Angela Merkel has stated that EU cannot allow Russia to "steal Crimea", because what Putin is doing now in Crimea is an attempt of annexation. Mrs. Merkel declared that EU and Western countries should do everything possible to stop this aggression. Germany in its turn will continue to use its "three-side strategy", as Berlin will help and support Kyiv and at the same time continue talks with Russia in order to pressure its leadership.
Great Britain, one of the guarantors of Ukrainian territorial integrity and sovereignty according to the Budapest Treaty of 1994, has declared that it will not allow Russia to annex Crimea, and if Russia will continues its attempts to do so and won't withdraw its troops from Ukrainian territory, it will have serious consequences.
European Parliament has stated on Wednesday after its session that it will vote tomorrow on the Resolution about the total suspending of diplomatic relations with Russia, until Putin will not withdraw its troops from Crimea. European officials stated that economic sanctions and stop of cooperation and talks regarding visa regime and economic projects aren't sufficient, thus EU could totally stop all diplomatic relationships with Russia till the end of this week, if the situation won't de-escalate. If the Resolution will be supported, EU will renew relationships with Russia only after withdrawal of troops from Crimea.
Meanwhile mission of OSCE in Crimea and NATO have confirmed the presence of Russian military and check-points in Crimea, and the statement was made on Wednesday. Thus, Putin's claims that there are no Russian army in Ukraine have been denied officially.