Kyiv Maidan after violent clashes
(Image: Den')
Ukrainians have experienced really black days in the entire history of the independent state since the beginning of the horrible and brutal assault of security forces against Euromaidan protesters, leaving more than 100 people killed and thousands badly injured. After the previous days of terrible fights, when Kyiv turned into Syria-like battlefield, and extremely hard night, when several living districts have been attacked by the so called "titushki" and thugs, and Ukrainians united in the self-organized units of self-defense and patrolled the streets of the city all night long, Friday was relatively calm for the protesters despite the worries about the possibility of the new assault.
Ukrainian Parliamentary session ended on Thursday with the voting for immediate withdrawal of "Berkut" and all the troops of riot police and security forces from the streets of Kyiv and stop of using force, condemnation of the recent deeds of the current Yanukovich government and necessity of the criminal accountability for all those responsible for the crimes committed against Ukrainian people. In addition to that Parliament voted for release of all the detained activists and protesters.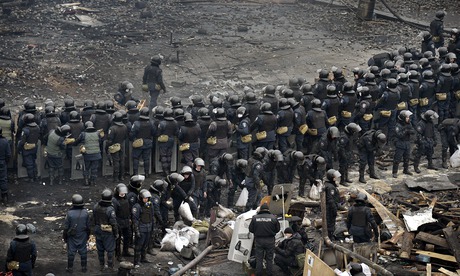 Riot police and security forces druing the battles in Kyiv
(Image: The Guardian)
Later in the night the talks between Yanukovich and opposition attended and mediated by EU ministers have resumed and lasted more than 6 hours, though the results weren't positive, according to the statements of EU officials. Yanukovich seems to be unwilling to do some compromises and is confident in his power, despite the fact that even the members of his ruling Party of Regions withdraw their mandates from the ranks of the party in masses.
Talks between Yanukovich and his government and opposition resumed on Friday and were attended by EU ministers Laurent Fabius (France), Frank-Walter Steinmeier (Germany) and Radoslaw Sikorski (Poland) and Russian Ambassador for Human Rights and Special Envoy Vladimir Lukin. Talks resulted in signing the Resolution aimed to resolve the deepening crisis in Ukraine and to work for finding the peaceful and legitimate solution.
Protesters in Kyiv streets after clashes
(Image: Reuters)
Among the agreements in the Resolution are the following:
Within 48 hours since publishing of this document special law should be issued to return 2004 Constitution with several amendments. Within 10 days after that the new coalition and interim government should be formed.

Constitutional reform aimed to limit presidential powers and to balance legislative, executive, judicial and presidential powers should be implemented not later than in September 2014.

Early presidential elections should be held after approving of the amended Constitution and not later than in December 2014. In addition to that these elections must be monitored and observed by Venice Commission, OSCE and other international observers.

Investigations of all the crimes committed recently against Ukrainian citizens during the ongoing protests must be held by the special commission formed from the representatives of the authorities, opposition and EU.

There should be no state of emergency imposed, while authorities and opposition should restrain from using force.
Kyiv burnt House of Trade Unions on Maidan
(Image: Den')
This document was signed by all the participants of the meeting excluding Russian Vladimir Lukin, who stated that talks and consultations with Victor Yanukovich will continue.
Friday's Parliamentary session opened by the Parliament's speaker Volodymyr Rybak, who was absent yesterday, was attended by an unprecedented number of MPs including representatives of the pro-Yanukovich Party of Regions. It's worth mentioning also, that several members of the ruling party have withdrawn their mandates during Friday's session as well.
During the Friday's session the majority of MPs supported Constitutional reform and return to the 2004 edition of the national Charter. President is officially limited in his powers as the law approved by the Parliament on Friday, should come in effect after it will be signed by the Parliament's speaker.
Ukrainian imprisoned ex-Prime Minister Yulia Tymoshenko should be released, as Parliament has also voted for the decriminalization of the clause with which she was charged. Mrs. Tymoshenko's lawyer Sergiy Vlasenko has stated that she should be released in the nearest future.
Streets of Kyiv after clashes
(Image: Den')
Prosecutor General Pshonka and Minister of Interior Zakharchenko have been dispissed.
There were though no statements regarding responsibility for the crimes and killing of protesters either in the Resolution or in the drafts supported in Parliament.
In addition to that the draft law about impeachment of President Yanukovich issued by the former member of Party of Regions Mykola Rudkovsky was registered on Friday evening in Parliament and is expected to be discussed soon.
Friday's developments during the talks and Parliamentary session are really decisive and important for Ukrainian current situation as they could stop violence and help to regulate the situation coming back into the legislative field of resolving the crisis. But people on Maidan were disappointed with these developments as immediate resignation of Yanukovich is the key demand of the protesters. Yanukovich must step down and be held accountable for the crimes against Ukrainians.
Oppositional leaders received a bad welcome on Maidan as they announced the results of the talks from the stage. Many protesters have labeled them as traitors who left Ukrainian to live other 10 month with the president who has not only lost his legitimacy, but who is considered being killer of Ukrainian people.
Leader of Ukrainian radical group Right Sector has made a statement from the stage of Euromaidan declaring that people will not leave until Yanukovich will resign. People give Yanukovich 24 hours to step down or there will be a massive resistance and attack, declared Mr. Yarosh from the stage. Maidan has supported this statement, though there are a lot of protesters who disagree with such a radical attitude and call for restraint in order to prevent further violence and victims.
Maidan after clashes
(Image: Den')
Meanwhile riot police and "Berkut" have really disappeared from the streets of Kyiv, and members of Maidan self-defense units are patrolling the streets in Kyiv downtown including the buildings of Parliament, Cabinet of Ministers and Presidential Administration and the neighboring territories in order to prevent possible aggression or provocations.
Meanwhile nearly 50 thousand people have gathered on Friday in Kyiv Independence Square in the evening to commemorate the slain protesters and to participate in the prayer for them. Impressive ceremony has been held right on Maidan, with the prayer and remembering all of the Heroes of Ukraine who gave their lives during the clashes.
There are though serious threats of federalization scenario, as Victor Yanukovich has left Kyiv for Kharkiv late in the night on Friday. Kyiv airport has confirmed that private jet with Victor Yanukovich, speaker Rybak, ex-head of National Defense and Security Council and current head of the presidential Administration Andriy Klyuev and Party of Regions MP Vadim Koshulinsky has left Kyiv, as Kharkiv airport source confirmed that the plane is expected in Kharkiv.
Kharkiv officials and supporters of Yanukovich Mr. Dobkin and Mr. Kernes are gathering special session of the MPs of Southern and Eastern governorates of Ukraine and Crimea to be held in Kharkiv. Kernes and Dobkin are famous for their recent separatist statements calling for diving Ukraine. It's worth mentioning that SBU has opened cases against them on the charges of separatist and extremist statements.
Maidan is commemorating slain protesters
(Image: Screen shot from Hromadske TV live coverage)
There are reports that "Berkut" and security forces withdrawn from Kyiv are being deployed in Kharkiv, and several buses supposedly with "titushki" and provocateurs are heading to Kharkiv as well. Experts claim that there could be an attempt of federalization of Ukraine during this session in Kharkiv, as massive provocations are being planned in order to spark chaos and justify Yanukovich and his supporters to declare statement about dividing of the country and its federalization and to ask for Russian support and help. However, Kharkiv activists have already gathered in the city to prevent the provocations and to protest against these plans. Donetsk, which was always Yanukovich's stronghold, is also forming units of self-defense and witnessing anti-Yanukovich protests.