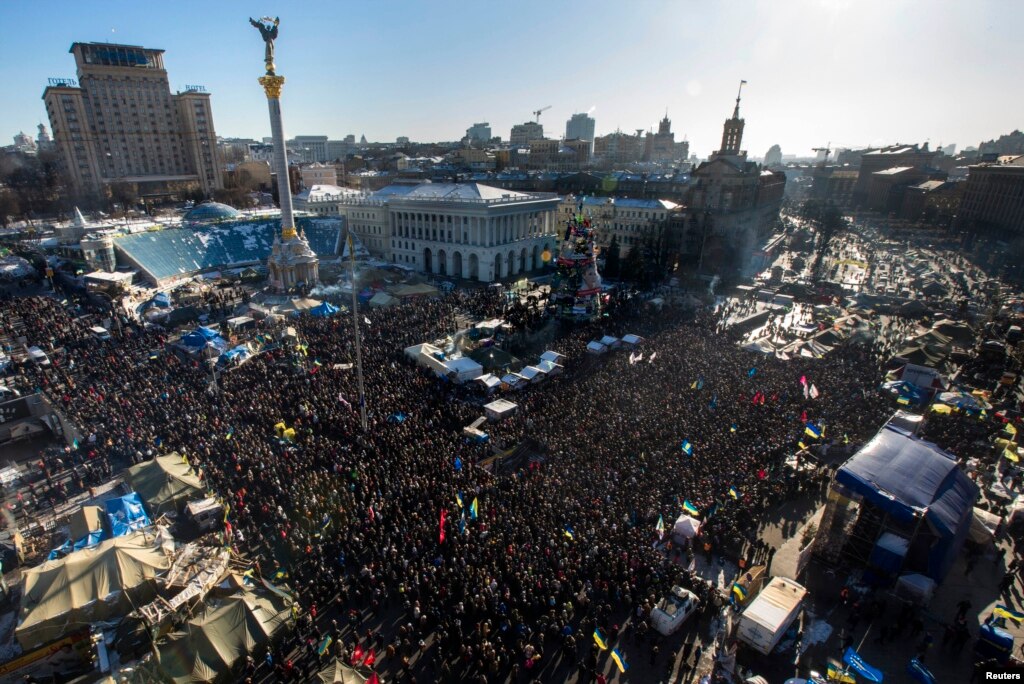 Massive anti-government rallies in Kyiv
(Image: Radio Svoboda)
Situation in Ukraine remains tense, as political crisis is still not resolved and there is no consensus between the government and opposition, and massive protesters continue for more than 70 days despite the frosts and snow.
Sunday, 2 February, has gathered tens of thousands of Ukrainians in Kyiv's Independence Square and thousands of people all over Ukraine as well, as several regions are still under control of People's Councils with their regional offices taken by protesters.
Oppositional leaders have delivered their speeches from the stage during Sunday rally talking about their meetings and talks with Western diplomats and politicians during recently held Munich Security Conference, where Ukrainian issue was among the most important ones and sparked many discussions. The leaders stated that in general the conclusions of the Conference are that Western countries back and support Ukrainians and their fight for freedom and democracy and that there will be also financial aid and support for Ukraine after the needed reforms will be implemented and opposition will be able to have some control of the situation in the country.
People though continue to voice their clear demands: Yanukovich must step down and the whole system of power should be changed. They also demands release of all the detained activists and political prisoners and accountability of those responsible for human rights' violations and abuses committed during the latest days. People's spirits are high, and people are ready to stand till the end, as it one of the popular Euromaidan slogans states: "I will not leave Maidan, until Yanukovich will step down".
Kyiv Independence Square
(Image: Wikipedia)
Talking to the people from the Euromaidan stage, oppositional leaders have reported about the results of the talks with the Western politicians during the Munich Conference and revealed the plan of development of Ukraine and resolving the crisis. Oleg Tyagnybok, leader of nationalistic party, stated that people will not leave until all the demands of revolution will be fulfilled and claimed also, that Russia is planning Georgian scenario to be implemented in Ukraine, as Russian military intervention could be possible after opening of Sochi-Games. Ukrainians should be ready for this threat and it shouldn't be allowed. Mr. Tyagnybok also added that oppositional leaders are gathering materials about human rights' abuses and crimes of Ukrainian government and police against Ukrainian citizens in order to send them to Haag Court.
Arseny Yatsenyuk has revealed that EU and USA are willing to support new Ukrainian government after Constitutional reform will be implemented. He also added that special investigative commission will be formed by Ukraine and EU to investigate the crimes of Ukrainian government against the peaceful protesters. Petro Poroshenko also declared that Western countries back Ukrainian revolution and totally support it.
USA President Barak Obama has stated earlier that USA support Ukrainians and that US Administration holds dialogue with the opposition and the authorities as well. Mr. Obama has also critiqued the laws restricting people's rights for demonstrations. He also stated that new government should also include oppositional figures and representatives of civic society and Maidan in order to create legitimate and united government. USA also supports Ukraine on their path towards European integration and hope that Ukraine will finally sign Association Agreement with EU in the nearest future.
Munich Security Conference
(Image: Windsor Star)
The 50th Munich Security Conference in its turn concentrated a lot on the Ukrainian issue and deepening political crisis, as Western countries including USA and EU support Ukrainian protesters and urge to resolve the crisis peacefully, while Russian side, represented by Russian Foreign Minister Sergey Lavrov, criticized West and accused it in double standards and missing with Ukrainian internal affairs.
It's worth mentioning though that Ukrainian Minister of Foreign Affairs Leonid Kozhara has also made similar statements during the conference, claiming that Europeans shouldn't come to Kyiv as they aren't welcomed here and it's really dangerous and accusing them of caring more about their own rating. In addition to that Mr. Kozhara has stated that Ukraine is on the edge of bankruptcy and questioned the issue of kidnappings, torturing and killing of protesters.
European and US leaders though have expressed their support of Ukrainian revolution and Euromaidan. After their negotiations with EU and USA representatives oppositional leaders have also revealed plan of reviving Ukraine and resolving political crisis in the country. This plan was revealed after the meeting of oppositional leaders with US Secretary of State John Kerry. The plan includes four steps, which are the following: 1) Stopping violence and confrontation is the first step; 2) release of prisoners (promised by authorities according to the recently adopted amnesty law); 3) investigation of tortures, murders, kidnappings and beating of Ukrainian activists and citizens; 4) Constitutional Reform bringing back the norms of 2004 Constitution and presidential-parliamentary republic.
Ukrainian Parliament
(Image: Wikipedia)
As for the issue of investigation of the crimes of Ukrainian authorities against Ukrainian citizens and activists of Euromaidan, the decision was taken to form a joint commission consisted of Ukrainian and international members in order to investigate the crimes of regime. Additional UN commission will be also created to observe the investigations' process.
In addition to that oppositional leaders stated that EU and USA declared that they will financially support Ukraine. EU and IMF are ready to give Ukraine financial aid, but to the government of Yanukovich. In case Constitutional reform will be implemented and opposition and civic society will have control over the situation, EU will send an aid to support Ukrainian economy. Another important step is early presidential and parliamentary elections, which should be free, democratic and transparent. Arseny Yatesnyuk in his turn has stated the aid should be minimum $ 15 billion.
Many EU politicians and diplomats state now also that EU should give Ukraine more clear perspectives of future European membership and give guarantees of it.
At the same time Europe remains firm and harsh in its recent reactions regarding Ukrainian authorities. EU considers personal sanctions against several Ukrainian high officials and oligarchs controlling big parliamentary groups, and there were reports that bank accounts of some persons and their family members have been already blocked. German Minister of Foreign Affairs, Frank-Walter Steinmeier in his turn has threaten Ukrainian officials with imposing personal sanctions against them in the nearest future, if the crisis will not be resolved in a peaceful way.
Kyiv Grushevsky Street, site of recent clashes
(Image: News Radio)
Meanwhile, Ukrainian Afghan War veterans and representatives of radical "Right Sector" responsible for starting the clashes in Kyiv Grushevsky Street on 19 January led to massive and serious confrontations between protesters and riot police and left 4 people dead, have started their autonomous talks with the police and security forces, independent from the opposition. These talks are being held to release all the detained activists and to agree on the plan of their release. In addition to that ceasefire agreement was also reached. Friday, 7 February, is set as a deadline for fulfilling the demands. If it will not happen, activists claim they will start confrontation again.
As for the Parliament, its planned session was open on Tuesday, 4 February. Among the key issues to be discussed and voted was the issue of Constitution and Constitutional reform. Oppositional parliamentarians are calling for amending the current Constitution as it was adopted with violations and includes very controversial articles, giving President almost unlimited powers and making Parliament dependent on his political will. Opposition calls for returning to the 2004 Constitution and issuing Constitutional Decree for the transitional period, during which special Constitutional Commission tasked with amendments of the national charter should be formed and the new document would be prepared.
But despite the high expectations, remarkable divisions within the ruling pro-Yanukovich Party of Regions and possibility of reorganizing of the parliamentary majority, the decision was not taken, and there were no agreement on the issue. Parliament's Speaker Volodymyr Rybak has opened the session with the proposal of the free tribune regime, when every parliamentarian was given a chance to deliver his or her speech during 6 minutes. But after long discussions and debates no agreement was reached, and session was closed without results.
Protesters on barricades
(Image: Unian)
Meanwhile Victor Yanukovich is ready for possible early parliamentary elections, according to his official spokesperson Yuriy Miroshnichenko. If politicians will fail to resolve political crisis in parliament and in legal ways, Yanukovich will declare his readiness to early elections, but there were no talks about the possibility of the early parliamentarian elections, claimed Mr. Miroshnichenko.
Meanwhile Yanukovich is also planning to promote Andriy Klyuev, current Head of Presidential Administration and former Head of National Security and Defense Council, to the position of Prime Minister, while Andriy Portnov, currently occupying the position of Vice-Head of Presidential Administration, should get the position of its Head, and scandalous Minister of Interior Vitaly Zakharchenko, allegedly involved in violent dispersal of peaceful protesters, could get a position of Head of National Security and Defense Council.