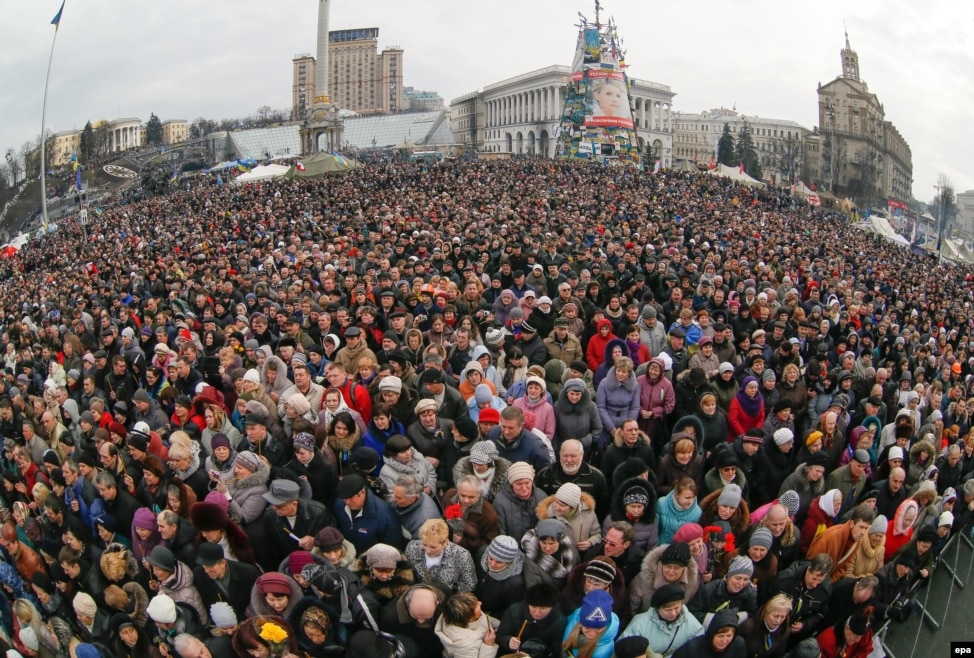 Massive rally in Independence Square (Maidan) in Kyiv
(Image: radio Svoboda)
After three days of fierce clashes and violent resistance in Ukrainian capital Kyiv and Parliament's decision to impeach former President Yanukovich, who escaped Ukraine and is currently wanted, situation in country develops rapidly and unexpectedly.
Parliament in Kyiv formed new coalitions, including big coalition "European Choice", and declared the main direction of Ukrainian foreign policies and development: European integration and signing of Association Agreement with EU in the nearest future. EU officials, in their turn, declared support of Ukraine and claimed that signing of the Agreement is possible within two-three weeks after presidential elections. In addition to that European Parliament has called for EU to support Ukraine financially allocating financial aid for the country's reforms and resolving the crisis. EU also stated that the procedure of imposing sanctions against Ukrainian officials from Yanukovich's regime will be ongoing, while Polish Minister of Foreign Affairs Radoslaw Sikorski declared that financial assets of Yanukovich and high officials of his close circle should be blocked and given for reforms in Ukraine.
Ukrainian Parliament has voted for the early presidential elections to be held on 25 May 2014. The main requirements for the presidential candidate, according to Constitution, are the following: he/she should be Ukrainian citizen with the right to vote, reside in Ukraine during the latest 10 years and speak Ukrainian language. There are though some additional requirements in the electoral law, but this law also requires some amendments and changing of some norms in order to ensure fair and democratic election's process, stated recently Andriy Magera, Head of Central Election Committee.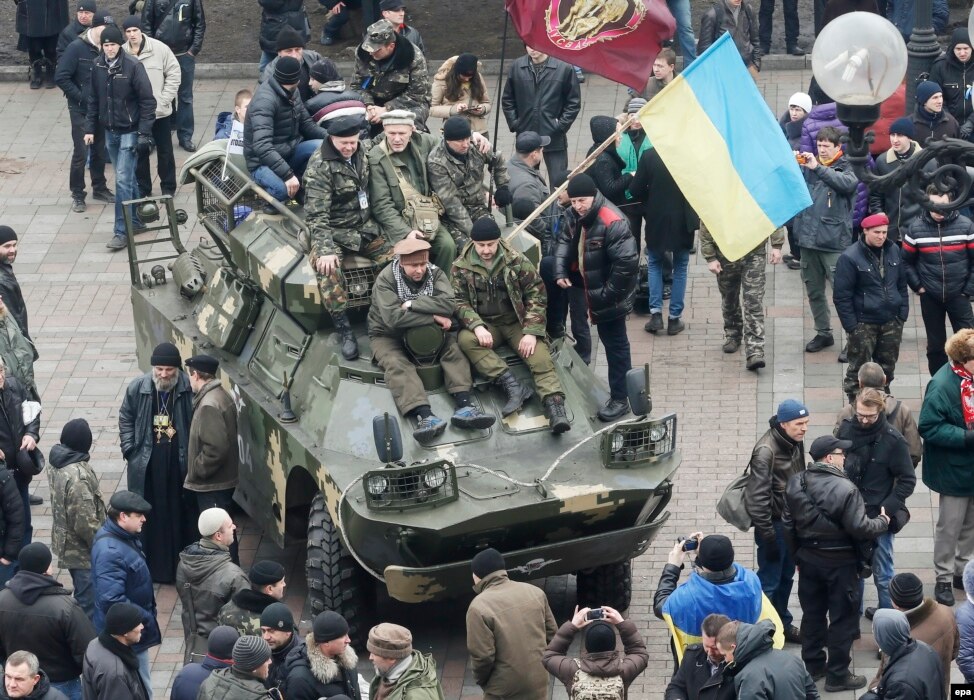 Ukrainian Maidan activists and protesters in front of
Parliament's building
(Image: Radio Svoboda)
Among the possible presidential candidates are Vitaly Klichko, Petro Poroshenko, Oleg Tyagnybok, Yulia Tymoshenko and others, though the registration of candidacies will last until 30 March, according to the Parliament's decision. Vitaly Klichko has already declared that he will run for the President's position and stated that he has the program of changing he country and he knows how to realize it. As for Yulia Tymosheko, she still didn't make an official statement regarding her intentions to run for President. Several mass-media reported that she is planning to run for President, but her lawyer Sergiy Vlasenko denied this information. It's worth mentioning though that Ukrainian people are not very optimistic about the possibility of Tymoshenko running for President. There were several rallies and marches held calling for Mrs. Tymosheko to leave politics. Many experts also urge formed Ukrainian Prime Minister to refuse participation in the presidential election.
Parliament has also voted for holding the elections of Kyiv City Council and governor and set the date for it on 25 May as well. As for the parliamentary elections, current Parliament stated that parliamentary elections will be held after President will be elected. People though demand early parliamentary elections with the open lists of candidates. Council of Maidan and newly created Euromaidan initiative group united nearly 14 civic organizations and groups, demanded early parliamentary elections and total lustration of all the levels of officials. Political Party of Vitaly Klichko UDAR also demands voting for the early parliamentary elections.
Parliament has also appointed the new interim Cabinet of Ministers on Thursday, as it presented the candidacies to the people on Maidan before. Tens of thousands have gathered in the main Ukrainian square for the massive rally to know the names of the new ministers and to express their demands and expectations to the new authorities.
Arseniy Yatsenyuk, one of the prominent oppositional leaders, was appointed Prime Minister in the interim technical government of Ukraine. Most of the ministers in the Cabinet are really technical candidates, supported by Maidan with the little exceptions. Arseniy Yatsenyuk as a new Prime Minister has officially withdrawn his MP's mandate and declared that he won't run for President. He stated that the first task of the new government is to stabilize the situation in the country and to receive financial support from EU and USA and to also build the new type of relationships with Russia. Though this task seems to be more and more complicated under the current circumstances.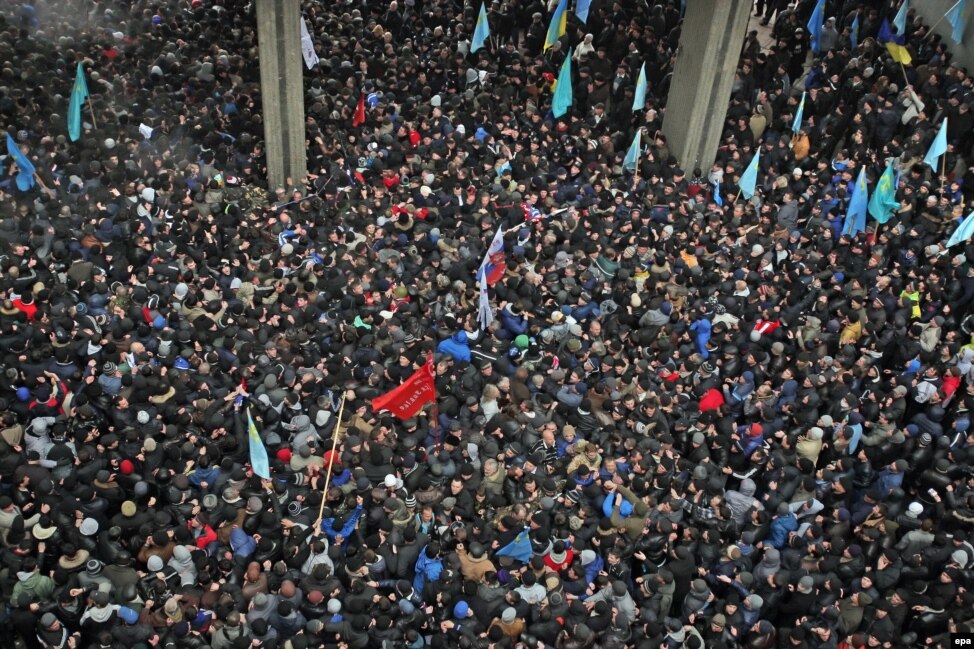 Two rival rallies in Crimea: for and against federalization
(Image: Radio Svoboda)
Maidan in its turn has declared that it will remain standing until the presidential elections will be held and the real changes will occur in the country. Initiative group of Maidan has also delivered the key demands if people: lustration law and its immediate implementation on all the levels of power, competent technical government, early parliamentary and presidential elections, city councils' elections in the nearest future, new impeachment law etc. As for the elections, at least 10 representatives of the initiative group should be included in CEC. In case the acting President and Speaker of Parliament Oleksandr Turchinov and the new government will fail, people will demand their resignation. Thus, Maidan stands.
Among other decisions of Ukrainian Parliament is also the arrest orders for the escaped and disappeared former President Yanukovich and of his closest aides, such as Pshonka, Klyuev, Zakharchenko and others. Ukraine has also made a request to the International Criminal Court in Hague to open the criminal cases against Yanukovich and his circle, on the charges of mass murder and crimes against humanity.
Yanukovich in his turn is still at unknown locations, and there is no clear information regarding his whereabouts. According to some recent reports though, he is currently in Russia. Yanukovich has sent on Thursday his new TV address to the people, where he states that he still considers himself being a legitimate president and called everything happening in Ukraine a coup. Russian President Putin and PM Medvedev stated that Yanukovich is still President for them and they continue to cooperate with him, while Western countries have declared earlier that Yanukovich is no longer the President of Ukraine, and they support the decision of Ukrainian Parliament as it was a legitimate decision.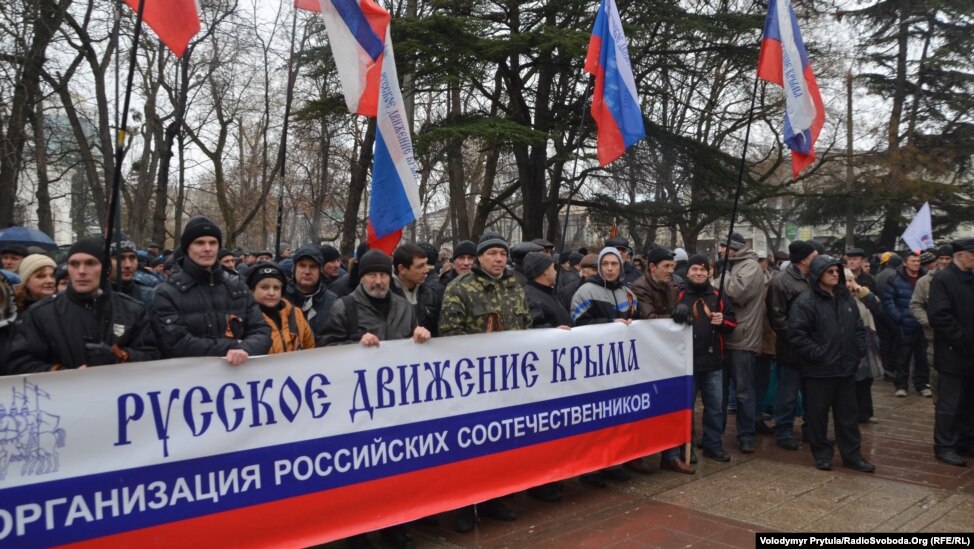 Pro-Russian protesters in Crimea
(Image: Radio Svoboda)
Meanwhile, as the situation in Kyiv is calmer now, Crimea becomes a really dangerous region in Ukraine, and the situation there escalates with every hour, as pro-Russian powers there, supported by Russian government openly, demand accession of Crimea to Russian Federation or at least broader autonomy. During the latest days rallies attended by several thousands of Russian supporters in Crimea have been held in Crimean capital Simferopol and in the coastal city of Sevastopol. People demanded broader autonomy, with some of them calling for Russia and Putin to interfere and resolve the situation on the peninsula. These people called themselves "Russian community" and claim they refuse to recognize the current Parliament's decisions and the newly appointed government and refuse to obey the orders coming from Kyiv.
Crimean Tatars though, who are native inhabitants of Crimea, have supported Euromaidan since the first days of the protests and supported currently the decisions of Parliament and new government. Tatars have also staged massive rallies in Crimea, declaring that they are against the separatist attempts and Russia's interference. Two massive rallies of Tatars and supporters of Euromaidan and of pro-Russian activists and protesters have been held on Wednesday in Simferopol. More than 10 thousands Tatars have declared that Ukraine will always remain sovereign and united country and that they won't allow dividing the country, while nearly 2 thousand supporters of federalization and Russia have been waving Russian flags and called for Putin's help. The rallies resulted in some clashes. Crimean Parliament's Speaker Mr. Konstantinov has declared that the unity of Ukraine will be preserved, and there are no attempts of federalization in Crimean.
On the next day though the situation has changed. On Thursday a group of unknown fully armed people have seized early in the morning the building of Crimean Parliament in Simferopol. The group didn't declare any clear demands and refuse to hold any negotiations. Eyewitnesses indicated that these people were talking with the strong Russian accent. The building was seized during the whole day and remains under siege till now. The group allowed the MPs of Crimean Parliament inside, where Parliament has held its session and took decision to hold Crimean Referendum about the broader autonomy on 25 May. Only Russian journalists are allowed inside.
On Friday several administrative buildings in Crimea and several military bases have been also seized by Russian military and some unknown people in uniform and with weapons. The roads are being blocked by armed people, allegedly Crimean "Berkut", refusing to obey the recent order of Ministry of Interior about its liquidation.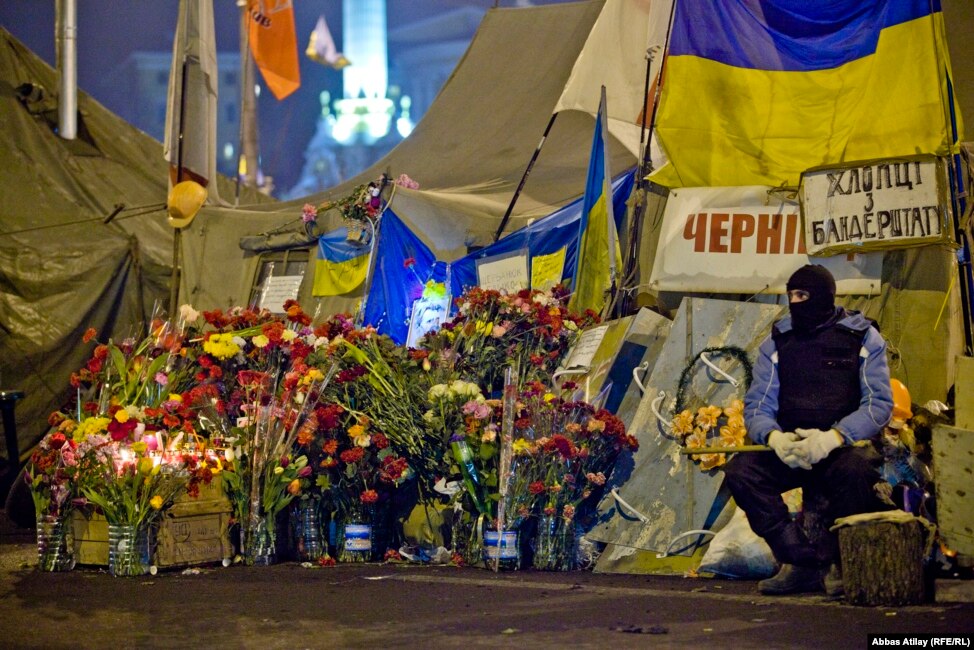 Commemoration of the slain heroes of Maidan, Kyiv,
protesters' camp
(Image: Radio Svoboda)
Meanwhile, several military ships of Russian fleet (Baltic fleet) have entered the waters of Black Sea on Ukrainian territory. Russian military helicopters have also occupied Crimean military airport Belbek. There are reports from the eyewitnesses and journalists about increasing Russian military activity on the borders with Ukraine and deploying of more Russian troops in Crimea. This information was confirmed by several military representatives.
Russian side though denies that it deploys the arms in order to launch a military operation or interfere in the internal affairs of Ukraine. But at the same time they didn't explain properly the intentions of Russian administrations, deploying military troops on the territory of another sovereign state. In addition to that the groups of Russian MPs and representatives of Russian Parliament have already arrived in Crimea and continue to come, explaining it, that they just want to support ethnically Russian citizens of Ukraine.
European countries and USA have warned Russia from intervention and any escalation of conflict in Ukraine, as Russia, along with USA and Great Britain, is one of the guarantors of unity of Ukrainian territory. Ukrainian Parliament has submitted request to UN Security and Defense Council to support Ukraine and guarantee its safety and avoiding military intervention of Russia.
The situation remains extremely tense, and the alarming thing is that Ukrainian Parliament isn't active enough in resolving the crisis, as Ukrainian military, stationed in Crimea, is waiting for orders regarding their next steps in response on Russian military activity in the region.
Experts though are deeply concerned over the situation in Crimea, as Russia seems to play its Abkhazia and Ossetia card, when Russian government started to give Russian passports to the citizens of Russian origin first, and then militarily interfered in order to "protect the interests of the oppressed Russian citizens". This scenario is still possible in Ukraine and it could really cause a full-scale war in Crimea and possibly in the whole Ukraine as well, if Russia will not stop its aggression and will continue to escalate the situation.