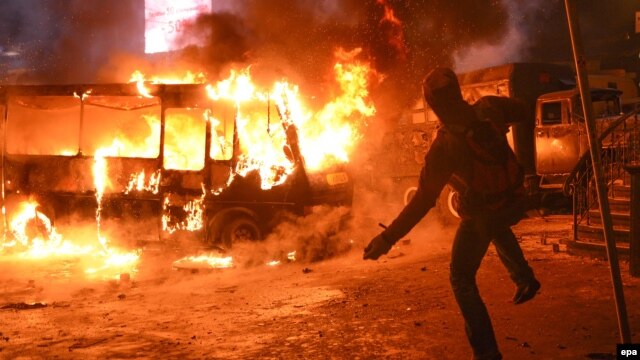 Violent clashes continue in Ukrainian capital for the second day
(Image: Radio Svoboda)
Fierce clashes between Ukrainian anti-government protesters and security forces are ongoing for the second day, as protesters have build improvised barricades between their lines and the lines of "Berkut" (Ukrainian special security forces) and riot police. Stones and rocks are being thrown by the protesters to the side of security forces, as soldiers and policemen fire teargas, throw sound and smoke bombs and shoot birdshots on the protesters. Early in the morning of Monday, 20 January, riot police has used water cannons in order to disperse the crowds, despite the fact that it is 12 degree sub zero currently in Ukraine. Central Grushevsky Street, leading to the governmental district and blocked by security forces cordons and the square in front of Dynamo Stadium look like a real battlefield now.
Hundreds were reported to be injured; at least 40 people have been hospitalized with serious injuries and in difficult condition, according to Ministry of Health. Though the numbers of injured could be possibly higher as many protesters refuse to report their injuries and apply to the hospitals, as police arrest injured people right in the hospitals for participating in the mass protests.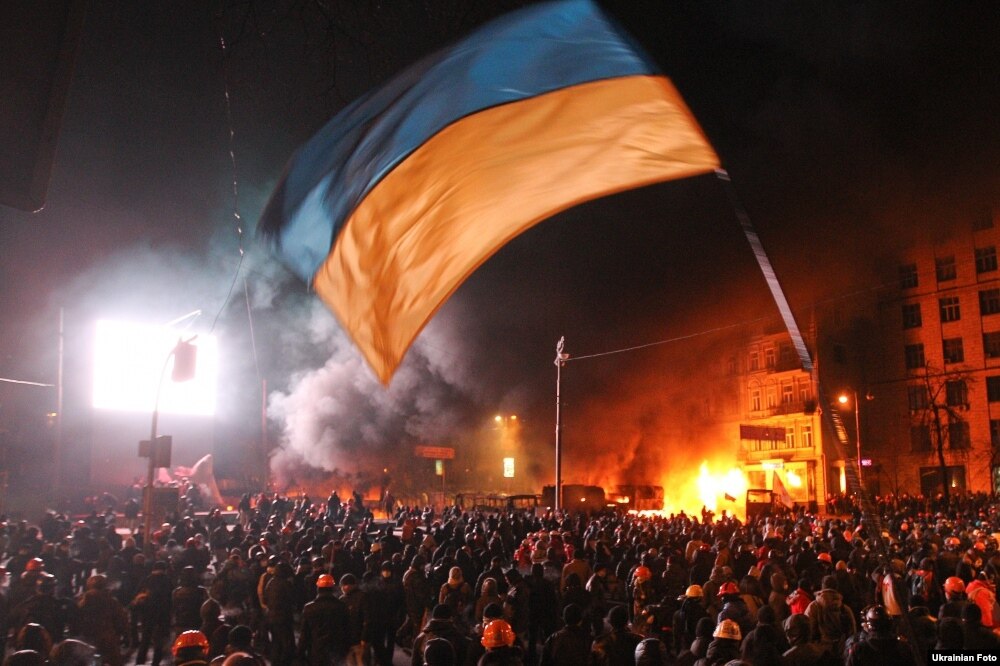 Tthousands of protesters continue to confront security forces
(Image: Radio Svoboda)
Ministry of Interior reports that at least 40 policemen and soldiers have been injured as a result of the violent clashes.
Meanwhile more and more additional troops of special security forces and riot police arrive in Kyiv, as people in the regions (Lviv, Ivano-Frankovsk, Rivne, Odessa and many others) continue to block military bases for the second day preventing the buses with the soldiers from moving to Kyiv. Journalists reported also that special military technique and heavy military vehicles have been seen in the streets close to Parliament and Cabinet of Ministers buildings and site of the current clashes.
"President" of Ukraine Victor Yanukovich has state late on Sunday that he is ready for negotiations with the oppositional forces and said he ordered to form a special anti-crisis commission in order to resolve current crisis.
Kyiv Dynamo Stadium and the barricades
(Image: Ukrainska Pravda)
In addition to that Yanukovich has also addressed Ukrainians in his official speech published on the Presidential website. He calls on the people not to follow those who supports violence and confrontations and stresses that current situation is a real threat to security of the country. Thus, Yanukovich called for the round table, though military and special security troops and military vehicles continue to arrive in Kyiv, and scandalous 16 January dictatorial laws have been published on Monday in official newspapers despite Yanukovich's promise not to publish them until the negotiations with the opposition will be finished. The laws are published and should be put in effect since midnight of Tuesday, 21 January.
As for the promised negotiations with the opposition and representatives of Maidan (protest movement), Yanukovich and his circle have been trying to delay them, say experts, possibly for winning more time for deploying the forces in Kyiv.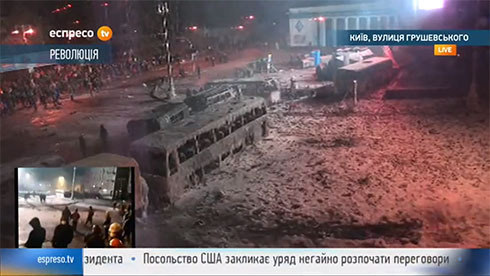 Frozen police buses in Kyiv as police used water cannons against
demostrators amid su zero temperature
(Image: Shot form Espresso TV live coverage)
Special anti-crisis commission was formed in the morning by Yanukovich, and it consisted of Andriy Klyuyev (Secretary of National Defense Council, who is accused by the oppositions and activists of orchestrating dispersal of protesters on 30 November and violent clashes on 1 December), Olena Lukash (Minister of Justice, who has recently justified violent actions of police and security forces and claimed scandalous dictatorial laws should not be amended) and Andriy Portnov (advisor of Yanukovich). They have gathered in the morning to discuss the current situation and the ways out of it.
Maidan is represented by Oleksander Turchynov (Yatsenyuk's Batkivshchyna (Homeland) Party), Vitaly Kovalchuk (Klichko's UDAR Party), Ruslan Koshulynsky (Tyagnybok's Svoboda (Freedom) Party) and ex-Minister of Interior Yuriy Lutsenko (representative of civic society). Opposition and Council of Maidan declared that this is not negotiations but the preliminary consultations, as the talks could be held only with the one person: with Yanukovich, who is the one who decides.
Clashes between protesters and special security forces
(Image: I Press)
Thus the team of delegates of Euromaidan and opposition has met with the Klyuev's team representing Yanukovich and his "government" and delivered the list with the list with the demands of the people and opposition necessary for the start of negotiations.
These demands are the following:
-
withdrawal of special security forces, military and riot police from the streets of Kyiv and other cities as well;
-
cancelling of all the 16 January dictatorial laws;
-
stop of the political repressions and release of all political prisoners (including Yulia Tymoshenko);
-
returning of the 2004 Constitution of Ukraine;
-
corrections and amendments of the electoral law;
-
forming of the new Constitutional Court, National Council for Information etc.;
-
imposing of the new law about Central Electoral Commission;
-
resignation of Azarov's Cabinet of Ministers;
-
forming of the transitional technical government;
-
early presidential elections;
-
early parliamentary elections (on the proportional base and with the open lists of the candidates).
The talks between the delegates of Euromaidan and opposition and Yanukovich's representatives have finished late in the evening, as Maidan delegates declared demands of the protesters and the preconditions of the talks and stated that oppositional leaders demand negotiations with Yanukovich personally.
Lines of protesters with shields
(Image: Radio Svoboda)
Meanwhile, as confrontation between protesters and security forces in Kyiv downtown escalates and clashes continue for the second day, oppositional forces and activists of Euromaidan continue to call on the officers of security forces and police and officials cooperating currently with the regime of Yanukovich to stand with the people of Ukraine. Oppositional leader Vitaly Klichko stated that secure exit will be guaranteed to those who will stand with the people and refuse to obey the illegitimate orders. An official document with these guarantees was signed by oppositional politicians and published on Monday.
Western politicians and diplomats in their turn reacted actively on the recent events in Ukraine strongly condemning violence and calling on the sides to stop escalating the situation.
European diplomat Carl Bildt has stated that USA and EU are holding discussions regarding Ukrainian current situation and considering imposing personal sanctions against some Ukrainian high officials.