Violent clashes continue in Ukrainian capital
(Image: Ukrainska Pravda)
Violent clashes erupted early in the morning of 22 January, as "Berkut" and special security forces started to attack protesters located in Grushevsky Street in order to disperse the protesters in European and Independence Square, what has the only one meaning: Yanukovich's junta has chosen force scenario.
Storming of Maidan has started nearly 5 a.m. when protesters have been tired after long night confrontations and their numbers were relatively small. "Berkut" has attacked people pushing them down to the European Square, violently beating them, and using sound and smoke bombs, birdshots and weapons, as "minister if Interior" Zakharchenko has previously issued a decree allowing riot police to use weapons against demonstrators. "Cabinet of ministers" of Ukraine has also lifted ban on using water cannons in sub zero temperatures.
Terrible clashes and dispersal of protesters resulted in dozens of injured and 4 deaths, all of them confirmed. Death was caused by the gunshot wounds, according to medical sources. Protesters were shot by snipers, what was confirmed also by "general prosecutor" Pshonka in the morning.
Thus, on the Day of Unity of Ukraine authorities have crossed the red line pushing the conflict to the serious confrontations threatening Ukrainian people with the possibility of long fight and even civil war, claim many experts analyzing the current situation.
Brutal beating of protesters during dispersal of protests in Kyiv
(Image: Radio Svoboda)
In addition to that brutal beatings of people continue as "Berkut" and police forces capture protesters, journalists and doctors and beat them. Many people have been already arrested and are facing trials for participation in the mass protests and extremism, as the newly imposed dictatorial laws were put in effect since 22 January.
Western diplomats and politicians are outraged by the recent events and spread of violence initiated by Ukrainian "government" and call on Yanukovich to stop escalation and using force against Ukrainian people. EU representatives and Ambassadors of Germany, Great Britain and Canada presented on Wednesday on the meeting with "minister of Foreign Affairs" Leonid Kozhara and "minister of Justice" Olena Lukash have been also outraged by the behavior of Ukrainian officials and chronic lies. After more than 1-hour meeting, during which diplomats were shown video about injuries of security forces and listened to the speeches of Ukrainian officials, representatives of the Western countries were denied to address authorities and ask any questions. In addition to that nobody mentioned the deaths of the protesters, stressed ambassadors. According to the journalists reports, Western diplomats didn't hide their emotions and stressed that the red line was crossed by Ukrainian regime.
USA Stated Department in its turn declared personal sanctions are already imposed on several Ukrainian high officials due to the force scenario used by them in Kyiv. US officials are considering the next steps as well.
Riot police and security forces before dispersal of Maidan
(Image: Ukrainska Pravda)
EU representatives have also announced they are considering the sanctions against Ukrainian high officials, and as the investigations regarding the bank accounts of some officials close to Yanukovich and of the members of his family are ongoing, freezing and arrest of the financial assets of Ukrainian authorities is also possible, stressed the representatives of EU.
President of European Commission Jose Manuel Barroso has issued an official statement strongly condemning escalation of violence justified by Yanukovich's "government" and stressed that these events could totally change the relationships between EU and Ukrainian authorities.
Vice-President of European Parliament Jacek Protasewich has declared later that the latest events in Kyiv have shocked EU officials and totally change the situation. Blood of protesters and deaths on the streets of Ukrainian capital are the red line, and if the information, that riot police was using live ammunition to kill protesters, will be confirmed, relationships with this "government" of Ukraine will be frozen and dialogue with Yanukovich's regime will be impossible.
Meanwhile representatives of Ukrainian opposition and its prominent leaders Arseny Yatsenyuk, Oleg Tyagnybok and Vitaly Klichko have met with Yanukovich and his "anti-crisis commission" consisted of Andriy Klyuev (Secretary of National Defense and Security Council), Olena Lukash ("minister of Justice") and Andriy Portnov (advisor of "president"). Yanukovich's administrations has confirmed that negotiations will be held, thus, oppositional leaders and Yanukovich are holding negotiations in the Presidential Administration as violent clashes and attempts to brutally disperse protesters continue in Kyiv downtown.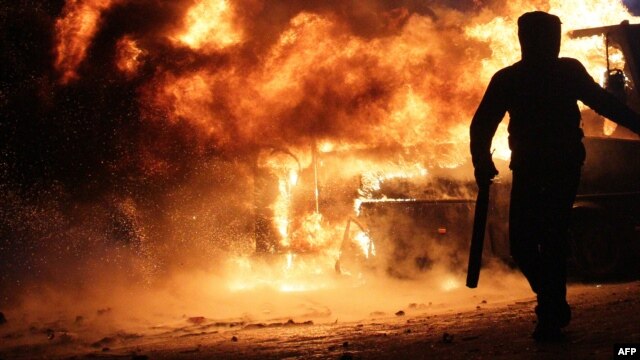 Clashes between protesters and police in Kyiv
(Image: AFP)
Riot police and security forces have been actively attacking protesters, shooting on them with the live ammunition and throwing Molotov cocktails. In addition to that Azarov has issued a special decree which is actually identical the decree announcing state of emergency, as this decree allows security forces almost unlimited use of weapons including live ammunition and also use of water cannons and new sound and smoke bombs usually being used by Russian OMON. Military technique and heavy military vehicles have been deployed in Kyiv, there are also official reports about the additional troops and vehicles moving to Kyiv in order to disperse protesters.
Situation is extremely tense and escalated as the street fight continues and more and more people arrive in Kyiv's downtown despite the new reports about preparations for the new attempt of total dispersal of Maidan, massive arrests and activists and disrupted work on subway in the center of the city. There are moiré than 40 thousand of people currently in European and Independence Square, and more people arrive.
There are no signs of the possibility that security forces will retreat and stop the attacks despite the calls from the people to stand with Ukraine, not with junta. Negotiations though are ongoing amid a serious threat of the new massive dispersal of Maidan, as all the cafes, shops and banks located in the area and in the neighboring streets are closing and people are evacuated from the offices located nearby. It's also worth mentioning that the so-called Anti-Maidan, organized by Yanukovich's regime on the contrary to Euromaidan and allegedly supporting Yanukovich and his policies, was evacuated in an organized way. People were also evacuated from the building of Ukrainian Parliament. There are also reports that none of the TV channels works in the regions of Ukraine at the moment. There are also problems with mobile and internet connection as well. Situation remains extremely tense and alarming.
Later in the night oppositional leaders came from the Presidential Administration and announced that negotiations with Yanukovich had no results. Yanukovich refuses to hear Ukrainian people and their demands and refuses any compromises. By offering to continue the talks on Thursday Yanukovich is just trying to win more time for deploying more security forces in the city, as deadly clashes continue till now.
Meanwhile medics of Maidan have reported about the new victim of police brutality, thus the official number of the killed protesters reached five.