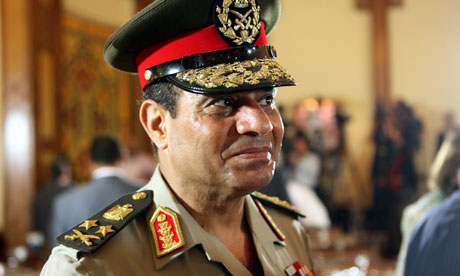 Abdel Fattah El-Sissi, Egypt's Head of the Armed Forces and
Defense Minister
(Image: The Guardian)
Egypt's Head of Armed Forces and Defense Minister Abdel Fattah El-Sissi has declared in his Saturday's speech delivered during the military organized event on 11 January, that he may possible run for Egypt's President in the upcoming presidential elections, if there will be "public request and mandate of military".
El-Sissi said that if Egyptian people will demand him to run for President and strongly support him and if the Armed Forces will give him the mandate to do so, he will participate in the elections for the presidential position.
General Abdel Fattah El-Sissi haven't taken final decisions on this issue yet, according to his representatives, though El-Sissi enjoys massive public support all over the country after his active steps and role in the ouster of Islamist backed President Mohamed Morsi on 3 July 2013 and following steps. El-Sissi is really a leader beloved by Egyptian people and strongly supported. There are currently many campaigns urging El-Sissi to run for presidency and to lead the country to the democratic changes.
Some political groups and activists even suggested to hold the national referendum on this issue in order to vote for the candidacy of El-Sissi being a President.
However there are also politicians, activists and experts criticizing the possibility of Abdel Fattah El-Sissi to run for President, as his role should remain within the country's military. The country has already witnessed leaders with the military background, and January 25 Revolution brought the hope for the changes towards democratic and civic state to be established in Egypt, thus military person holding the position of the President could be not so positive for the country, according to those opposing this idea of El-Sissi and his supporters.
Saturday lecture organised by military, where El-Sissi declared
about his intentions to run for President
(Image: Ahram Online)
But of course the public support of El-Sissi is extremely high with many Egyptians supporting him and calling him for running for President, as they see him as a savior of the country. It's worth mentioning also that army traditionally plays very important role in Egyptian society and is one of the most respectful institutions for Egyptians since decades.
Presidential elections should be set after the National Referendum on the amended Constitution will be held. General El-Sissi in his turn has also called for Egyptians to support the draft of the Constitution during the referendum.
Meanwhile leader of the Nasserist Party and ex-candidate for the President Hamdeen Sabbahi has also announced on Saturday that he may run for president as well, and this decisions isn't connected to the decision of El-Sissi on whether to run for the president or not. Another ex presidential contender, Ahmed Shafiq, who came the second during the precious presidential elections and was defeated by Mohamed Morsy, has declared that he will probably also run for the president, but only in case if Abdel Fattah El-Sissi will not run.