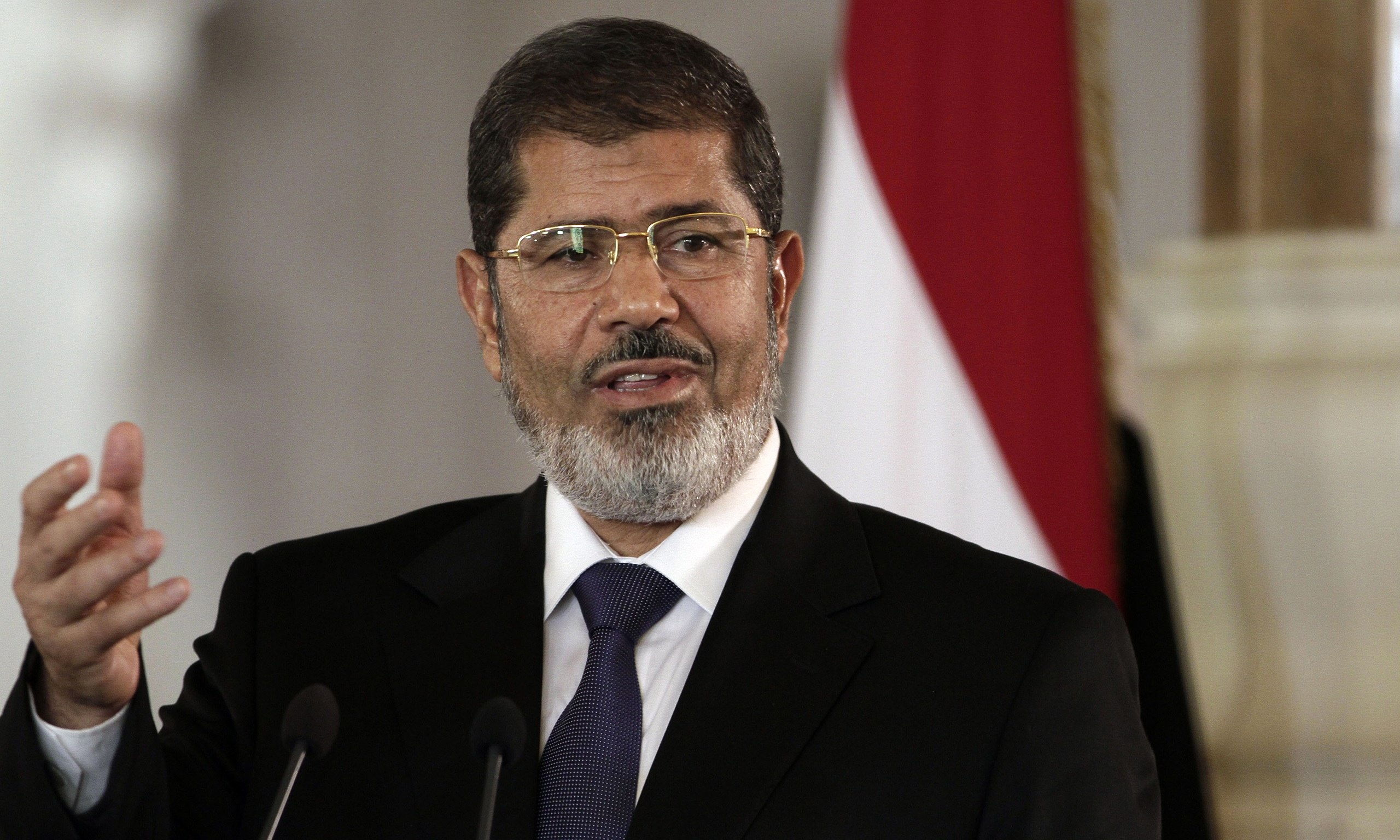 Mohamed Morsi, Egypt's ousted Islamist backed President
(Image: The Guardian)
Egypt's former Islamist backed President Mohamed Morsi will stand the court trial on the charges of inciting violence and calling for murder during the clashes at the Presidential Palace on December 2012, when thousands of Islamist and Morsi's supporters have attacked a small sit-in of demonstrators protesting against the controversial Constitutional Declaration, issued my Morsi and granting him unlimited powers. The clashes took 9 lives and left dozens injured.
It will be the second trial session in this case for Mohamed Morsi, as the first one was held in November 2013.
Mohamed Morsi will be tried in the same court as Hosni Mubarak, who faces trial for corruption charges.
Mohamed Morsi will appear in court along with other 14 co-defendants; among them are prominent Muslim Brotherhood's figures and leaders including Mohamed El-Beltagi, Essam El-Erian, Khairat El-Shater and others. Some of the defendants managed to escape Egypt, thus they will be tried in absentia.
Egypt's Islamist Alliance for Support of Legitimacy has called for the protests to be held on the day of trial in order to support the ousted President and to protest his ouster and the further steps made by the military backed interim government of Egypt.
Egypt's Minister of Interior Mohamed Ibrahim has announced that nearly 20 000 policemen and security forces will be deployed to secure the trial.
Mohamed Morsi was overthrown by Egypt's Armed Forces' decree on the 3rd of July 2013 amid massive nationwide protests against him and his rule. He was held incommunicado since his ouster, so his first court session was his first public appearance since the ouster. Mohamed Morsi is being held currently in the prison west of the coastal city of Alexandria.
Mohamed Morsi also faces trial accused of international espionage, which is planned to be held also in January. In addition to that Egypt's former President will be tried on 28 January along with other 130 co-defendants for the prison break and escape during the time of January 25 Revolution in 2011.
Mohamed Morsy himself stated several times that he refuses to recognize the authority of the court due to try him, as he also denies and refuses all the acts and decisions made after his ouster in the frameworks of the military imposed political roadmap. Mr. Morsi even refused from the services of the lawyers, but later he has accepted it.