Massive rallies in Kyiv against the current government
(Image: Moscow Times)
Western countries including EU countries, USA, Canada and others expressed their support of Ukrainian people and their peaceful protests for the changes in the country and European integration.
Recent actions of Ukrainian authorities and excessive violence used by security forces and police against peaceful protesters have worried and embarrassed Western politicians and have been strongly condemned.
EU politicians including José Manuel Barroso, Martin Schulz, Aleksander Kwaśniewski, Catherine Ashton and many other have condemned the violence and called on the President and government to respect the right of the citizens for expression of their views in a peaceful way and stop using violence. They also called for Ukrainian government to listen to the demands of the people and to resolve the crisis in a peaceful and lawful way starting negotiations with the oppositional forces.
Martin Schulz, President of European
Parliament
(Image: State of the Union)
German Minister of Foreign Affairs Guido Westerwelle has expressed his support of Ukrainian protesters and their aspirations. He arrived in Ukraine on Wednesday for several visits with Ukrainian officials and visited also Euromaidan.
Radoslaw Sikorski, Polish Minister of Foreign Affairs, is also expected to visit Kyiv on Thursday. He plans to participate in the session of OSCE to be held in Kyiv. It will be the chance to hold negotiations with the representatives of Ukrainian authorities and opposition as well, according to Mr. Sikorski.
Several EU ministers and high ranking officials are also expected to participate in the session of OSCE in Kyiv.
Thorbjørn Jagland, Secretary General of European Council, also plans to visit Ukraine on Thursday and proposes his help in resolving of Ukrainian deepening political crisis. Mr. Jagland plans to meet with Ukrainian President Victor Yanukovich, Prime Minister Mykola Azarov, Minister of Foreign Affiairs Leonid Kozhara, Speaker of Parliament Volodymyr Rybak and several other ministers.
USA Secretary of State John Kerry has also supported peaceful protests in Ukraine and condemned using excessive forces during the dispersal of peaceful protests. He urged Ukrainian government to start dialog with the opposition and called to the both sides of the conflict to avoid using violence. In addition to that it was stated that Victoria Nuland, Assistant Secretary of State for European and Eurasian Affairs, will arrive in Kyiv in the coming days in order to meet with Ukrainian officials and to study the situation.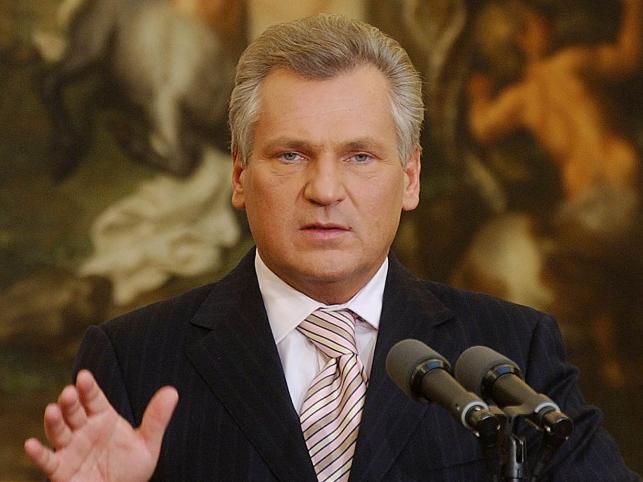 Aleksander Kwasniewski, ex-President of Poland and
member of EU mission in Ukraine
(Image: Dzennik Wiadomosci)
President of European Parliament Martin Schulz stated he will propose European Parliament to prolong mission of Aleksander Kwaśniewski and Pat Cox in Ukraine if iot will help to improve the situation, which is very dangerous, and to find the way to dialogue between opposition and government. Mr. Schulz also added that EU is planning to address Ukrainian government calling it to avoid violence.
Ex-President of Poland and member of the EU mission in Ukraine Aleksander Kwaśniewski has also supported Ukrainian protests and called to respect the right of the citizens for the peaceful actions and protests. In addition to that Mr. Kwaśniewski said Maidan could reach its goals if it will stand for the next 48 hours.
"Everything will be decided during these 48 hours", said Mr. Kwaśniewski. – "If supporters of European integration will be able to preserve the power of their rush, the power would start to make some concessions, to agree for the resignation of the minister and maybe even Prime Minister. But in case the demonstrations will start to decrease, force measures could be used in order to resolve the situation".
European politicians have repeatedly stated that they support aspirations of Ukrainian people and their protests and that the doors of EU are always open for them. EU is ready to support Ukraine on its path to the European integration and implementing European standards of life and values.