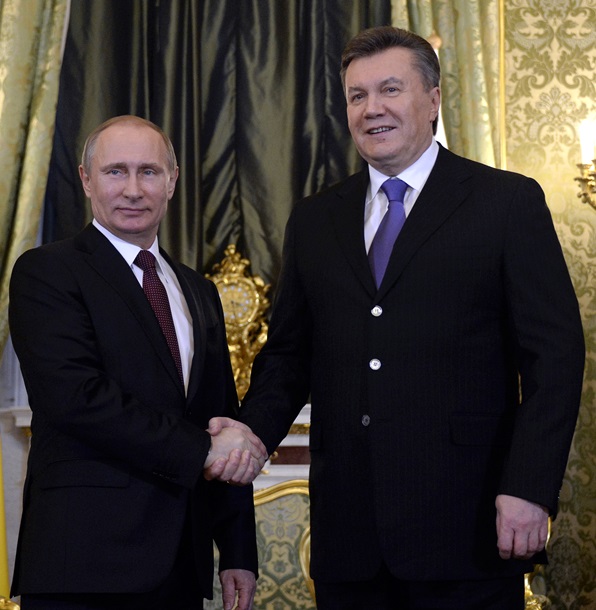 Russian President Vladimir Putin and Ukrainian President
Victor Yanukovich during the Moscow meeting
(Image: Korrespondent)
Ukrainian current President Victor Yanukovich arrived in Moscow on Tuesday, 17 December, for participation in the early planned meetings to be held during 17-18 December. Victor Yanukovich has met with Russian President Vladimir Putin in order to discuss some aspects of cooperation and strategic partnership, according to the press service of Russian President.
During the Tuesday's meeting 14 documents and agreements have been signed by Victor Yanukovich and Vladimir Putin. The talks have been closed, and there were no journalists invited to cover them.
Ukrainian President refused to talk to reporters and journalists after the official meeting, but Vladimir Putin made several statements regarding the meeting. Commenting on the results of the recent meeting Vladimir Putin was talking mostly about benefits Ukraine will get, such as increase of export of Ukrainian production to Russia and countries members of Custom Union, creating of new working places and saving the existing ones etc. Mr. Putin didn't talk though about Russian benefits.
Victor Yanukovich stated later that the talks have been hard, but this stage was important for Ukrainian authorities, as some conclusions must be made.
Vitaly Klichko, one of Ukrainian oppositional
leaders
(Image: Wikipedia
Among the agreements signed during the meeting between Mr. Putin and Mr. Yanukovich is the agreement about financial aid Russia gives to Ukrainian government represented in Moscow by Victor Yanukovich. Vladimir Putin gives Yanukovich's government $15 billion credit, which will be divided in parts. One of the parts will be given to Ukraine already till the end on this week, according to the official statement of Russian government. Thus, Russia is willing to buy Ukrainian national bond and Eurobonds allocated by Ukrainian Cabinet of Ministers. The national bonds will be bought with 5% annual interest, and part of financial reserves given by Russia will be used for it. According to Russian Financial Minister Anton Siluanov, Russia could start to buy these bonds at the end of this week. Thus Russia will become Ukraine's biggest creditor.
Another important deal made between the two presidents was about gas. Thus Russian Gazprom and Ukrainian Naftogaz Ukrainy signed amendments to gas trade agreements of 2009 for buying, selling and transportations of Russian gas. Russian natural gas' price is expected to be significantly reduced. It will decrease from $410 to $268,5 for 1000 m3. This agreement, along with the $15 billion credit and buying Ukrainian national obligation, became a matter of serious concern for Ukrainian opposition and many experts and political analysts, as such a deal couldn't be made without any preconditions or promises from Ukrainian side in exchange of such a deal.
In addition to that both sides have signed the document approving the plan to regulate trade restrictions between Russia and Ukraine. Trade restrictions will be also reduced, according to this agreement.
Arseny Yatsenyuk, Ukrainian oppositional leader
(Image: TSN)
Ukraine and Russia have also signed agreement about support and cooperation in airplane and space industry, particularly in production of airplanes AN-125.
Protocols about import and export between the two countries have been also signed. In addition to that Victor Yanukovich stated that he is willing to negotiate and cooperate with Russia in the field of strengthening and development in the trade zone of countries of Custom Union.
The sides have reportedly also signed agreements about joint shipbuilding and building of transport passage through Ukrainian Kerch channel, memorandum about cooperation in the sphere of space research and industry. There have been also some common projects and agreements regarding cultural cooperation between Ukraine and Russia.
As there have been many worries and concerns regarding the purpose of Yanukovich's visit to Russia, and many questions appeared and remain due to the secrecy of the meeting, Vladimir Putin assured journalists after the talks that there have been no negotiations over Ukraine joining Custom Union.
Yanukocivh though stated that realization of plan of joining Custom Union would strengthen strategic partnership and help in realization of many important projects. In addition to that Yanukovich said that the sides took some decisions regarding further signing of agreements about simplification of border crossing, what will effect positively the personal, business and trade contacts, said Yanukovich.
Russia also stated during the meeting that it could use Ukrainian Defense potential for its own purpose.
Protests in Ukraine against policies of Yanukovich and his
government
(Image: LIGA Business Inform)
Ukrainian opposition though reacted sharp and criticized Yanukovich's meeting and agreements with Russian President. Thus Vitaly Klichko, one of the oppositional leaders, demanded Yanukovich to make public texts and terms of the agreements and documents he has signed with Putin in Moscow. "Ukrainian people have the right to know, what did he sign in Moskow", declared Mr. Klichko on Tuesday. He also added that there are serious concerns that Yanukovich has got these credits from Russia in exchange of some strategic objects of Ukraine.
Another Ukrainian oppositional leader Arseny Yatsenyuk threatened with possible blocking of Parliament if Yanukovich has signed some documents against the course of European integration of Ukraine. "None of the documents contradiction European integration of Ukraine will pass the voting in Parliament, as we will block the work of Parliament and won't allow it", stated Mr. Yatsenyuk.
Meanwhile massive demonstrations against government and in support of European integration are ongoing in Kyiv and in other Ukrainian cities for over 27 days. On Tuesday, 17 December, opposition has called for people to gather for another People's Council. More than 10 thousand people have gathered in Independence Square to protest possible joining of Custom Union by Ukraine and warn Yanukovich from signing any documents and agreements contradicting the demands and will of people of Ukraine.
Massive protests in Kyiv against government and possible
joining Custom Union
(Image: LIGA Business Inform)
As for international reaction, USA has condemned recent agreements between Russia and Ukraine. Representative of White House stated that these agreements contradict the main demands of Euromaidan. EU though stated that it welcomes any agreements between Ukraine and other countries from which Ukraine could benefit and which will not contradict the terms of Association Agreement between Ukraine and EU. EU Commissioner for Enlargement and European Neighboring Policy Stefan Fühle has stated on Tuesday that EU always supported normal relations between Ukraine and other countries including Russia, as Russia is an important strategic and economic partner of Ukraine, and any steps towards normalization of relations between the two states are welcomed by EU.