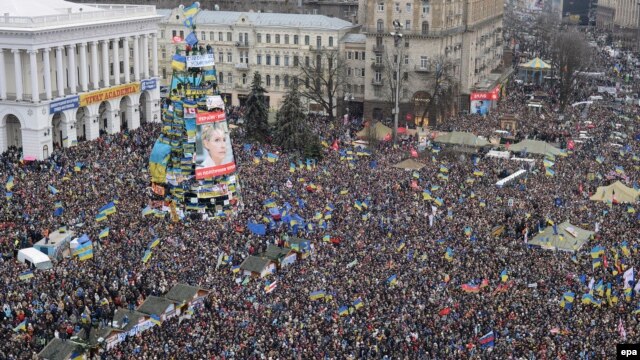 Massive anti-government protests in Kyiv
(Image: Radio Svoboda)
Ukrainian oppositional forces and activists, members of the recently formed National Alliance "Maidan" call for the fresh consecutive rally to be held in Kyiv downtown on Sunday, 29 December. There will be the sixth People's Council held in Kyiv Independence Square and supported by many protesters in other cities all over Ukraine.
Recent actions of Ukrainian current authorities and terrible case of oppression and attacks against the activists of Euromaidan caused outrage in Ukrainian society and was strongly condemned by international community as well. Wednesday's brutal beating of Ukrainian prominent journalist and activists Tatyana Chornovol, known for her journalist's investigations and materials exposing the unprecedented wealth and corruption schemes of Ukrainian high officials, sparked anger among Ukrainian journalists, activists and simple citizens.
The building of Ukrainian Ministry of Interior is surrounded by several hundreds of protesters protesting against the actions of the authorities and demanding resignation of the current Minister of Interior Vitaly Zakharchenko, who is considered by the protesters to be responsible for all the recent attacks and beatings of activists. Protesters and opposition accuse Victor Yanukovich and his government of being responsible for all these terrible things as well, as there is still no result of the investigations and no decisions regarding punishment of the responsible persons.
Oppositional leaders and members of the National Alliance "Maidan" continue their legal fight with the current regime, but their demands aren't heard yet, thus, the Alliance declared that protesters will move to more radical actions.
"The authorities turned from the intimidations to the direct attacks and terror", said the official statement of "Maidan" announced also in the headquarters of the Batkivshchyna (Homeland) Party. – "That is why the Council of the Alliance "Maidan" has taken a decision to hold massive rally on Sunday, 29 December".
The demonstration is planned to be held in Independence Square, traditional site for the protests during the recent days. After the demonstration activists are planning to move in the columns of the cars to the residence of Victor Yanukovich, located outside of Kyiv. They plan the massive protests action there as well in order to make President hear the people and their demands.
Massive anti-government protests are ongoing in Ukraine since 21 November, when Ukrainian Cabinet of Ministers has declared its decision to suspend preparation to signing Association Agreement with EU. After violent dispersal of the peaceful protests on 30 November hundreds of thousands of Ukrainians flocked to the streets and squares of Ukraine protesting against the criminal and corrupt regime of Victor Yanukovich and demanding his ouster and resignation of the Cabinet of Ministers. Protests continue more than month.