Round table of government, opposition and civil society in
Ukraine
(Image: Mustafa Nayem)
Round table, organized by Ukrainian current President Victor Yanukovich after calls of Ukrainian society and international politicians and diplomats to hold negotiations in order to resolve the crisis in the country, has failed.
Round table has been held in Kyiv, in Ukraine Palace and was attended by President Victor Yanukovich, Prime Minister Mykola Azarov and representatives of his government, oppositional leaders Arseny Yatsenyuk, Oleg Tyagnybok and Vitaly Klichko and by other politicians from the oppositional camp, clergy, and representatives of Ukrainian civil society, Euromaidan, intellectuals, artists, students and others.
During the round table Ukrainian President delivered a speech calling for the people and opposition to stop confrontations and to "come back into the Constitutional frameworks" in order to resolve the deepening crisis in the country. He also stated that the situation in Ukraine is extremely difficult and it is being deteriorating now due to the ongoing massive protests in Kyiv and other Ukrainian cities as well.
Victor Yanukovich also said that Association Agreement with EU wasn't signed due to uncomfortable conditions for Ukraine, but he couldn't motivate and explain clearly his position and position of his government regarding the issue of long made promises that the Agreement will be signed, cooperation and negotiations with EU and refusal to sign an Agreement in the last moment.
Prime Minister Mykola Azarov has delivered the longest speech during the round table. The biggest part of his speech was dedicated to difficult economic situation in Ukraine and to the possible deteriorations of it if Ukraine would sign an Agreement with EU on the conditions and terms agreed before. As for the recent events with use of violence and total incompetence of government to resolve the crisis, find responsible persons and handle the situation in a lawful way, Mr. Azarov made it clear that he doesn't see his responsibility and will not resign.
During the round table oppositional leaders have also delivered their speeches. Head of Batkivshchyna (Homeland) Party Arseny Yatsenyuk addressed Victor Yanukovich expressing the main demands of protesters on Euromaidan and called for President to listen to the people and not to escalate the situation. He stated that among the main demands are finding and punishing of all those responsible for dispersal of protests, clashes and beatings on Bankova Street near President's Office and recent attempts to disperse Maidan in the night. Another demand is immediate and unconditional release of all unlawfully detained activists and protesters being currently in custody and facing trials. Protesters also demand immediate withdrawal of special security forces and soldiers from the streets of Kyiv and guarantees that force won't be used against peaceful protesters anymore. Interior Minister Vitaly Zakharchenko must be held accountable for the recent events and step down, along with Prime Minister and current Cabinet of Ministers, which also should resign. Opposition and representatives of civil society also call for forming of technical transitional government in order to hold talks with EU regarding Association Agreement and preparing for early presidential and parliamentary elections. Signing of Association Agreement with EU is also one of the main demands of protesters.
Victor Yanukovich during round table
(Image: Vlad Sodel)
Ukrainian ex-Presidents Leonid Kuchma, Leonid Kravchuk and Victor Yushchenko have criticized Victor Yanukovich and his policies and called for taking a decision to resolve the crisis.
Head of Ukrainian Orthodox Church Filaret has said to President directly that he should be responsible for his decisions and acts. "What are you doing? Do you want division and civil war in the country?" – stated Filaret. – "You can disperse this Maidan, but tomorrow there will be another one and bigger. If you will drag Ukraine into Custom Union, there will be even bigger protests all over Ukraine. You promised people since long time European integration, and you lied to them. How do you suppose to build the country on the lies? If you will disperse these people, there will be more". Filaret's speech was one of the strongest and most honest as he openly said everything in the face of President.
As a result of the talks Victor Yanukovich claimed that persons on Ukrainian side responsible for preparing the text of Association Agreement with EU will be held accountable for treason of national interests of Ukraine. There should be new agreement with EU, worked out and amended with the participation of Russia, declared Ukrainian President.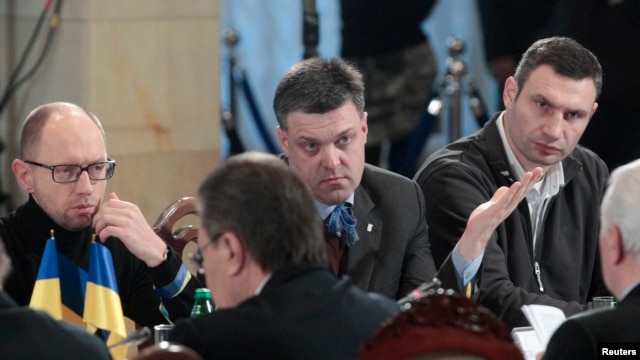 Oppositional leaders Arseny Yatsenyuk, Oleg Tyagnybok and
Vitaly Klichko during the round table
(Image: Reuters)
Regarding the detained activists and protesters Mr. Yanukovich said they will be released in the frameworks of amnesty. He also stated that government won't use force against demonstrators anymore, and that three high ranking officials will be held accountable for dispersal of Maidan on 30th November. He didn't call their names though.
Thus Yanukovich and his government let the country understand that they aren't going to meet any of the demands of protesters and opposition, and government also won't resign. Neither Yanukovich nor Azarov and his government feel themselves responsible for the recent events in the country and deepening crisis.
Oppositional leaders have stated participation in this round table was their mistake and they shouldn't agree to negotiate with this government.
It's also worth mentioning that round table held in the format of national dialogue and aimed to help to resolve the crisis in Ukraine wasn't aired by any of the stated TV channels. Several independent media channels tried to organize their own coverage, but it failed as internet and mobile connection have been disrupted during the meeting what demonstrates that government didn't want these talks to be really public and available for all Ukrainian citizens.
Massive anti-government and pro-EU protests in Kyiv
(Image: Wikimedia)
Meanwhile protests in Kyiv are ongoing with nearly 20 thousand people gathering in Independence Square. Protesters' camp is living its normal life with people organizing themselves and their life in the camp and residents of capital helping them with aid, food, warm things, medicines etc. New barricades have been erected by protesters on the perimeter of the protests' camp.
Though there was information that some provocations are possible this night, so Maidan has declared mobilization and expects another attempt to disperse it as many security forces troops remain in the city.
Opposition and demonstrators call for the people to join fresh million-man march to be held on Sunday on Independence Square. This protest is expected to be attended by unprecedented numbers of people from all over Ukraine, as even now tens of thousands of Ukrainians from other regions are arriving in Kyiv.
At the same time authorities organize pro-government rally to be held on European Square also on Sunday, and it is just nearly 200 meters from Independence Square. Tens of thousands of people are being transported in an organized way to Kyiv with the buses. There are also serious threats of possible provocations and trying to provoke clashes during Sunday demonstrations in order to justify possible force scenario for Yanukovich.