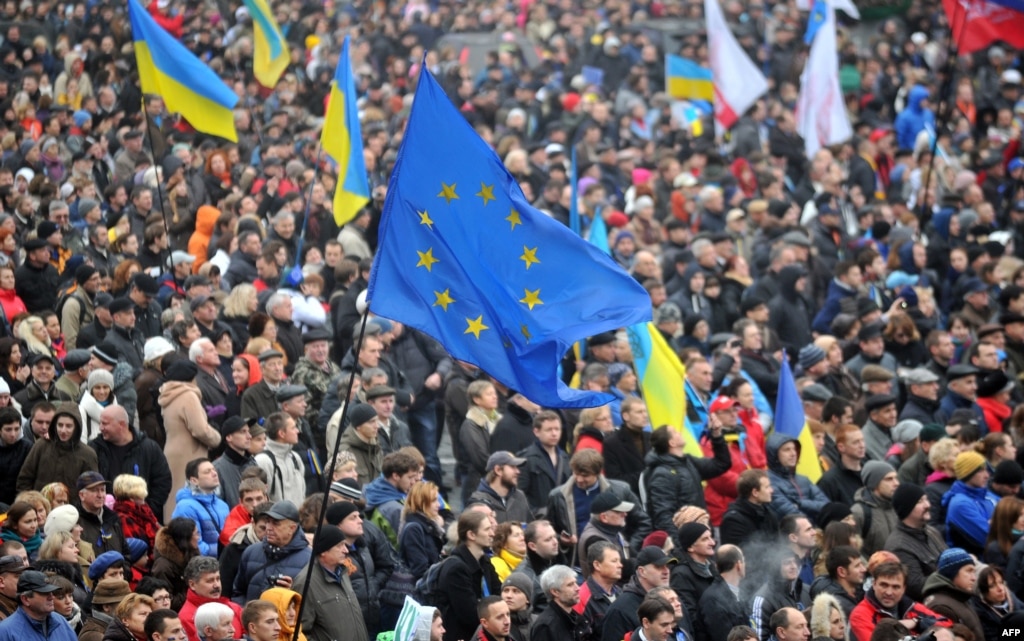 Massive protests against current political regime and in support
of European integration in Ukraine
(Image: Svoboda)
Representatives of People's Council of Euromaidan aimed to represent the interests and demands of civil society appealed to government and opposition and issued their manifest with the key demands and propositions to resolve the situation which only escalates.
For resolving Ukrainian deep political crisis which is currently deepening negotiations must be held, according to the manifest issued by People's Council. These negotiations though must be open and attended by the representatives of current government, oppositional forces and civil society and these talks must be aired on TV, demanded activists.
"We are calling to the sides to start the open and fair negotiations with the live coverage on TV channels and with the fair representation of all the sides: government, opposition and civil society. Representatives of international community and international organizations should be invited to attend these talks as observers", states the manifest.
Speaking about the purpose of this manifest one of the activists, Bogdan Babich, said that this manifest aimed to show that the new subject of political process exists in Ukraine and this new subject – people and civil society – would participate actively in the political process.
The main purpose of the negotiations between government, opposition and civil society should be system changes in Ukrainian politics, not only replacing some names.
Massive rallies in Kyiv and Ukraine against government
(Image: Express UA)
"During 22 years of Independence in Ukraine we've experienced three revolutions", - stated lawyer Volodymyr Chemerys, member of recently formed People's Council. – "Demands of those revolutions have been met partially. But we didn't get renewed, European Ukraine with market economy. Today civil society should participate in the talks together with the government and oppositions and should have fair representation in the talks. Opposition always plans to take the place of the current government, but people want to change the whole system".
Representatives of the People's Council expressed their suspicion that authorities are willing to exclude them from the process of talks, what could be proved by the format and way of holding the round tables aimed to resolve political crisis in Ukraine. Authors of this manifest are calling for other civil organizations in Ukraine to join the People's Council. Nearly 40 civil organizations, groups and NGOs have currently joined the People's Council and nearly 20 of them have already signed the manifest, according to activists.
The manifest also contains key demands of the People's Council. Representatives of civil society claim they will take part in the reconciliation talks only after all these demands will be met. Among the demands of protesters and civil organizations are the following: release of all unlawfully detained and arrested protesters, activists and journalists, holding accountable those, who were responsible for recent attempts to disperse protesters and for the violent clashes, immediate withdrawal of armed and special security forces from the streets of Kyiv and other cities of Ukraine, stop the repressions against activists of Euromaidan and protesters and resignation of Minister of Interior Vitaly Zakharchenko.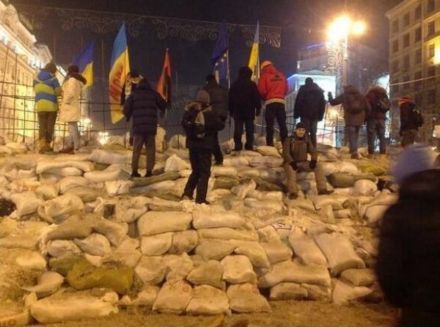 Barricades erected by protesters in Kyiv
(Image: Unian)
Massive protests of Ukrainian citizens against the current government, President and his policies are ongoing in Kyiv and all over Ukraine. The barricades erected by protesters in Kyiv Independence Square have been developed, life of the camp is organized, and the spirits are high as people are ready to fight for their freedom, values and country.
Ukrainian oppositional leaders Vitaly Klichko, Oleg Tyagnybok and Arseny Yatsenyuk are calling for the fourth massive rally to be held in Kyiv Independence Square on Sunday, 22 December.
"All the country has heard cynical interview of Ukrainian President Victor Yabukovich. All the country has heard cynical report of Prosecutor General Victor Pshonka. And all the country understood that these people are living in another country, where there are no problems and jams, where nobody has his or her own idea and point of view, and where violent dispersal of peaceful demonstrators is considered being just "insignificant abuse of authority" and "Neutralizing of a bunch of provocateurs", stated oppositional leaders in their joint statement published on Friday, 20 December.