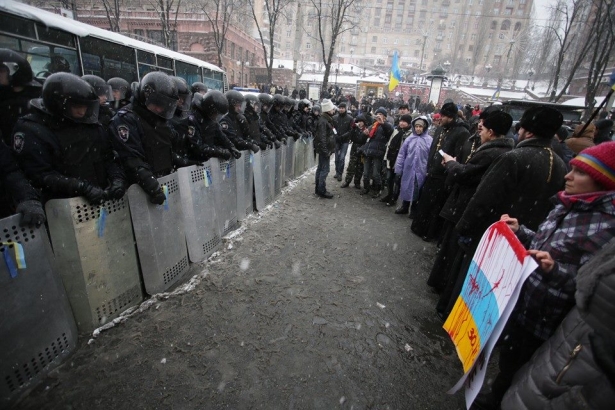 Security forces cordons on Khreshchatyk Street
(Image: Українська Правда)
Tens of thousands remain on the Independence Square and in the streets of the governmental district in Kyiv and all over Ukraine as government sent troops in Kyiv.
Additional troops of Special Forces ("Berkut"), conscripts, security forces and policemen have been deployed to Kyiv downtown on Monday, 9 December.
Security forces have blocked the central part of Kyiv surrounding the protests camps on Independence Square and the blocking the roads and streets leading to the main protest venues. Nearly 300 soldiers of security forces and conscripts have blocked the entrance to Kyiv Main Street Khreshchatyk preventing entering the area. The conscripts reportedly claim they personally support protesters and will refuse to obey the orders to disperse the protesters if there will be such orders.
Activists have been calling for the protesters gathered in the building of Kyiv City Council to leave the building as the lines of security forces and "Berkut" surrounded it. People left the building.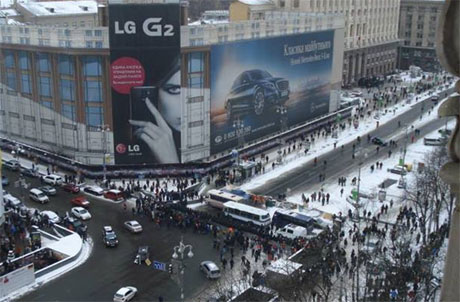 Khreshchatyk Street leading to the Independence Square is
blocked by security forces
(Image: Українська Правда)
Troops of security forces and police have also blocked the streets of the governmental district, where the main administrative buildings are located including Administration of President, Cabinet of Ministers, and Parliament etc. Protesters and their cordons have been moved back towards Independence Square, there were reports that block posts of protesters have been attacked by the security forces. Barricades recently erected by protesters in the streets leading to the governmental buildings are also being removed.
In addition to that three central stations of Kyiv underground are currently closed with no trains stopping there and all the entrances and exits being blocked. Among the closed stations are Khreshchatyk, Teatralna and Independence Square stations, thus all the transportation connection in the central part of Kyiv is actually blocked. Protesters in their turn strengthen security measures on the Independence Square and blocked also the entrances to Independence Square metro station and to the underground shopping mall, as they expect possible attack of "Berkut" and security forces from there.
Police and security forces cordons on front of Parliament
(Image: Alexey Furman)
Situation remains tense, though thousands of protesters remain on the Independence Square and in the tents camp. Lines of protesters protecting their block posts and lines also remain in the streets of the governmental district, protesters stand right in front of the police and security forces lines, who move towards demonstrators and try to push them back, but they don't use force. Security groups of protesters organized for protecting protesters are controlling the situation there calling to protesters to remain peaceful and to ignore possible provocations.
Oppositional forces led by Oleg Tyagnybok, Arseny Yatsenyuk and Vitaly Klichko claim there is a threat of the force scenario planned by the authorities and declare that if protesters will be forcibly dispersed it will be personal responsibility of President Victor Yanukovich. Oppositional leaders call for more people to come to the Independence Square and the protests sites on Tuesday to protect Maidan and to continue peaceful protest until the main demands will be finally met. Protesters' demands remain the same: release of the unlawfully detained people after clashes near the Presidential Office, punishment of those responsible for beating protesters, resignation of Minister of Interior and of Cabinet of Ministers and stepping down of President.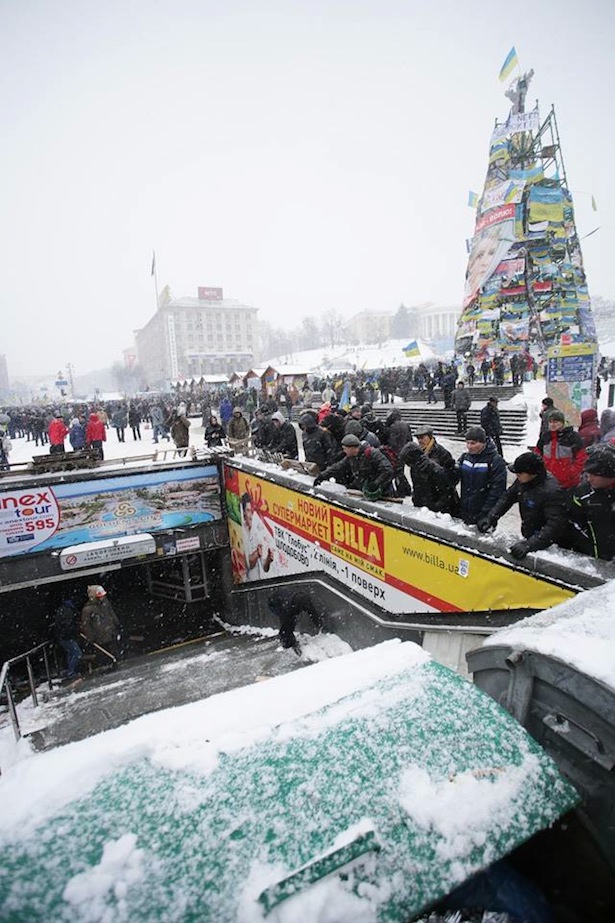 Metro exit on the Independence Square
(Image: Українська Правда)
Meanwhile many representatives of Western countries including EU diplomats are currently in Kyiv and visiting Maidan in order to see the situation. Official delegation of European People's Party of European Parliament is currently in Kyiv; Catherine Ashton is also expected to visit Kyiv next week.
Europeans and other Western politicians and diplomats are calling for Victor Yanukovich and Ukrainian government to listen to the people's demands and to show restraint. Use of forces against peaceful demonstrators is unacceptable, reminded EU politicians, claiming they are following closely current events in Ukraine, and the situation is very concerning.
Meanwhile protesters remain on their positions surrounded and blocked by security forces and special forces ("Berkut") with protesters' block posts and tents' in the governmental quarter surrounded by security forces. In addition to that office of the oppositional party Batkivshchyna (Homeland) was stormed by "Berkut". "Berkut" soldiers have been breaking everything on their way; all the servers in office have been also taken. Several offices of some independent TV and media companies have been also stormed.
Situation remains extremely tense with the expectations of the possible force scenario used by Ukrainian President and government. Several streets of the governmental quarter including the street in front of Cabinet of Ministers are currently cleansed and took by the cordons of security forces.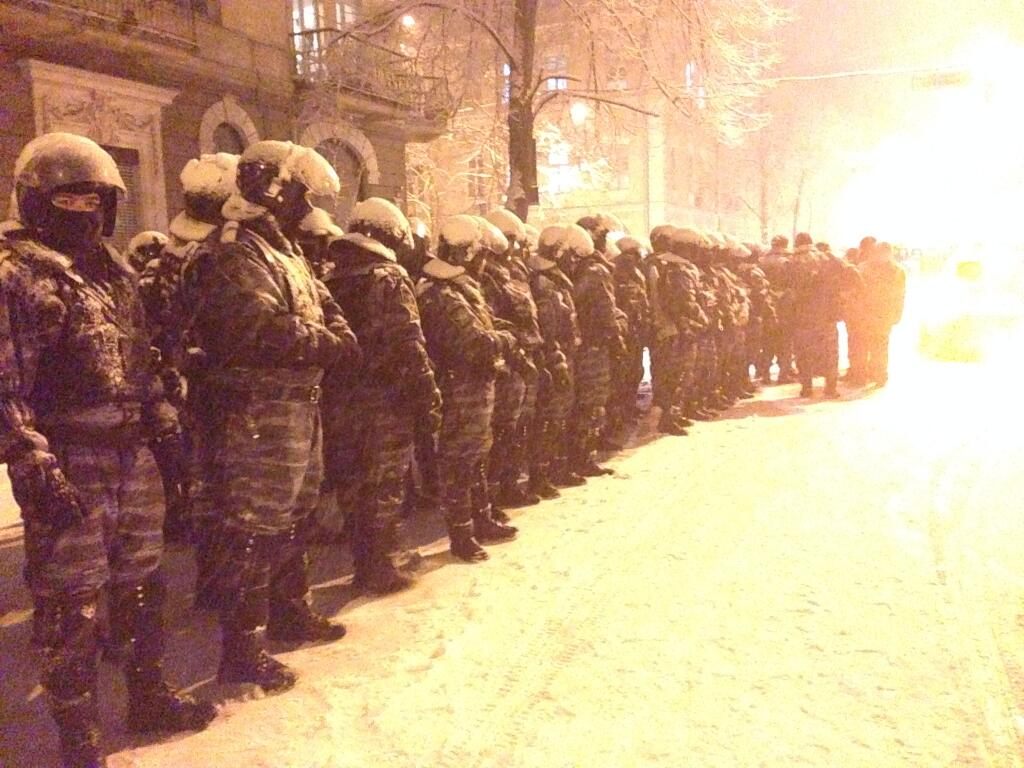 Lines of special forces in the governmental district in Kyiv
(Image: Mustafa Nayem)
We would remind that on Sunday during the Million-Man march protesters declared ultimatum to the President that he has 48 hours to meet protesters' demands. If these demands won't be met, protesters promise to block Yanukovich's residence.
Meanwhile EU Catherine Ashton and US Victoria Nuland are expected to arrive in Kyiv on Tuesday for official meetings with the government and oppositional forces in order to help to resolve the deepening crisis. Many European politicians and diplomats are already in Ukraine.