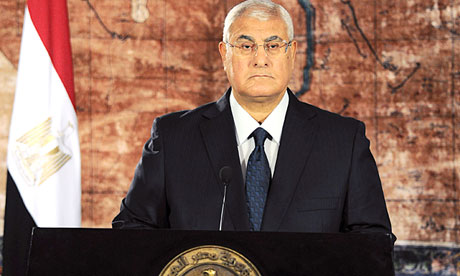 Adly Mansour, Egypt's interim President
(Image: The Guardian)
According to the statement of Egypt's interim President Adly Mansour the date of the national referendum for the amended Constitution will be announced this Saturday, 14 December.
The announcement will be made by the interim President in presence of 50-members Constitutional Committee tasked with the amending of 2012 Constitution, ministers of the interim government led by Hazem El-Beblawy, members of Supreme Judicial Court and also representatives of Al-Azhar and of the Coptic Church.
Referendum on the amended Constitution is the first step in the political roadmap introduced by Egypt's Armed Forces after ouster of Islamist backed President Mohamed Morsy.
The next stages are parliamentary and presidential elections. Both of them could be held within 30 days since approval of the new Constitution.
It was reported earlier that referendum could be held in the middle of January and will be held during two days. In addition to that rules of voting for Egyptian citizens living abroad have been also changed.