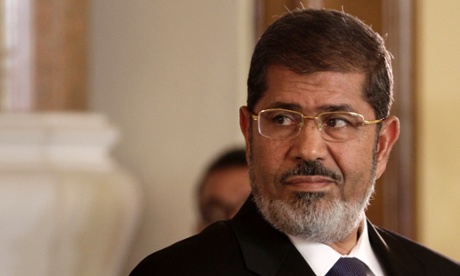 Mohamed Morsy, Egypt's ousted President
(Image: The Guardian)
Egypt's ousted President Mohamed Morsy and other 35 co-defendants will be tried for international conspiracy and espionage and collaborating with foreign organizations in order to commit terrorist attacks in Egypt, according to the official statement of the press service of Public Prosecutor. The charges span the period from 2005 till 2013, and the case could result in an execution of defendants. In addition to that, it was declared "the biggest conspiracy in the history of Egypt".
Thus, former Islamist backed President Mohamed Morsy along with other 35 co-defendants including prominent Muslim Brotherhood figures and presidential advisers will stand trial over allegations of "collaborating with foreign organizations in order to commit terrorist acts in Egypt, revealing defense secrets to the foreign countries, funding terrorist activity and training for militants to achieve the purposes of the international organization of Muslim Brotherhood", accosring to the statement of Prosecutor General Office.
The charges include collaboration with Islamist terrorist organizations, such as Palestinian Hamas, currently controlling besieged Gaza Strip, and Lebenese Shia organization Hezbollah. The defendants are also accused of leaking important information regarding state's security and defense to Iranian Revolutionary Guards organization and collaboration with several other terrorist groups of Egyptian and non-Egyptian origin in order to smuggle arms and weapons, organizing military training for terrorist groups located in Sinai and in Gaza, and also funding plan to threaten national security and create and escalate chaos in Egypt.
Prosecution also accuses Mohamed Morsy and his co-defendants in sponsoring and organizing of recent terrorist attacks against Egyptian soldiers and policemen in Sinai, close to Israeli borders, which claimed the lives of dozens Egyptian soldiers.
Mohamed Morsy and his co-defendants during trial over
allegations of inciting violence
(Image: Brookings Education)
Along with ex-President Mohamed Morsy another 35 prominent figures are facing trial, including Mohamed Badie (Muslim Brotherhood leader), Khairat El-Shater and Mahmoud Ezzat (his deputies), prominent Muslim Brotherhood's figures Saad El-Katatni, Essam El-Erian and Mohamed El-Beltagy, Refaa El-Tantawy (former presidential aide), Essam El-Haddad (presidential adviser on national security issues) and others. 19 of the accused persons are currently detained and facing trials on other charges such as inciting violence and calling for killing the opponents during the clashes etc. Police has issued arrest warrants for other 17 defendants.
Meanwhile Hamas denied the accusations and claimed they are "fabrications and lies". Other groups, such as Hezbollah and Iranian Revolutionary Guards, didn't comment till now.
Muslim Brotherhood representatives in their turn stated they are committed to peaceful resistance and will continue to stage the protests demanding reinstatement of Mohamed Morsy and protesting against the military backed interim government and transitional roadmap.