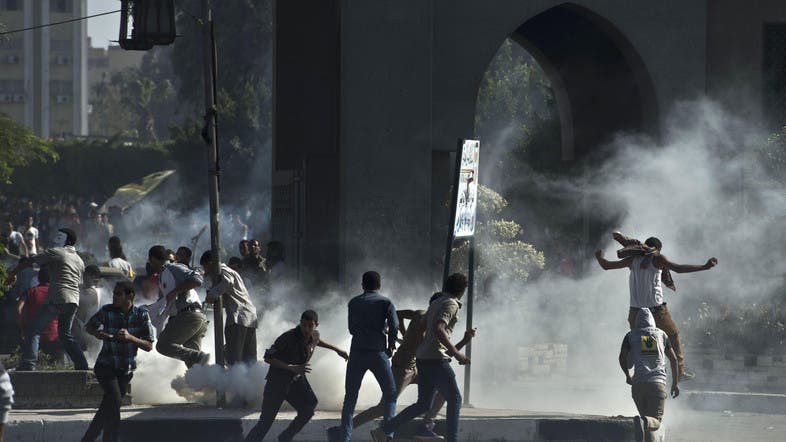 Students' protests in Cairo
(Image: Al-Arabiya)
Pro-Morsy students and supporters of Muslim Brotherhood from Al-Azhar University, one of the biggest and most renowned Islamic universities in the whole world, continue their protests on the campus and in the streets of Cairo.
Students have been protesting for weeks against the presence of security forces on the university campus and against the decree allowing it. Pro-Morsy students have been also protesting against the current military backed interim government and against Armed Forces and its policies. Many of the protesters have been holding yellow hands symbolizing Rabaa Al-Adaweya Square in Cairo, where hundreds of Muslim Brotherhood's and Mohamed Morsy's supporters have been killed on 14 August as a result of the violent dispersal of the Islamist sit-in by security forces.
Students of Al-Azhar and several other universities of Egypt including Cairo University continue their protests since the beginning of the new academic year.
Students have been protesting against the detention of their colleagues during the recent students' protests happened all over the country. In addition to that protesters have commemorated Mohamed Reda, young student killed during the recent clashes between students and security forces.
Monday protests were continuation of the fierce Sunday confrontations of student's protesters with security forces, after Al-Azhar protesting students have clashes with local residents in Nasr City.
Protesters and their coordinators and activists claim their Monday march was peaceful, though the statement of Ministry of Interior said students have been clashing with security forces, throwing rocks, stones and Molotov cocktails and blocking traffic on the neighboring streets.
Additional security forces have been deployed on the scene and on the university campus. Police have been firing tear gas and using water cannons in order to disperse the crowds and to stop the clashes.
There are currently no reports regarding the number of injuries after the clashes. Police reports it has arrested 58 students.
Meanwhile Giza court due to try prominent leaders of Muslim Brotherhood including Mohamed Badie, Mohamed El-Beltagy and Essam El-Erian has closed its Monday court session and postponed the trial to 11 February.