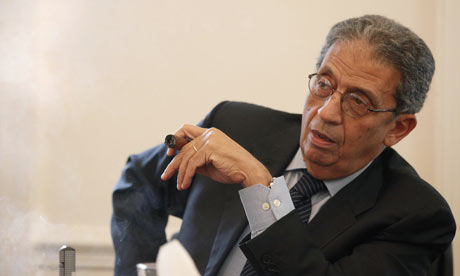 Amr Moussa, chairman of the Constitutional Committee
(Image: The Guardian)
Amr Moussa, the chairman of the 50-member Constitutional Committee tasked with the amending of the suspended 2012 Egypt's Constitution, has declared that the final discussions over the draft of the national charter are expected to be public and also attended by the members of the alternate panel of the Constitutional Committee as well.
It's worth mentioning that after the draft of the Constitution was ready for discussions all the official sessions of the Constitutional Committee have been held only with an attendance of the members of the main panel and behind the closed doors. Media and journalists weren't allowed into the debate room and there have been also no airing of the debates. This decision has been taken in order to avoid some misinterpretations and spreading the rumors in the public. Media figures were allowed to the official press conferences held after each session where the official statements regarding the ongoing discussion of the controversial articles of the Constitution's draft have been made.
Thus the draft of the national charter was declared to be finalized with some debates and discussions regarding it to be held. After this part of the Constitution drafting process the final debates and talks will be held and they will be attended by media and also by the 50 members of the substitute panel who were barred from the previous sessions.
After the Constitution's draft will be discussed and approved by the 50-member Constitutional Committee and the members of the substitute panel the draft will be sent to the interim President Adly Mansour. Next stage is the national referendum over the Constitution.
Meanwhile deputy Prime Minister Ziad Bahaa El-Deen has suggested that the national referendum on the Constitution could be held in December this year or early in January 2014. After the referendum will be held and in case the Constitutional draft will be approved the dates of the parliamentary and presidential elections should be set in the frameworks of the political roadmap imposed by the Armed Forces after the former President Mohamed Morsy was ousted in July.
The current government is also interim and has transitional functions, added deputy Prime Minister, thus after the members of Parliament and President will be elected the new ministers should be appointed as well.