Muslim Brotherhood's protests in Egypt
(Image: Haaretz)
Thousands of supporters of Egypt's deposed President Mohamed Morsy due to face trial on the 4th November have started massive protests on Friday, 1st November in Cairo and other Egyptian governorates as well protesting against the trial and demanding reinstatement of Morsy as Egypt's legitimate President.
Egypt's Islamist umbrella organization Alliance to Support Legitimacy united several Islamist groups and parties including Muslim Brotherhood have called for the series of massive protests during several weeks I order to support Egypt's ousted former Islamist President and protest against what they call "military coup". The protests have been planned to start of Friday, traditional day for holding mass demonstrations and protests in Egypt since January 25 Revolution.
Thousands of the former President's supporters and loyalists of Muslim Brotherhood have gathered on Friday in several locations and squares after Friday noon prayers.
Cairo has witnesses several massive marches in downtown and in the neighborhood of the Presidential Palace in Heliopolis and also in front of the former presidential headquarters as well. In addition to that protests have been held in some other districts of Cairo. Some clashes erupted between the protesters and anti-Morsy local residents so the security forces have interfered in order to stop the clashes and to disperse the crowds. Police has also fired teargas in attempt to stop the clashes and skirmishes.
Tahrir Square and some other important locations such as Rabaa Al-Adaweya Square in Cairo's Nasr City and Nahda Square in Giza and also Presidential Palace have been surrounded by the additional troops of security forces with the roads leading there blocked in order to secure the area and to prevent protesters from getting there and starting the sit-ins.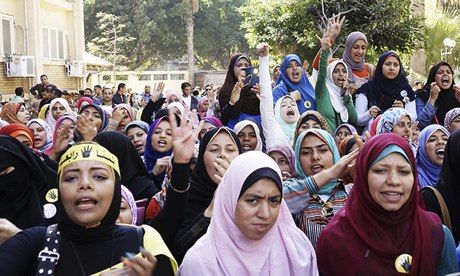 Female protesters
(Image: The Guardian)
Clashes erupted during the pro-Morsy protests also in the coastal city of Alexandria, in Suez and some cities in Delta and in Upper Egypt as well with Mohamed Morsy's supporters fighting with the locals. Northern Sinai has witnessed pro-Morsy demonstrations as well.
Protesters have been protesting against the so called "military coup" which resulted in ousting of the Islamist backed President Mohamed Morsy by the military decree on 3 July amid the massive nationwide protests against him. Muslim Brotherhood's and pro-Morsy protesters have been holding the portraits of Mohamed Morsy and the signs of Rabaa Al-Adaweya, hand on the yellow background, referring to the dispersing of the pro-Morsy sit-ins in Cairo in the middle of August.
Pro-Morsy demonstrators have been also chanting against the current transitional government refusing to accept the political roadmap proposed by the Armed Forces and also against Egypt's military leadership and Abdel Fattah El-Sissi, the head of Egyptian Armed Forces.
The court trial of Egypt's deposed President Mohamed Morsy is due to start on the 4th November. Mr. Morsy is accused of inciting the violence and murder of the protesters during the clashes erupted in front of the Presidential Palace in December 2012 while thousands of people have been protesting against the controversial and scandalous Constitutional Declaration issued by Mohamed Morsy and giving him actually unlimited powers. Mohamed Morsy will be tried in this case along with other 14 co-defendants.
In addition to that Mohamed Morsy is also facing the charges related to his prison break and escape in 2011 during the events of January 25 Revolution and alleged cooperation with the Palestinian Hamas.
Mohamed Morsy, former Egypt's President
(Image: Time)
Meanwhile Mohamed Morsy refused to recognize the court due to try him on 4 November stating he doesn't recognize this court and the current ruling power as well and doesn't accept the fact of ousting from the presidential position. He also didn't delegate any lawyers for his defense team, either Egyptian or foreign. Muslim Brotherhood's representatives in their turn have stated they are planning to delegate a special team of lawyers to observe the trial of Mohamed Morsy.
Alliance to Support Legitimacy and Morsy loyalists are planning to continue their protests in support of Mohamed Morsy till the day of his trial. Egypt's security forces and police are taking special precautions and security measures in order to keep the order and to avoid the clashes and violence on the day of Mohamed Morsy's trial. Egypt's railway authority in its turn has declared state of emergency ahead of the Morsy's trial with special precautions to be taken.
Embassies of several Western countries including USA have already warned their citizens to stay away from the Friday protests and also the upcoming demonstrations planned for the 4th November.