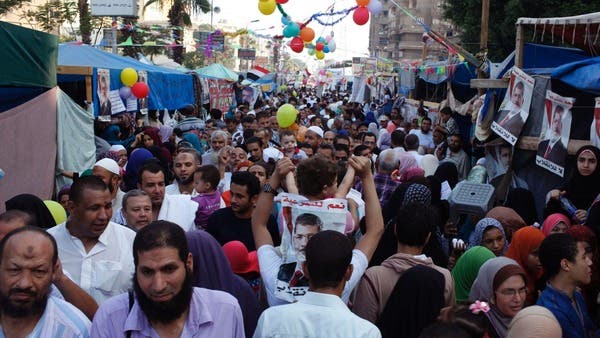 Egyptians during Eid celebrations
(Image: Al Arabiya)
Egyptians started Eid Al-Adha celebrations today with thousands of people gathered in the squares and in front of the mosques for the prayer and the following celebrations of the second greatest holiday in Muslim world.
Security measures have been tightened in Cairo and other Egyptian cities nationwide including coastal city of Alexandria, Ismailia, Suez, Upper Egypt's cities, Sinai and others as rival political forces have been calling for the marches to be organized to mark Eid on Tuesday.
Thus Muslim Brotherhood's backed Alliance in Support of Legitimacy supporting Egypt's ousted President Mohamed Morsy and demanding him to be back in power has called in their official statement for their supporters to gather on Tuesday in order to perform the collective prayers and to celebrate the holiday. They didn't specify the location for the marches though.
Additional security forces' troops and vehicles have been deployed to the areas of the gatherings with the security personnel guarding the squares and the neighboring areas. In addition to that the main protest spots in Cairo have been closed by military and security forces, among them iconic Tahrir Square, where the January 25 Revolution 2011 started, and also Nahda Square in Giza and Rabaa Al-Adaweya Square in Cairo's Nasr City, both the sites of massive pro-Morsy sit-ins violently dispersed by security forces on 14 August. The entrances and the roads leading to these squares have been also blocked by security forces in order to prevent the possible demonstrations and organizing of the sit-ins.
Security measures were also tightened in Egypt's coastal city of Alexandria which has witnessed recently clashes during the pro-Morsy marches.
Though several clashes erupted in Cairo's Giza district after Eid prayers as Muslim Brotherhood's and Mohamed Morsy's supporters started to chant against military leadership and current government and demanding reinstatement of Morsy as Egypt's President. They have been also holding Rabaa signs, hands on the yellow background referring to the dispersal of the sit-in.
While Morsy's and Muslim Brotherhood's supporters chanted against Egypt's Head of the Armed Forces Abdel Fattah El-Sissi the supporters of Egypt's army and the current government have been chanted for the Armed Forces' Chief supporting him and his political roadmap.
Several clashes erupted between the sides but they didn't result in serious consequences and have been stopped fast.
It's worth mentioning that Egypt's security forces have made an official statement on the eve of the Eid celebrations stating that special security measures will be taken during the celebrations, and any threat to the peace and security will be met strict.