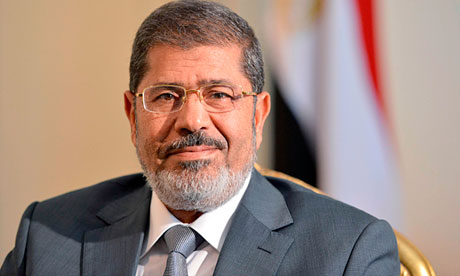 Egypt's ex-President Mohamed Morsy
(Photo: The Guardian)
Egypt's ousted President Mohamed Morsy being currently detained by army and held at an undisclosed location has received another 30 days of detention pending investigations.
Egypt's Islamist backed President Mohamed Morsy was ousted by the military decree on 3 July following the massive protests against his rule and since then he is being held in detention facing charges of prison escape, collaborating with Hamas, espionage and incitement of violence.
Mohamed Morsy has been detained in Wadi Al-Natroun prison which he escaped along with some other prisoners, dozens of other members of Muslim Brotherhood, in 2011 during the uprising against Hosni Mubarak. Palestinian Hamas and Lebanese Hezbollah have been accused of aiding the plans of storming the prisons during the January 25 Revolution in 2011 which resulted in escaping of dozens of prisoners, including Mohamed Morsy and other members of Muslim Brotherhood.
Thus Mohamed Morsy is accused of collaboration with Hamas and Hezbollah and escape from the prison along with destroying the police records during the uprising.
In addition to that Egypt's ex-President is slapped with the accusations of espionage and incitement of violence and killing of the protesters during the protests in front of the Presidential Palace in Heliopolis in December 2012, when thousands of people have been protesting against the controversial Presidential Decree giving Morsy almost unlimited powers.
Mohamed Morsy is also facing the accusations of insulting Egypt's "judicial authority".
The date of trials in the cases of Egypt's former President, who held this position during one year, is still open, but the detention term is prolonged into other 30 days.
Together with Mohamed Morsy Refaa El-Tehtawy, his chief of staff, has also received additional 15 days in detention pending investigations charged with espionage and accused of misusing his position to release important information.
Meanwhile the protests of Mohamed Morsy's and Muslim Brotherhood's supporters continue in Egyptian cities including Cairo, Alexandria, Suez, Port Said and others, with thousands of demonstrators demanding reinstatement of Mohamed Morsy as Egypt's President, release of Morsy and other Muslim Brotherhood's members from the prison and protesting the violence during the dispersal of the pro-Morsy sit-ins. The marches of Islamists' supporters continue to be held regularly, but the numbers of the participants have significantly decreased.