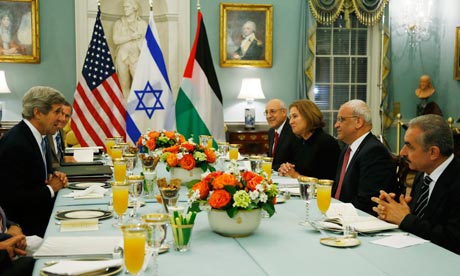 Israeli-Palestinian peace talks in USA
The third round of the renewed Israeli-Palestinian peace negotiations have been held on Tuesday, 21 August, in Jerusalem.
The peace talks between two neighboring countries mediated by USA have failed three years ago due to the sensitive issue of the border and Israeli settlements on the territories Palestinian Authorities was claiming for. After the three years standoff in the talks the negotiation process was renewed in July 2013 with the mediation of USA.
The first meeting between the representatives of the both countries was held in US Washington, where the sides have been discussing some key issues of the future negotiations.
Israel is represented in those peace talks with Tzipi Livni, who is advocating for the two-state solution, and Yitzhak Molchi, senior aide to Israeli Prime Minister Benjamin Netanyahu.
Palestinian state is represented by the chief negotiator Saeb Erekat and and adviser to Palestinian President Mahmoud Abbas Mohaqmed Shtayyeh.
After the first round of the talks held in USA the sides decided to continue the negotiation process on the territory of Palestine or Israel in August 2013.
Among the key issues and the most sensitive points of the talks remain the question of the territories, Israeli settlements built of the West Bank and in East Jerusalem (the territories Palestine claims for), the two-state solution and the issue of the Palestinian refugees and also numerous prisoners being held in Israel. Israel in its turn stresses the main point is the identity and safety of Jewish state.
Israeli Tzipi Livni, US John Kerry and Palestinian Saeb Erekat
The second turn of the negotiation has happened on 14 August, at an undisclosed location in Israel. This round have been held despite the protests of Palestinians over the Israeli governmental plan for the building of the new settlements. It's worth mentioning that the building of most of the settlements on those territories have been considered by the majority of the countries being illegal, but Israel claims those new settlements will be built on the territories belonging to Israel.
The third round of the peace talks between Israel and Palestine has been held on Tuesday, 20 August, in Jerusalem. Israeli representative Tzipi Livni announced after the talks that the details of the negotiations and possible agreements are expected to be held secret during the process of talks, but she also stressed that the talks will probably lead to some dramatic decisions to be made by Israeli government.
In addition to that Tzipi Livni declared the talks will be difficult as at least one of the main political powers of Israel represented in Israeli Parliament strongly opposes the peace talks with Palestine (referring to Jewish Home faction). But Mrs. Livni remains positive about the peace talks and believes the solution could be found.
Thus, according to the official statements, no details of the meeting and talks will be disclosed during the negotiations process, but both sides agreed to continue the talks in the nearest future.