Egypt's Constituent Assembly
Egypt's special technical committee tasked with the drafting of the amended version of Egypt's 2012 Constitution released by Islamist dominated Constituent Assembly during the rule of now ousted President Mohamed Morsy has announced they have finalized their work and finished the draft of the national charter after almost month of discussions and talks.
The 10-member committee has passed the Constitution's draft to Egypt's interim President Adly Mansour, who approved it, so the draft of the Constitution could be sent next to the special 50-member committee consisting form the representatives of different political forces and social groups and shifts of Egyptian society. This committee will study the proposed amendments and discuss them, and after that the Constitution could be officially declared.
Technical committee's statement released recently stated that the committee proposed some fundamental amendments to Egypt's 2012 Constitution.
The first articles of the national charter though remained unchanged, including the Article 2 stating that Islam is the religion of the state, Arabic is an official language of the state and Islamic Sharia is the main source of legislation. The controversial Article 219 introduced by Salafist Al-Nour Party and defining the meaning and interpretations of Islamic Sharia is to be cancelled.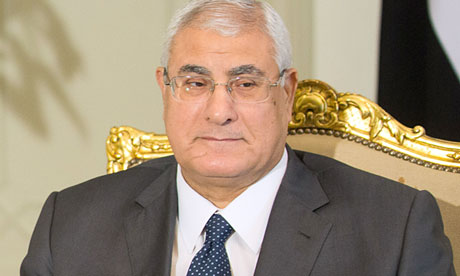 Egypt's interim President Adly Mansour
In addition to that there would be also some amendment of the article regulating the formation of political parties in Egypt. It will ban the formation of political parties based on religion and religious ideology and mixing religion with politics.
The committee also proposed to cancel the recently added article banning the members of Hosni Mubarak's National Democratic Party from participating in political life. They stated this article is discriminatory as nobody can stripe the citizen of Egypt's of his or her legal rights to participate in political life unless there is no court order for this.
The electoral system is also expected to be changed to the individual candidacy system as it was during the years of Hosni Mubarak's ruling. In addition to that the new draft of the Constitution will regulate the activities of some state and governmental institutions. Shura Council (the Upper House of Parliament) is proposed to be dissolved and cancelled as this institution can be used for some political manipulations as it was in time of ruling of Mohamed Morsy, and its cost for the country is too high, especially in the times of economical crisis.
Thus the draft of the amended Constitution was passed to the Presidency and is expected to be reviewed by the special 50-members committee to be approved.